VIRAL! Man Strips And Bathes Inside New York City Subway Leaving Netizens Enraged Netizens Say 'Please Arrest Him'
The New York's commute service transpired to be the victim of a bizarre phenomenon as a man was seen taking a bath inside the train coach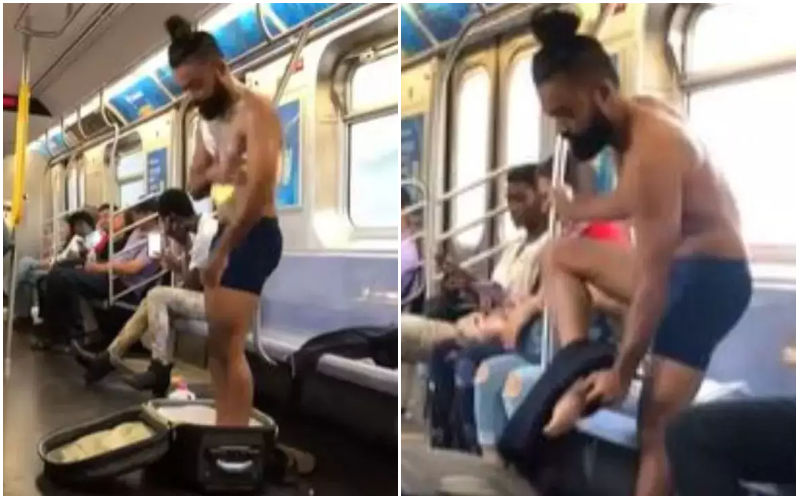 If you thought weird things only conspire in the Indian metro, think again! Now, the New York's commute service transpired to be the victim of a bizarre phenomenon as a man was seen taking a bath inside the train coach.

The latest clip comes amid a slew of random dance videos to clips of the girl dubbed the viral "Delhi Metro Girl", have gone viral, and the capital's metro service has made several headlines in the recent past.
Now, in the latest social media post, a man was seen taking a bath inside the New York City train compartment. The viral clip even saw him stripping his slippers, pants, and shirt to get into a trolley bag. Later in the video, he takes a bath, lathering soap with a big yellow sponge among other passengers. Meanwhile, some passengers are seen laughing at the man's act, while others seem bewildered by the man.
Later, the commuter goes on to dress after the awkward public bath. The video appeared on Facebook and it has garnered over 1.4 million views. Furthermore, people took to the comments section to issue their reactions.
While some dubbed it as a 'brave' act, others slammed the individual and outrightly called it 'stupid'.
"This generation really desperately they are always seeking for attention," said one. Another stated, "He was very considerate and careful not to wet the bus or any others. If he was rude he would've gone down in it but he didn't. Love him" A third person said, "Some people just do anything for the likes and views "
Image Source: Instagram