VIRAL! Miss Sri Lanka New York Beauty Pageant After-party Ends With VIOLENT Fistfight; Internet Calls It 'Utter Disgrace'-WATCH
Sujani Fernando, one of the pageant organizers, confronted the reactions from Twitter users and said that there is no need to stereotype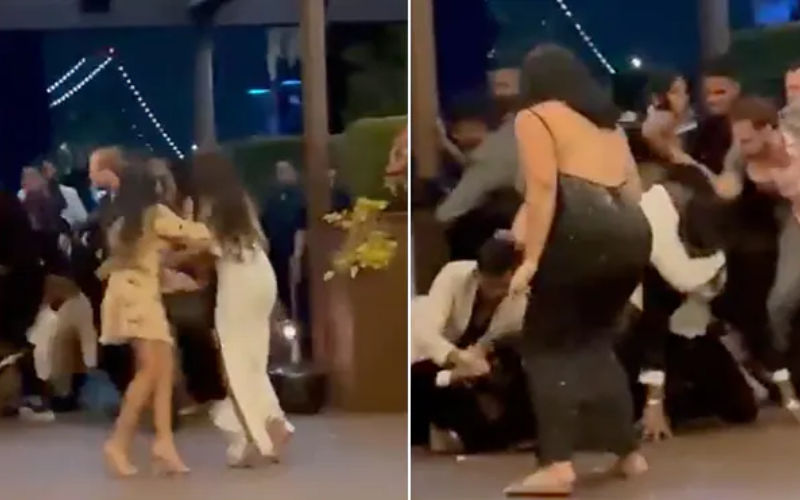 New York City's first-ever Miss Sri Lanka New York beauty pageant turned violent as it ended in a brawl on Friday. Things took an ugly turn at the after-party when a violent fight erupted among the attendees where men and women were seen engaged in a scuffle at the event which was attended by more than 300 guests on New York's Staten Island.

An SCMP report suggests that the decision to host the event on State Island was made by the organizers as it is the home to a large number of Sri Lankans who migrated to the US as they wanted to help the island nation which is in a "difficult condition".
Quoting one of the pageant organizers, Sujani Fernando, the New York Post said that none of the 14 contestants were involved in the fight.
The shocking development comes a year after the reigning Mrs Sri Lanka was arrested for snatching the crown from the head of a rival she said should've been disqualified because she was divorced.
The videos and images from the party have now gone viral and it has drawn criticisms from the netizens about the behaviour of the guests. To be precise, the recently occurred incident has particularly made the Sri Lankans angry who claimed that such behaviour tarnishes their image in the United States.
While a few are seen trying to keep the two people apart, others can be seen breaking into fistfights with each other, seemingly trying to break things at the bash. However, it is not clear what sparked the fight at The Vanderbilt in South Beach.
Reacting to the video, a Twitter user said, "This is the typical behaviour of village Sri Lankans. Every event ends up in a brawl. From elders to children to women. they hit at each other with plastic chairs, umbrellas. It's quite exciting to watch."
Sri Lankans staying entirely on brand. Not only do we compete in ever-smaller pools (Miss Sri Lanka NY? Really? What's next, Miss Sri Lanka IDH Handhiya?) we pick a fight in the process and get banned. https://t.co/VD9xDWFfRc

— Yudhanjaya Wijeratne (@yudhanjaya) October 25, 2022
Wow ! Miss Sri Lanka Pageant has wrestling also as part of the tournament 😜😅😂

— Ravi R Saigal (@RaviRSaigal1) October 26, 2022
"Utter disgrace and embarrassing. All of them should be arrested and punished according to the law," said another.
However, Sujani Fernando confronted the reactions from Twitter users and said that there is no need to stereotype.

"Sri Lankans are good people. It's just a fight - fights happen, kids fight. That happens in any culture, any nationality, it doesn't have to be Sri Lankans. We're not that type of people," she told the the South China Morning Post.
Image Source: Twitter/Toddy_Lad