VIRAL! Passengers Dance To Sapna Chaudhary's Song 'Teri Aakhya Ka Yo Kajal' Inside Airplane Leaves Netizens Baffled-WATCH
The viral video features passengers standing in the aisle and dancing to the hit song while others cheered them on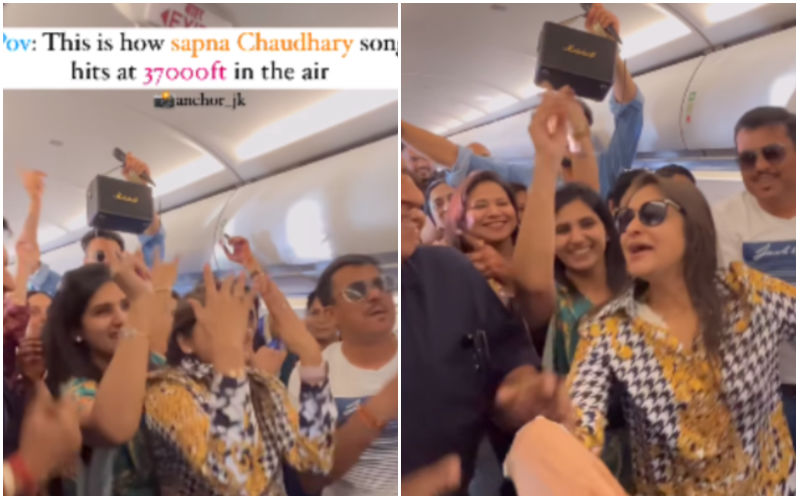 Some experiences in life can be really weird. A somewhat similar incident occurred with a few passengers in an aeroplane as a video of passengers dancing to popular Haryanvi singer Sapna Chaudhary's song inside an airplane has gone viral on social media platforms, leaving netizens amazed and bewildered.

The viral video features passengers standing in the aisle and dancing to the hit song while others cheered them on. "Teri Aakhya Ka Yo Kajal" is a popular Haryanvi language song released in 2018.
The song was sung by Sapna Choudhary, a popular Haryanvi singer and dancer, and the music was composed by the VR Bros. Veer Dahiya wrote the lyrics.
The clip was reportedly shot on a flight 37,000 ft above and shared on social media by a user named Anchor JK (Jay Karmani). The passengers were seen dancing to Sapna Chaudhary's song 'Teri Aakhya Ka Yo Kajal' which has become a popular dance number in India.
The video has received a lot of praise and appreciation from netizens, some have also criticized the passengers for not following safety protocols and endangering other passengers. However, whether the dancing occurred before or after the flight is still being determined.
People can be seen dancing and cheering each other on the plane. The caption read: "POV - This is how Sapna Chaudhary's song hits at 37,000ft in the air."
However, the clip has sparked a debate about the appropriateness of such behaviour on aeroplanes and whether it should be allowed or discouraged. Nevertheless, the video has proved some light-hearted entertainment for netizens.
Image Source: Instagram