VIRAL! Rains And Hailstorms Surprise Mumbaikars Ahead Of Holi 2023; Netizens Storm Twitter With FRESH And FUNNY Memes-SEE BELOW
Mumbai is known for its notorious climate and unexpected rain showers have been a usual occurrence now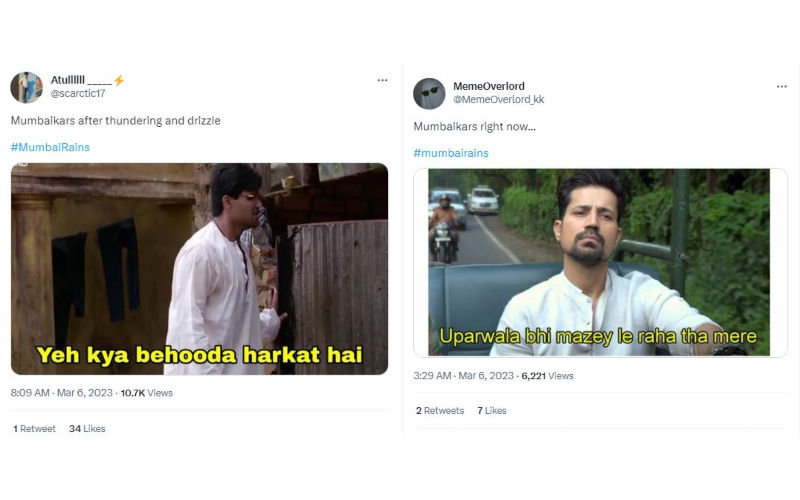 The climate in Mumbai has become unpredictable like its future. In a bizarre turn of events, Mumbaikars were recently struck by rains ahead of their preparations for Holi 2023. Yet again, the incessant showers have managed to baffle the city and its people. But, as usual, amid the unfolding of the weird event, Twitter was the best place to be and just continues to get hilarious as netizens have stormed the popular microblogging platform and flooded it with fresh and hilarious memes that will make your cheeks swell up.
In no time the hashtag '#mumbairains' was one of the trends on Twitter and netizens had yet another chance to flaunt their creativity.
Mumbai is known for its notorious climate and unexpected rain showers have been a usual occurrence now. The city saw a fresh bout of rain and hailstorms in March, on Sunday evening and the wee hours of Monday.
As per the reports, the Indian Meteorological Department (IMD) predicted that rain activity would occur in Mumbai, and bring some relief from the hot and humid weather conditions. This was expected due to the interaction of easterly and westerly winds with the changing season.
However, the city experienced a range of weather conditions, from light rainfall to hailstorms, with some regions reporting no precipitation at all.
Interestingly, the IMD announced the possibility of drizzle accompanied by thunder, and they also noted that these types of weather conditions during the pre-monsoon period are typically short-lived, reported News18.
The drizzle was likely caused by the interaction of dry winds coming from the land with the moist winds coming from the Bay of Bengal.
Image Source: Instagram