VIRAL! Snake Interrupts India vs South Africa 2nd T20I At Barsapara Stadium In Guwahati-WATCH
A snake emerged unexpected guest and it ultimately turned out to be one of the most bizarre instances to bring a match to halt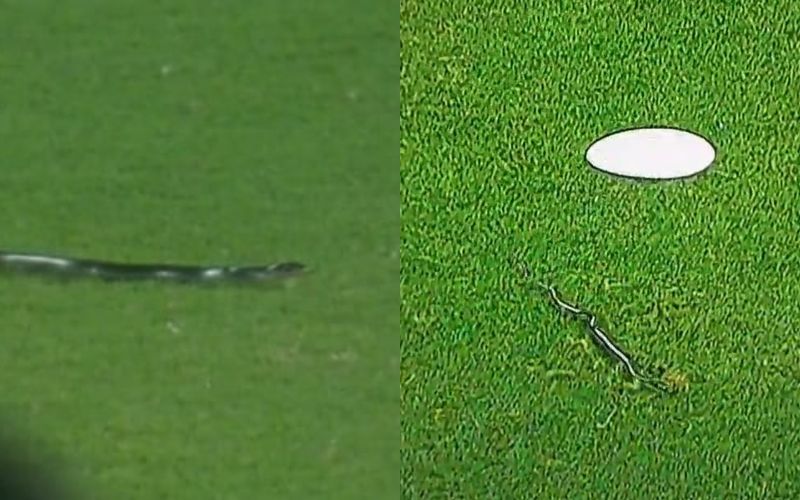 The second T20I between India and South Africa got interrupted due to an unexpected guest's arrival at the Barsapara Cricket Stadium in Guwahati on Sunday, October 2.

A snake emerged unexpected guest which was spotted on the field during India's batting innings and ultimately led to a break in play.
The shocking incident occurred after the end of the seventh over of the Indian innings when the play was suddenly halted. The commentators said on air 'Play has been stopped because we have been told that there is a snake on the ground'.
Initially, the cameras featured the Indian skippers batting while South African fielders looked in a particular direction before a slithering creature appeared on the screen. The ground staff took note of the situation and rushed onto the field to escort the uninvited visitor off the ground. It required four people to catch the snake and take it off.
Now, a video of the incident has been going viral on the internet and it has turned out to be one of the most bizarre instances to bring a match to halt. In the past, there have been other strange instances too. During a Test match between India and New Zealand in Napier in 2019, the game was spotted due to excessive sunlight.
Previously, in 2017, a car circled around the pitch during a Ranji Trophy match in Delhi and the fixture was stopped.
Earlier, a Test match between South Africa and Bangladesh witnessed a strange halt with lunch getting delayed by 10 minutes after caterers entrusted to bring food for the visitors failed to reach on time. Interestingly, even bees and dogs have often forced action to be halted briefly, however, it was the first time a snake invaded the play.
Well, the drama at Barsapara Stadium did not end there and during the South African innings, the play was interrupted for the second time. The floodlights suddenly went off causing the game to be stopped before the power was restored and India and South Africa carried on with the game.
Well, floodlights acting up isn't a new occurrence. It infamously happened in 2008 during the IPL match at the Eden Gardens in Kolkata.
Image Source: Twitter