WHAT! American TikToker Calls Priyanka Chopra 'Foreign-Born B+ Lister Actress' Gets Brutally Trolled For Being Racist; Fans Point Out Her Jealousy- Video
Priyanka Chopra was called a foreign-born B+ lister actress who sells spotting pictures with her family for publicity by an American TikToker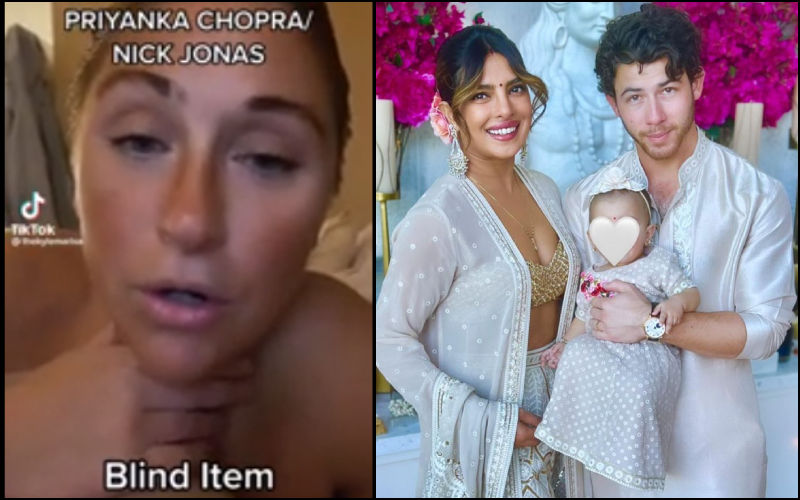 Ever since the emergence of social media, people have been sharing their experiences with celebrities for the world to read and watch. It has become a norm for people to post videos about their encounters. Recently, an American TikToker took to her social media handle to post a 'blind' item about a 'foreign-born B+ lister actress and her husband.' She went on to name the celebrities as Priyanka Chopra and Nick Jonas.
The video was reposted by a Reddit account under the section BollyBlindsNGossip. The woman in the video was heard saying, "The recent pictures from New Jersey were actually clicked by Priyanka Chopra's manager and sold to publishers. Like every good PR couple, they got a spot in Daily Mail…. Wait for the staged pictures. I had a client in Montclair, New Jersey. I spent so many nights in the hotel, this is emotionally damaging. I love how it says, 'before uploading her Insta story, Priyanka and Nick were spotted picking up a few items in Montclair, New Jersey.' No one is spotted in Montclair, New Jersey."
ALSO READ: WHAT! Priyanka Chopra Confesses Actors Are Given Too Much Credit; Says, 'Actors Do Nothing, We Have A Very Limited Role In The Movie Making Process'
Once the video went viral, fans were left enraged at her implications and called her out for being racist against a successful and multimillionaire brown woman. One redditor wrote, "How f*ck she knows who even got money is beyond me. She is def jealous." Another wrote, "Paps are not new but this woman expects us to believe that multi-millionaire PC wants money from selling her pics. I sense bitterness and racism. Fake news." Other said, "Yes like every other actress (white as well) doesn't do this. They sell pregnancy announcement photos, gender reveal photos. It's a passive source of income. I see a proud brown woman hustling and a white woman being bitter."
Another said, "The money from the supposed sale of pap photos will be the tenth of money her restaurant makes in a day. This is blatant racism. Unfortunately, nothing in the US these days." One fans said, "Ahhh I see how important it was for a White woman to make tiktok on how a brown woman made money by selling photos (even though she is rich) and is using their poor white men for money (because ofcourse she doesn't have any). This is the micro aggressive racism , people need to talk about. There are so many layers here." One fans said, "Technically not a "blind" item if the person's name is used every 5 seconds lol." Another said, "Couldn't get past the 'Chhaapra' and 'her daughter Multi'."
ALSO READ: FINALLY! Priyanka Chopra Shares A Glimpse Of Daughter, Malti Marie's Face; Fans Debate Who She Looks Like, Write, 'Lil Princess Is Stunning Like Her Mummy'
For the unversed, the couple tied the knot in 2018 in Jodhpur's Umaid Bhawan Palace in lavish ceremonies after dating for a couple of years. Today they are proud parents to their daughter Malti Marie Jonas, born via surrogacy. On the work front, the Desi girl is all set to make her web-series debut with the Russo Brothers' Citadel. She will start shooting for Farhan Akhtar's Jee Le Zaraa, co-starring Katrina Kaif and Alia Bhatt, after wrapping up her Hollywood projects, Love Again and Ending Things.
Image Source: Instagram/Reddit