WHAT! Ankit Tiwari Offers A Song To Drunk Man Singing Bhojpuri Song Inside Jail; Singer's Sweet Gesture Wins Internet
Ankit Tiwari offers a drunk man named Kanhaiya Kumar a song on behalf of his music company after his video of singing from the jail goes viral!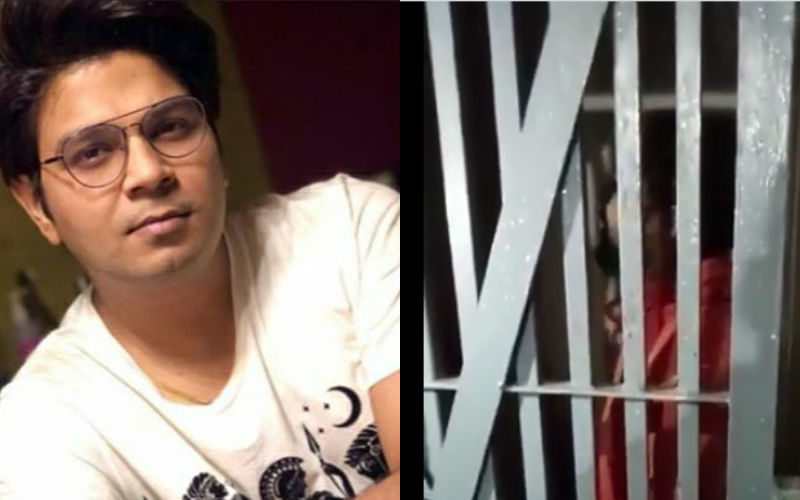 Bollywood Playback singer Ankit Tiwari is winning hearts on the internet with his sweet gesture! The singer has given a golden chance to a drunken man singing in a lock-up. Yes, you read that right! A video of a drunken man named Kanhaiya Kumar singing a Bhojpuri song inside the jail has gone viral with netizens gushing over his melodious voice. Even Ankit was so impressed by his voice that he offered him a song on behalf of his music company Mist Music.
Ankit took to his Twitter handle to announce the same. Dr. Shalbhamani Tripathi, MLA from Deoria, shared this viral video on his Twitter account and wrote, "After contacting Chandramohan Kumar Mishra, a former TV colleague, it came to know that this is the poor youth of Kaimur, Kanhaiya. Bihar police sent him to jail after being found drunk. After their legal help, efforts will be made to rectify them." Re-tweeting this video, Ankit Tiwari tweeted, "Drug addiction is evil and only art has the power to defeat this evil."
TV के पूर्व सहयोगी @cmohan_pat के माध्यम से संपर्क करने पर पता चला कि ये कैमूर का गरीब युवक कन्हैया है,नशे में मिलने पर बिहार पुलिस ने इसे जेल भेजा,इनकी कानूनी मदद के उपरांत इन्हें सुधारने का प्रयास होगा,साथ ही UP के मशहूर त्रिनेत्र स्टूडियो में गाने का अवसर भी उपलब्ध कराया जाएगा pic.twitter.com/Id8HrJV2HZ

— Dr. Shalabh Mani Tripathi (@shalabhmani) January 8, 2023
In his next follow-up post, he wrote, "I would like to give this person a chance to sing a song on behalf of my music company Mist Music." This sweet gesture of Ankit towards Kanhaiya left netizens in awe of him as they showered heaps of praises on the singer.
For the unversed, the viral man, Kanhaiya Kumar was caught drinking in Bihar. He was arrested by officers soon after he entered the state post-consuming hooch on a trip to UP for work. According to Bihar's law, it is prohibited to enter the East India state after drinking.