XXX OnlyFans Model, Courtney Clenney, Arrested For Boyfriend's Murder In Fatal Stabbing, Elevator VIDEO Of Her Beating Him Surfaces!
OnlyFans model Courtney Clenney is facing murder charges for murder charges against live-in boyfriend Christian Obumseli and a viral video has surfaced on the internet which saw her beating her boyfriend in the elevator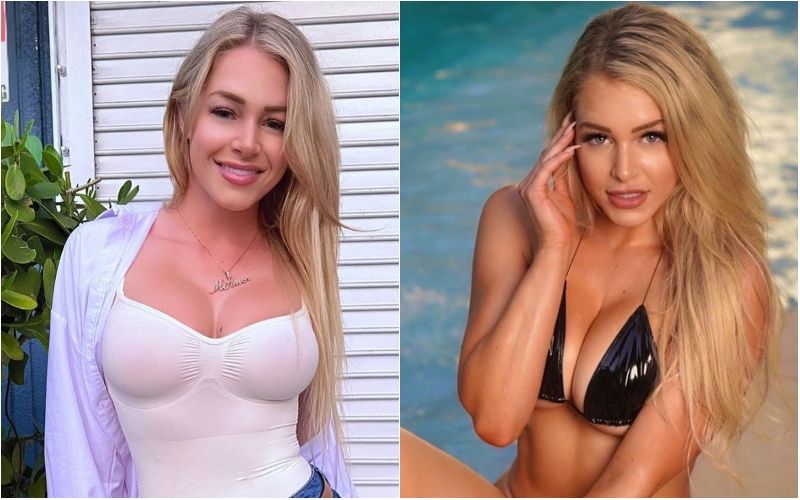 OnlyFans model Courtney Clenney was arrested in Hawaii for stabbing her boyfriend in Miami. She is expected to be extradited on the charges of second-degree murder, authorities said.

The 26-year-old OnlyFans model was charged with second-degree murder with a deadly weapon in the April 3 stabbing of her boyfriend, Christian 'Toby' Obumseli, the state attorney for Miami-Dade County, Katherine Fernandez Rundle, announced Thursday.
Katherine Fernandez Rundle detailed the couple's relationship which began in November 2020 as "extremely tempestuous and combative." The recent reports suggested that the building management where Clenney and Obumseli lived documented multiple instances of loud arguments and was ready to evict the couple before Obumseli's death.
Previously, Clenney had kicked Obumseli out of their apartment, but they reportedly rekindled their love two days before his death. The investigating officers believed that Obumseli was stabbed between 4:33 p.m. and 4:57 p.m. on April 3, Rundle said.
According to the authorities quoted by Fox News, a surveillance video saw Clenney assaulting Obumseli in the elevator of their luxury apartment building months before she allegedly killed him with a kitchen knife. Key records show him leaving the apartment shortly after 1 p.m. and returning to the building at 4:32 p.m.
"The defendant was aggressively attacking Christian," Rundle said of the Feb. 21 footage that shows Clenney in a white bra and pyjama pants smashing elevator buttons before turning her rage on Obumseli, reported FoxNews.
The police officials have also found that Clenney made two calls to her mother during that time frame before she called 911 herself at 4:57 p.m. requesting help for Obumseli.
"On that 911 call, Christian can be heard in the background. We repeatedly say that he was saying and he was losing feeling and his arm," Rundle said. "Defendant Clenney is also heard saying, 'I'm so sorry.'"
However, the model's mother had a different story to narrate. Clenney's mother, in her statement to the police, had said that she heard her daughter yelling at Obumseli to leave the apartment while she was on the phone with her.
Clenney told police that after an argument, Obumseli grabbed her by the throat and shoved her against a wall.
Courtney Clenney appeared on OnlyFans under the name Courtney Tailor and has 2 million followers on Instagram.
Image Source: Instagram