Yashraj Mukhate Gives A Funny And Musical Spin To Ranveer Singh's Nude Pic Controversy With His Song, 'WE CAN SEE HIS BUM!'
Yashraj Mukhate released a new song and gave a funny and musical twist to Ranveer Singh's nude pic controversy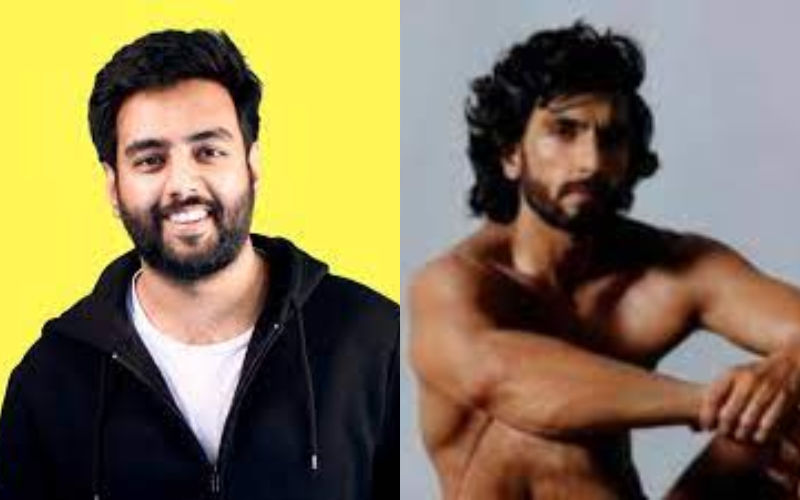 Ranveer Singh has become a national topic with his nude pictures. Netizens have trolled him, complaints have been filed against him, prime-time debates are conducted and a 'cloth drive' has been organized for him. Netizens are getting creative by editing his photo with saree. Even Bhuvan Bam shared an edit of him posing with Singh. Now, Yashraj Mukhate has made a funny song about this recent situation.
Yes, you read right! Yashraj Mukhate, has given a musical spin to the current situation and made a song 'WE CAN SEE HIS BUM!'. This song went viral in no time and is breaking the internet. Interestingly, people are even loving this viral track.
Many celebrities loved this and commented. Stand Up comedian Tanmay Bhat commented, "The nod at the beginning", while singer Salim Merchant wrote, "Too good yashraj @yashrajmukhate ! This is awesome" and singer Harshdeep Kaur wrote, "Ufff". Even dancer actor Mukti Mohan wrote, "Dancing shoes were out at that nod!!", comedian Kaneez Surka commented, "I love you I really do" and Ahsaas Channa wrote, "This is perfect. How you did?".

Interestingly, Mukhate got these hilarious lyrics from Vedika Chaubey, the woman who filed a complaint against the actor. Recently, a news channel invited her and asked about her reasoning behind the FIR and she said, "Of course this is vulgar, we can see his 'bum', his video is with me he is completely nude in that video". Well, these lines were enough for him to go musical. This fun and peppy track poke fun at the advocate who expressed horror at 'seeing Ranveer's bum, using TV Debate.
For the unversed, Mukhate is popularly known for his super viral 'Pawri ho rahi haia' and 'Rasode Mein Kaun Tha' funny and hilarious tracks. With these songs, he earned fame and garnered adulation.
Image Source: Google