Zerodha CEO Nithin Kamath's Father-In-Law Runs A Grocery Shop; Reveals The Life Lessons He Learnt From Him-READ BELOW
Nithin Kamath took to his social media handle and shared a picture of his father-in-law, Shivaji Patil and revealed how he inspires him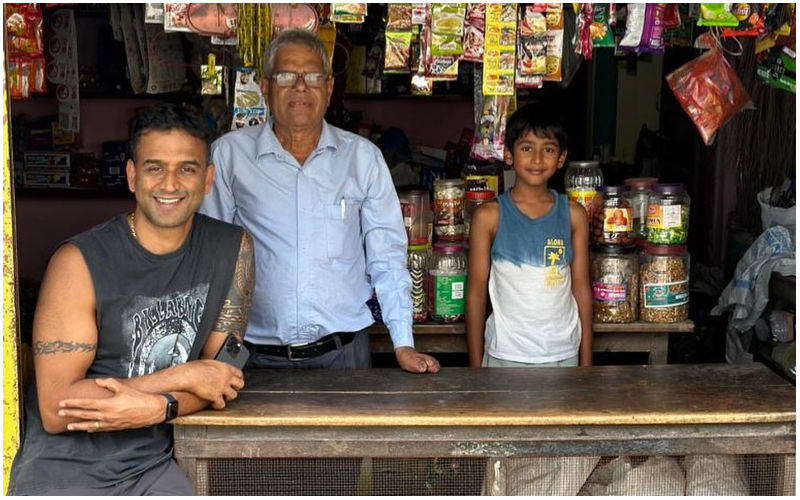 Nithin Kamath, the founder and CEO of Zerodha has been scaling success with his hard work and dedication. An investor, stockbroker and entrepreneur, Nithin and his brother, have featured in the Forbes World's Billionaires List in the year 2023. Despite amassing all the fame and fortune, the Zerodha chief hasn't let the success go to his head. Nitin continues to remain a down-to-earth personality and he recently shared some life lessons he learned from his 70-year-old father-in-law.

He took to his social media handle and shared a picture of his father-in-law, Shivaji Patil and revealed how he inspires him. Kamath shared that his father-in-law started running a small grocery shop in Karnataka's Belgaum after losing his fingers during the Kargil War.
Elaborating on the same, Nithin wrote, "Being content is the only way to true freedom. A person who embodies this is my father-in-law, Shivaji Patil. He was in the Indian Army & voluntarily retired as a Havaldar after losing his fingers to frostbite during the Kargil War. He started a grocery shop in Belgaum after."
Sharing his father-in-law's daily routine, Nithin maintained that he goes to the local market daily on his old scooter. He also shared that Shivaji Patil is helped only by his mother-in-law, who not only manages the house but also runs the shop.
"He is 70 years old but goes to the local market regularly on his decades-old scooter for the specially-abled to buy groceries for the shop. His only help is my mother-in-law, who helps him run the shop and manages the house.
Nithin also revealed that despite the success he and his wife, Seema has achieved, Shivaji doesn't listen to them and refuses to stop working.
Sharing his father-in-law's profit margins for various products, he revealed that Patil only earns a 25 per cent margin on chikkis. Nithin also hailed Shivaji for never complaining about anything in his life. In his words:
Nithin Kamath continued, "He refuses to stop working, even with the success Seema and I have had. When I ask him about margins for various products in the shop, there is still a twinkle in his eye. He speaks about a 25% margin on chikkis, buying a box at Rs 200 & selling them individually for Rs 250."
Nithin's net worth is estimated at a net worth of $2.7 billion and says that cannot buy the sense of satisfaction that his father-in-law enjoys. Elaborating on the same, Nithin concluded, "I have been geeking out about increasing healthspan or how to live a good life until the end. I have no doubt that the answer is to be content and never stop being active mentally and physically. Money can't buy this, and he is the best example. I have been geeking out about increasing healthspan or how to live a good life until the end."
He also said, "I have no doubt that the answer is to be content and never stop being active mentally and physically. Money can't buy this, and he is the best example."
Image Source: Instagram