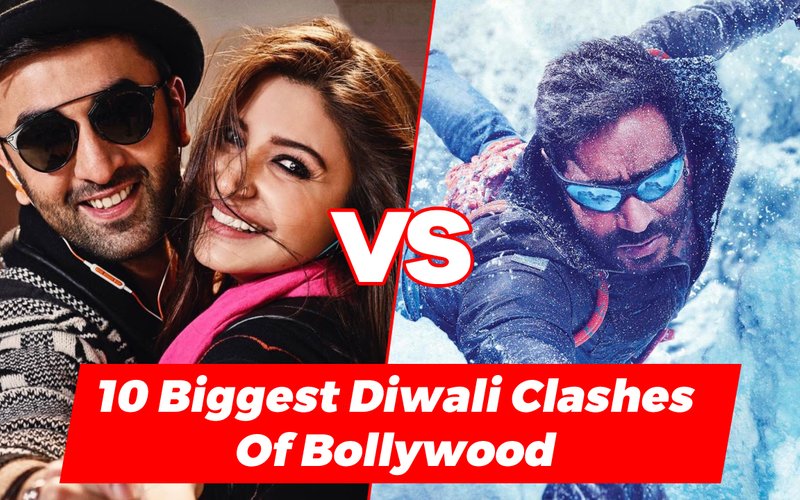 Your browser does not support the video tag.
When all eyes are laid on the Diwali box office, Bollywood becomes a battleground. Throughout its history, highly anticipated blockbusters have clashed, become overnight sensations, and emerged victorious and sometimes vanished into thin air. Watch as we compile some of the biggest blockbusters that were released on the festive day in the past two decades.

1. Deewana Mastana vs Dil Toh Pagal Hai (1997)



Image Source: alchetron and alwaysreview

One might think that these are small numbers, but adjust it with any formula that deals with inflated rates and you would be surprised to find that these figures almost reach a 100 crore. While Pappu Pager and Munna Mobile made us laugh all the way back home, it was the other holy trinity of the '90s that conquered the BO.

Deewana Mastana: 24.50 crores
Dil Toh Pagal Hai: 28 crores

2. Mohabbatein v/s Mission Kashmir (2000)



Image Source: world4freemusic and doridro

Most people thought Hrithik would have a golden run after his historic debut in Kaho Na Pyaar Hai. Sadly, his year was marred with average to awesomely bad films such as Aap Mujhe Lagne Lage, Fiza and Mission Kashmir. That year no one thought SRK would bounce back. Then came YRF to his rescue, with Amitabh Bachchan as a co-star, Aishwarya as the love interest and a whole host of newbies, it was the musical masterwork people were craving for!

Mohabbatein: 33.25 crores
Mission Kashmir: 23.14 crores

3. Aitraaz vs Veer Zaara (2004)



Image Source: oldfact and jtpic

Pitched as a movie with Madan Mohan's last composition, three of the biggest stars in Bollywood and the craft of Yash Chopra came together for this one. Now put that next to a film which had the theme of sexual assault on a man; this was a big gamble! Fortunately, while the 4 hour epic film won the race with unfathomable ease, Aitraaz was also declared a surprise hit.

Aitraaz: 15.6 crores
Veer Zara: 40 crores

4. Jaan-e-Maan vs Don (2006)



Image Source: kinotime and knowyourmeme

What's a festive release film without the epic battle between two superstars? If Hollywood has one superhero film pitting against each other in the summer, we have the Khans. Salman wasn't exactly in top form a few years before his stellar launch in Wanted. With films like Lucky: Not Time For love, Saawan The Love Season, one wasn't expecting much from Bhai. Now compare that with SRK filling in Big B's shoes in a slick avatar of Don. The revamp was immaculate. After the word of mouth began on both the films, it was clear who is winning on the Diwali release race.

Jaan-e-Mann: 27 crores
Don: 50 crores

5. Om Shanti Om vs Saawariya (2007)



Image Source: senscritique and dmasti

A '70s retro Bollywood themed movie that made fun of the industry and perked up nostalgia in the most joyous way possible vs an utopian love story with two debutants. The rest is history.

Om Shanti Om: 79 crores
Saawariya: 23 crores

6. Golmaal Returns vs Fashion (2008)



Image Source: watchonlinemovies and iphotoscrap

Rohit Shetty is like that uncle who comes with a ton of gifts, sweets and firecrackers every single Diwali from out of town. And his second instalment from the Golmaal franchise was enough to make the glitzy, glamorous and soulless world of Fashion fizzle out sooner than expected.

Golmaal Returns: 52 crores
Fashion: 30 crores

7. Blue vs All The Best (2009)



Image Source: doridro and movizshare

Blue had a very interesting and Hollywood-esque storyline topped with breathtaking cinematography and action scenes that looked like any other movie from the Fast & Furious or xXx franchise. But it is this very essence of the film that alienated family audiences who flocked to see yet another Diwali bonanza by Rohit Shetty.

All The Best: 42 crores
Blue: 38.6 crores

8. Golmaal 3 vs Action Replayy (2010)



Image Source: downloadmore and filegaga

Ajay Devgn and Diwali have a special connection. That claim is cemented by the BO collection of Golmaal 3. While the trailers of Action Replayy were smartly and thematically edited, the movie proved to be otherwise and was touted as a disaster. Golmaal 3 capitalized on the family outing theme and ruled the screens for the long weekend.

Action Replayy: 29 crores
Golmaal 3: 160 crores

9. Son of Sardaar Vs Jab Tak Hai Jaan (2012)



Image Source: gomolo and hdmove24

The master of romance vs the fierce action prince of Bollywood. While die hard romantics wanted to indulge themselves in the love triangle, families opted to go for SOS. While the race got closer and closer, JTHJ won by a long streak as the film was immortalized as the Late Yash Chopra's last oeuvre.

Son of Sardaar: 103 crores
Jab Tak Hai Jaan: 121 crores


Which reminds us....this Diwali, which club are you a part of? Shivaay or Ae Dil Hai Mushkil?