VIDEO: 10 Films That Inspired The Biggest Indian Directors To Choose Filmmaking As Their Career
Ever wondered what was the spark that enkindled the fire within some of our biggest filmmakers? SpotboyE.com discovered ten masterpieces that made our biggest auteur what they are today...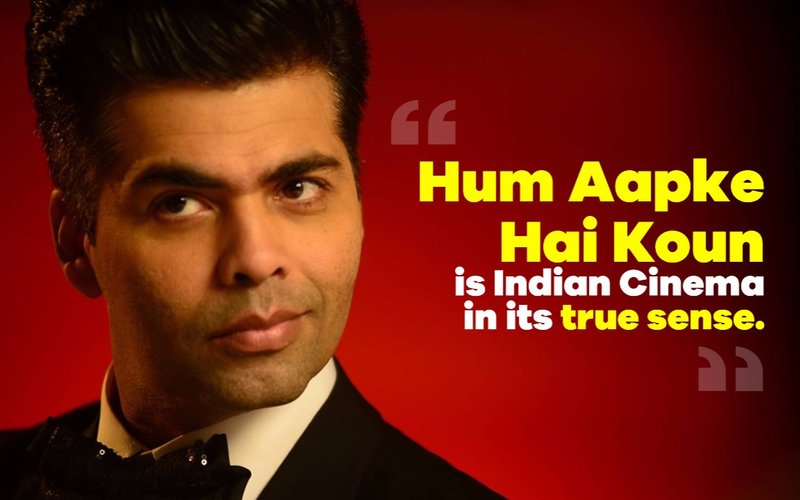 Ever heard of the term of multiple universes? It fundamentally means that there are infinite versions of you and the same universe you are now living in. But in each of them there will be a slight or even minute difference of you, your actions and its domino effect. Now imagine this, in another universe Anurag Kashyap is not even a filmmaker, probably an ordinary man, just like you and me. Scary thought for a fan isn't it? In another universe, he must have not received that one single piece of cathartic inspiration. In this case, we are talking about the motion pictures that made them directors in the first place.

Just like the mythological gods gave fire to man by lightning, the inspirations we are talking about here are films that connected with the director like a bolt of lightning. They were a different being when they saw it and another when it got over. What are these films about and what are their names? SpotboyE.com discovered the ten masterpieces that made our biggest auteur what they are today:
# 10 Imtiaz Ali (Shyam Benegal's Junoon)

One of India's greatest orchestrators of romance and atonement was inspired by the one and only Shyam Benegal. His movie spoke out to him like an individual and altered his cinema like never before. Hear the verdict in Imtiaz Ali's words -

"This movie beautifully explains the truth of culture with its soulful qawwalis and language. Junoon for me is the history of romance." - Imtiaz Ali.

# 9 Rajkumar Hirani (Hrishikesh Mukherjee's Anand)

Raju Hirani is a man who can make millions cry at the drop of a hat. And where did his inspiration come from you ask? Well, from another master who made audiences cry, laugh and cheer with his characters in the 70s.

"Anand doesn't follow any grammar of screenplay writing at all. There is no villain in the film and somehow I like to see the film like that." - Rajkumar Hirani.

# 8 Anurag Kashyap (Vittorio De Sica's Bicycle Thieves)

Who would've thought that one of the most violent, tour de force and exhilarating directors was overwhelmed by the most emotionally stirring film of the 20th century?

"It opened the world of cinema for me. It gave me the confidence that the world I come from can be cinema too" - Anurag Kashyap.

# 7 Ayan Mukherjee (Farhan Akhtar's Dil Chahta Hai)

Ayan Mukherjee knows the pulse of a young nation. But how does he get the tone and verve of the script right every single time? Well, the answer lies back in the year 2001.

"This movie gave me a lot of hope. Everything about the movie smelled of something fresh. My Wake Up Sid owes a debt to the Dil Chahta Hai school of filmmaking." - Ayan Mukherjee.

# 6 Zoya Akhtar (Mira Nair's Salaam Bombay)

While her recent films speak of another world and their problems, Director Zoya Aktar's inspiration was a film that dealt with a dark underbelly of Mumbai in the 80s.

"It has a documentary feel to it but also has a serious dramatic narrative weaved somewhere in between. It opened my head in the sense of cinema." - Zoya Akhtar.

# 5 Shoojit Sircar (Satyajit Ray's Pather Panchali)

The man who shoots unexplored universes, cities, its people and families and nails it with the characters is also fond of a very famous movie universe - The Apu Trilogy by Satyajit Ray.

"Pather Panchali hit me badly. If you haven't seen Ray's films, you haven't seen the moon." - Shoojit Sircar.

# 4 Sriram Raghavan (Frank Darabont's The Shawshank Redemption)

India's answer to the Coen Brothers is fond of a 90s masterpiece that is considered by many to be the greatest film of all time.

"The movie is a spiritual experience for me. In fact, Badlapur heavily takes from Shawshank."- Sriram Raghavan.

# 3 Dibakar Banerjee (Martin Scorsese's Raging Bull)

The chameleon of Hindi cinema who keeps sucker punching us with his hard-hitting films is also fond of an all-time great by the legendary Marty.

"I could never get this movie out of my head despite not liking it at first. If I ever have a doubt about filmmaking, I go back to Raging Bull." - Dibaker Banerjee.

#2 Rohit Shetty (Ramesh Sippy's Sholay)

A man who loves adrenaline, explosions, fiery dialogues and livid characters has to be a super fan of the 70mm monster hit.

"It's the bible of commercial cinema. The sound, the technique and editing was way ahead of its time. This movie will never get old." - Rohit Shetty.

# 1 Karan Johar (Sooraj Barjatya's Hum Aapke Hai Koun)

Nobody understands relationships like KJo. But no one truly understands Indian families like jubilee hit filmmaker Sooraj Barjatya. KJo's inspiration today marks the concoction of values, romance and complex relationships.

"It's Indian Cinema in its true sense. It has so much soul and oodles of emotions." - Karan Johar.