Last year, the legendary superstar-
Amitabh Bachchan
added another feather to his already full cap with a stupendous performance in Pink. His work was par excellence in the film and of course won several accolades.
We presented the SpotboyE Salaam, Best Actor Male (Critic) for Pink to Mr Bachchan.
Excerpts from the conversation that followed:
First & foremost congratulations Sir for the SpotboyE Salaam Best Actor Award for Pink. I have watched the film twice and you were wonderful in it...

Thank you. May I first compliment you on this concept of an award ceremony where you do not have an actual event but confer the award and talk to the artiste through the digital medium. It's unique, out of the box, at least for me.
Thank you so much, Sir. We will start with Pink, I was in conversation with Shoojit Sircar a few days ago and he told me that when he came to you with the subject, you gave him the dates almost instantly. And then, he came back to you saying let's wait for a while...

The issue that Pink addressed was valuable and pertinent- something that has plagued our country and many other parts of the world. So, I felt the sooner we did it the better it is, because every other day we are reading about some atrocious incidences happening to women across the world. I was very keen on the subject as it was so strong and therefore I felt that it should be addressed immediately to the public- not so much as a film but perhaps the content that was going to be introduced in the film was very essential to the society.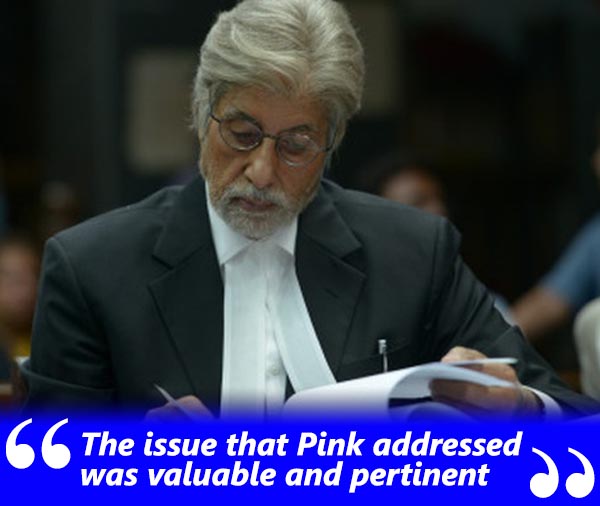 Amitabh Bachchan In A Still From Pink


Your character had a lot of intrigue. First half mein aap bahut observant aur quiet ho and then suddenly you come out to help the girls, which was a drastic transformation. How did you go about the two parts?
Yeh jo character hai isse aaise hi design kiya gaya tha, pata nahi logo ne isko gaur se dekha ya nahi lekin yeh character bipolar tha. We shot a lot of portions in the film depicting my character's bipolar state lekin final editing mein Shoojit ko laga ki shayad hum main issue se door hatt rahn hai.
The idea was to show the state of women in the society, so he cut down a lot of the bipolar scenes in the final editing. But yes, my character in PInk suffered from a bipolar disease.
He was a retired lawyer (which came out very briefly in the film, I don't know if you were able to observe it). When the girls want to employ a lawyer, they search for one on the Internet and that's when they find out that my character is mentally unstable or diseased. They are hesitant to go to him because they know he is not someone at the prime of his profession. So, the hesitance you notice in the beginning is because of his bipolar activities--- but it also lent an element of surprise and intrigue in the screenplay.
The courtroom scenes were extremely interesting. You didn't go overboard and kept it subtle- was this a deliberate effort?

Yes, Shoojit wanted it to be like that. Traditionally, most of the court scenes in Indian cinema have been vociferous and loud. Years ago I did a film called Shahenshah. In that film, there was a climax courtroom scene which I discussed with the film's director, Tinu Anand. I told him that since most of the courtroom scenes in our industry are loud & verbose, can I just talk normally?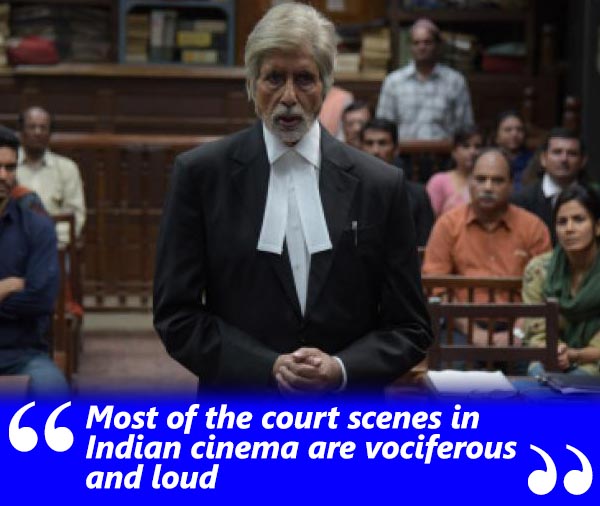 Amitabh Bachchan In A Courtroom Scene From Pink


So, he said ok and I delivered the scene keeping it subtle. When I completed the shot, there was silence in the room. Tinu told me, 'I don't think it is working, do you want to do it my way?' I said 'Ok' and we went overboard and made it loud.
Agar aap kisi bhi courtroom scene ko nazdeeki se dekhenge ya sunenge, toh aapko samjh mein nahi aayega ki kaun kya bol raha hai, lekin anth mein taali zaroor baj jayegi kyunki bahut zor se bola aur teevre bola. So, during Pink when we tried the other way, the junior artistes who were seated in the room started clapping. That's how Shoojit felt that why we can't we just keep it normal? Also, the fact that the lawyer is bipolar, unsure of what he is doing and was coming back to the court after a long period of time, made us keep it normal. That's why my character had two distinct behaviours in the court- one where he was unsure and other where he gains his strength and confidence.
Coming to your question per se, yes, the courtroom scenes were deliberately designed by Shoojit to be conducted in this manner. Even the settings were done unlike most courtrooms you see in Indian cinema- they were very real and natural- the furniture, the designs, the filing, the procedures- everything was realistic.
Were you comfortable saying the lines that you said in the courtroom?

Yes, every line that I have spoken in the film Pink, if I were to say and express it in real life, I would do it exactly the same way. Everything I spoke as a dialogue, I actually believe in it and would stand by it.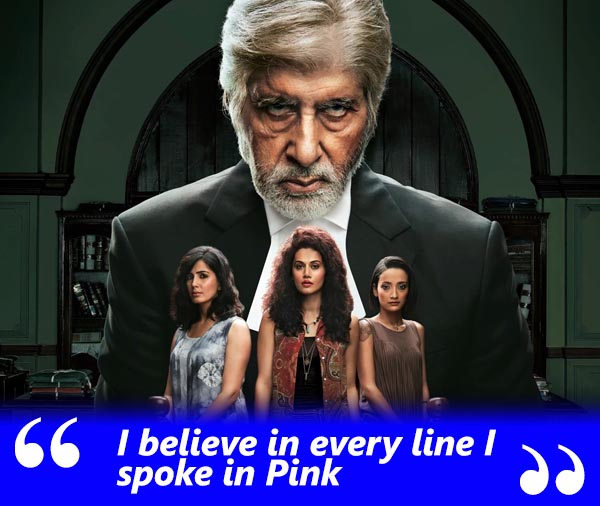 Pink Movie Poster


Let's talk about the experience of screening Pink in Rashtrapati Bhavan for the President...
The President enjoys Indian cinema and this was not the first occasion that I showed him my film- I have shown him Bhoothnath Returns and Piku earlier and he watches several other films as well. It's always a wonderful experience and encouraging when the constitutional head of the largest democracy of the world sits with you to watch your film.
Have you ever had an incidence in life where you stood up for women's rights, just like you did in Pink?

I don't think I need to have an incidence. I think my own beliefs are right enough. I have always believed in gender equality, I believe that the status of women should be treated on an equal level as men. They form 50 percent of the strength of our country and their status in society and morals should be equal. I even tweeted a few days ago that 'When I die my assets should be divided equally between my son and daughter'. What more can I say? I am very proud to have had my first child as a daughter; my brothers have three daughters, my son has a daughter and we all are very happy about it.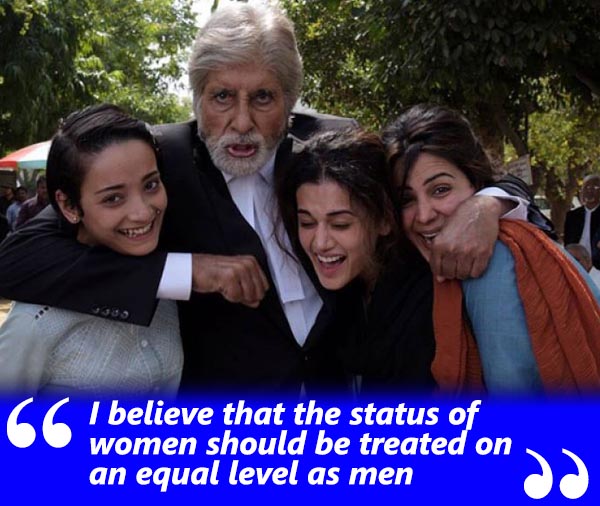 Amitabh Bachchan, Taapsee Pannu, Kirti Kulhari And Andrea Tariang Share A Candid Moment On The Sets Of Pink


You're pressing the right buttons with Piku, Pink...
(Interrupting) I don't know if I am pressing the right buttons but yes, we have been doing these different kind of films and it is the audience who is pressing the right buttons.
I read the letter you wrote to your granddaughters, which went viral...

Shoojit has two daughters and he felt very strongly that the message that we are sending out in Pink needs to be more vocal. He told me that it will be great if you can write to your daughter and granddaughters and since we are making a film on the issue, it would be a great promotional activity as well. I thought it worked quite well. We talk within closed doors about how in India or anywhere in the world, it's quite different when a girl is born and when a boy is born. Therefore, I felt this is something which needs to be spoken about.
Image Source: youtube/timesmusicindia & twitter/
SrBachchan