Nitesh Tiwari: Established Actresses Would NOT Have Complied To Transform Themselves For Dangal
Dangal, helmed by Nitesh Tiwari, is undoubtedly one of the most memorable films of all time. In a candid chat with Vickey Lalwani, the director talks about casting for the project, roadblocks on the way, his SpotboyE Salaam Award and his favourite scenes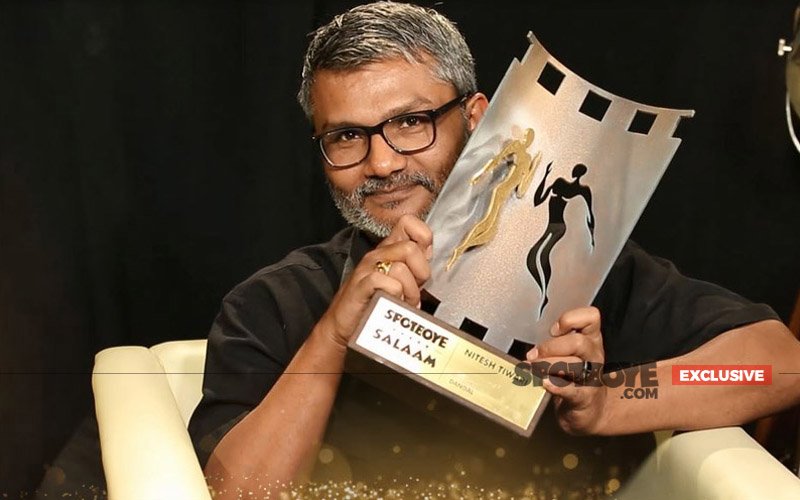 Aamir Khan, Fatima Sana Shaikh and Sanya Malhotra-starrer Dangal has broken several box-office records. The biographical sports drama, helmed by Nitesh Tiwari, is the highest grossing film in Bollywood history.
Right from skilfully bringing real-life events on-screen to extracting nuanced performances from the film's cast, Nitesh Tiwari proved to be a deft director.
We presented him with SpotboyE Salaam for the Best Director and sat down for a chat with him.
Excerpts:
Where did Dangal all begin?

It all began 4 years ago when I was working with Leo Burnett. I was waiting for Bhootnath Returns to start when two of my friends from Disney – Manish Hariprasad and Divya approached me. They had a very basic premise – Geeta Phogat becoming the first Indian woman to win the Gold at Commonwealth Games 2010. Babita had won Silver and Mahavir Phogat was behind the training of the girls.
They asked me if I would be interested in developing it any further. It was quite a mouth-watering premise. In a country where you don't have many achievers especially when it comes to specialized games like wrestling, these two girls from a rural background of Balali (Haryana), where they were trained by their father against the opinion of the society, had made a mark. The subject was definitely worth digging deeper into. Post that I met Geeta, Babita, the coaches, relatives, Mahavir Phogat, the villagers – everybody I thought was important for me to meet in order to get a hang of the story.
Then we began writing. We had all the ingredients in place, we just had to ensure that we mix them well in order to get the dish right.
Were you apprehensive that who will essay Mahavir's character? The man impregnates his wife till she delivers a son, pushes his daughters to strive for the gold medal in wrestling...

I believe as a writer you should go all out and not be scared of the consequences. Probably the reason why writers are able to do that is because there are no monetary implications. You can experiment and change things if required. We wanted to do justice to the story, write as close to reality as possible. The beauty of this character was that he wasn't the 'perfect' one, as we portray our heroes to be. It is a flawed character. But the pay-off is so beautiful and meaningful to the society that none of those flaws matter to anyone who has got good sensibilities. We wrote it with full conviction without worrying about who will play the character.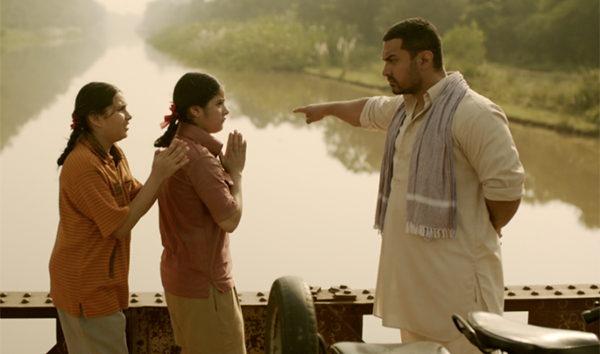 Image Source: youtube/zeemusiccompany

How did Aamir Khan come in the picture? Who suggested his name?
After we finished writing the screenplay, I narrated it to Ronnie (Screwvala) and Sid (Siddharth Roy Kapur) at Disney. They loved it and wanted to do it. Now, that's the first hurdle that you have crossed.
Immediately after, they asked me if I have thought of anyone for the role and I instantly said – Aamir Khan. They didn't question me on the choice which probably could be because they agreed as well. The two told me that they will get in touch with Aamir and get back.
Soon after, I got a call from Sid saying that we have to present the screenplay to Aamir. I went to his place late at night and presented it. We had a very long meeting and I am glad he agreed to do it.
He didn't ask too many questions about the character/ film?

No. What was nice to see was that, in no time, he became a part of the script. I have done many narrations and the enthusiasm of my narration is directly proportional to the enthusiasm of the person listening to you. I must have narrated Dangal to Aamir sir 4-5 times and every time his enthusiasm was as though he had heard it for the first time. That's the kind of interest and involvement he shows in the creative process. The way Aamir reacted, it was evident that he had really liked it. After a brief discussion about the characters here and there, he said that he wanted to do it.
It's said that Aamir gets so involved in the film that sometimes it's considered interference. Were you not apprehensive that there might be a few changes in your writing or even on the set?

I don't form opinions based on hear say. I conclude based on my personal experiences. My first meeting with Aamir sir was more than fantastic. The way he came across, the interest he showed, the respect he gave me as the writer – to me that was more than reassuring that I was going to work with a deadly guy. Now, over two years since the meeting, I can tell you that my intuition was bang on. He is the most easy-going and chilled out person I have ever met in my life.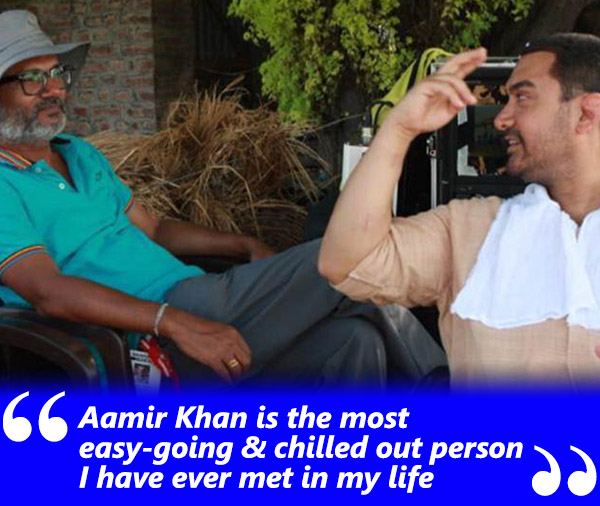 Image Source: sanjeevnitoday

Were you not tempted to take established actresses for Geeta and Babita's role?
It's difficult to get someone like Aamir sir for a film. He is known to do a film in one year and goes to great lengths to transform himself -- physically or mentally -- for the role. That's something which is difficult to expect from a lead heroine. Here's why. The demand of the role was extremely high and I don't think any established actress would have agreed to do that. It required 8-9 months of dedicated prep time. Hence, for an established name to give 2 years of her time to a role which not only requires her to look like a boy but also bulk up, put on weight and lose her hair. It's too much to ask.
What was your premise as far as Aamir's weight is concerned? How did he respond to it at that point?

(Laughs) I was not in a position to tell him that you should put on so much of weight because how would I know how Aamir will look when he puts on 10 kg, 15 kg or 20 kg? So he suggested that he will keep putting on weight till a point where we ask him to stop.
He piled on kilos till he reached 97 kg and asked me if he I wanted him to go on. For me, he made for a convincing ex-wrestler at that weight, so I asked him to stop at the point.
Aamir was endangering his health with so much weight gain. Take us through his mental state, who was he consulting, what were the side effects, et al?

I will not get into the details of how his metabolism or cholesterol levels were being affected. I would reveal instances which are easy for people to visualise. Aamir would get breathless even while tying his shoelaces. It was that difficult. His stomach would come in his way as he bent down and he would look at me and say, "kya kar diya aapne dekho mere saath"
He would get tired easily, his resting heartbeat went from 50 to 98. That's very high. However, he took it in his stride. He continued to look like that purely because of the love for the character, because he thought that putting on body suit will not do justice to the role. He firmly believed in the fact that if I have to play an unfit, overweight, ex-wrestler, I need to become one, otherwise it will show in my walk, in the way I sit. In fact, it will even influence my breathing pattern.
Did he ever worry that how is he going to lose the extra weight?

It's natural for anyone to worry about his/her weight. That's precisely why he shot for the overweight portion first. He was of the opinion that if he films the overweight portion later, he will continue to remain one till a sword comes on his head. However, if he knows that he has to lose weight to meet the film's deadline, he will be motivated since shedding so much weight is no mean feat.
Another nagging feeling was the fact that he didn't know how his body is going to react to the weight loss. He has done it in the past but how your body reacts to external factors differs with age. However, once the weight loss began he was very happy because his body was responding the way he had expected it to. Everytime we would meet he would excitedly give us the weight loss update. Over time, he knew that he will be able to resume shoot as planned.
You had Salman Khan-starrer Sultan's shadow on the film since both are about wrestling. How did you go about sorting that out?

Ali Abbas Zafar (Sultan's director) is a good friend and he knew that I have presented a script centred on wrestling to Aamir. At that time, he was waiting for Salman to get back to him on Sultan. Both of us were in the waiting period then. So as a friendly gesture, he suggested that we exchange notes to see that we don't end up harming each others' films. Eventually, we met and realised that there is nothing to worry about because the films are poles apart.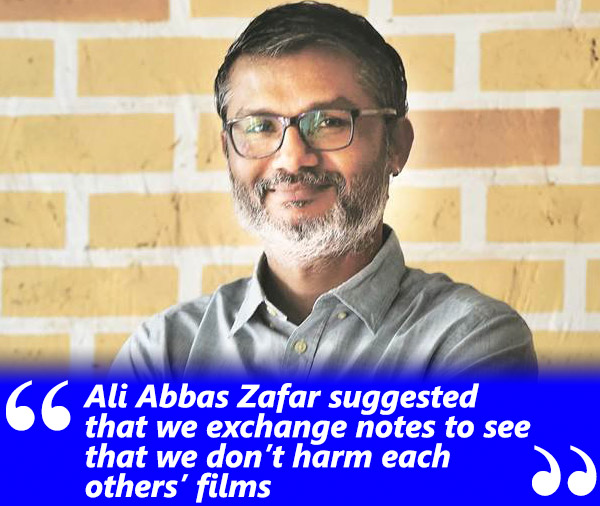 Image Source: topsy0
Which, according to you, are the high points of Dangal?
It's so difficult for me to choose a scene because all of them play an important role in the film. However, to be biased, I am going to give you a few purely going by how I felt about them at the editing stage. For me, if you as the creator are moved by the scene when you see it, you have done justice to it. 4 scenes stand out for me.
1. When he presses his daughters' feet when they are tired and sleeping.
2. The haircut scene and how the girls look after it. It was impactful.
3. Father-daughter fight scene.
4. Both Geeta and Mahavir crying on the phone.
5. Mahavir's realisation that she has won the final based on the National Anthem.
As the director, I take great pride in all our wrestling scenes, but as the audience, these are the scenes I take back with me.
Did the fight between Mahavir Singh Phogat and Geeta actually happen?

Mahavir Singh and Geeta-Babita still fight. The magnitude is different.
Did they fight like portrayed in the film?

The fight in reality wasn't like the film, but these physical fights are frequent to tell each other ki aap yahaan galat ho, aap wahan galat ho. Also, these fights are no restricted to Mahavir, Geeta and Babita. The other two sisters are involved as well.
In real life, it was not such a huge clash of ego. It never went to the point where the relationship got torn so badly. But yes, it was a natural clash of egos and it was equally natural for Mahavir Singh Phogat to fight it out with his two daughters, but since Dangal was following Geeta's trajectory, we couldn't incorporate Babita's quarrels. The audience would have got confused as to which story to follow. We amplified the ego tussle in the film.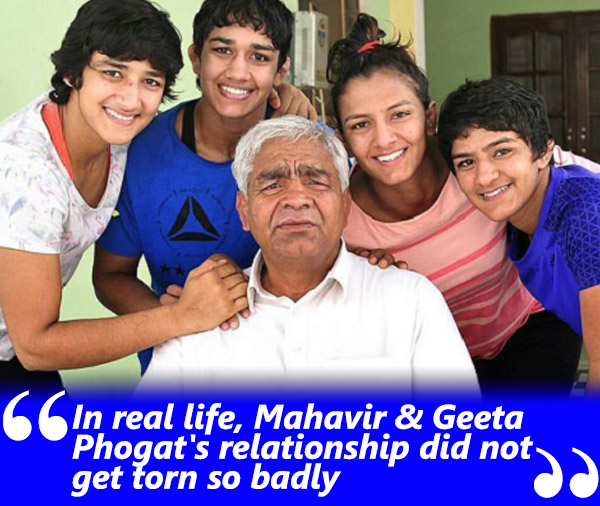 Image Source: wefornewshindi
Also, Mahavir Singh Phogat didn't get locked in a room during the finale in real life, right?
No, he didn't. That was our way of highlighting Mahavir's philosophy – which is, harr jagah tujhe bachane tera papa na aawega, main tujhe sirf ladna sikha sakoon, ladna tujhe khud hai.
Whose idea was the National Anthem?

The writers – I was one of them.
That took the scene further up...

This is the payback you get when you come up with ideas which have not been done before. 2-3 permutations and combinations could have happened if the National Anthem thing had not happened.
He could have got locked in and come out right before Geeta was to do the 5-pointer in whatever way – someone could have opened the door or he could have broken the door. However, it didn't give us the satisfaction because it was the conventional/clichéd way of going about it. First you give the scene an edge by locking him up in the room and then you dilute it by letting him out and screaming out. Then might as well let him be there. Then we came to the point that how does he realise that Geeta has won? We then discussed that every country that wins the Gold has its National Anthem played and that is an audio cue.
That's when we realised that we have hit upon something which is a great way of making Mahavir realise that his daughter has won.