Kapoor & Sons brought to Bollywood what few films have in the past – a lovable dysfunctional family. The film, directed by Shakun Batra portrayed relatably 'flawed' characters forcing the audience to face realities the society continues to ignore. Amidst the chaos, it was
Rishi Kapoor
's portrayal of 'Dadu' that kept the humour alive.
We presented the veteran actor with SpotboyE Salaam for the Best Supporting Actor (Male) and sat down for a chat with him.
Excerpts:
You have got practically all the Best Supporting Actor awards for your performance in Kapoor & Sons. Were you expecting this?

No, not really. I am unlucky with awards and suddenly, I think, time is paying me back, so probably I am getting it now. Thank you for all of them. Thank you SpotboyE.com for recognising my work. It was great fun working in Kapoor & Sons.
But you didn't enjoy working in the film?

Let me put it this way, I troubled my director a lot.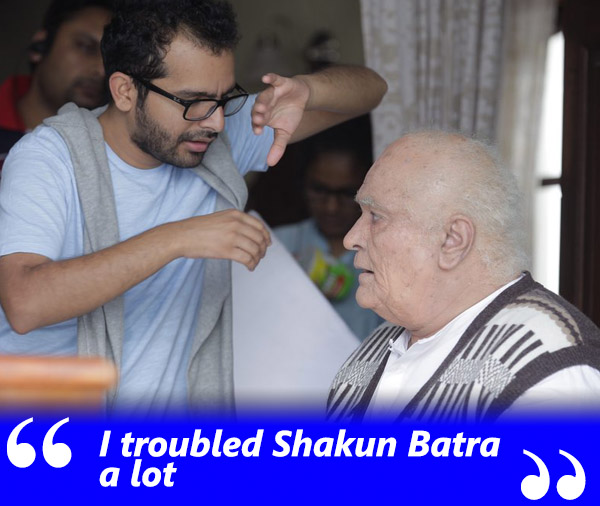 Image Source: twitter/kapoorandsons_

Shakun Batra?
Yeah. But then I analysed it. When you sit on a chair--- especially a person like me, who people know as very impatient -- for a period of five-and-a-half hours; from six in the morning until noon and just being done (obviously it's some kind of passion I have for my work, which is why I am in front of the mirror being done up) up, and after that you go on the sets and start working--- there is some kind of irritation that obviously builds up inside you.
I saw you shooting in Coonoor.

Yes, you were there with us.
Yes, and primarily your problem was too many takes of the same shot. Right?

Not too many takes, but too many shots of the same thing. The angles were similar, but I guess, that's the way people work today. There is no more film, everything is digital, there is no problem of wasting raw stock. The pattern has almost all changed. I am an old-timer, so it's probably going to take me a little time to adjust to the fact that films, or should we rather call it cinema...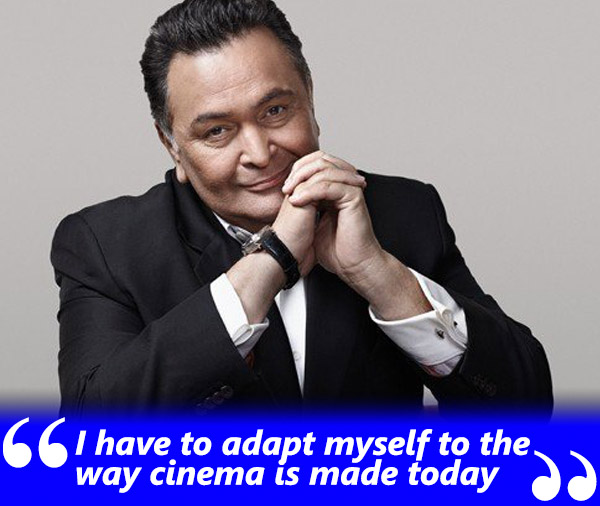 Image Source: gazabpost


Yes, of course.
So yeah, cinema will be now made in a particular definite way. I have to adapt myself. I had objections and wanted to know which shot is going to stay. I always get confused because I am not that kind of an actor who can recreate an emotion, or recreate that same moment from every angle. I am more of a spontaneous actor and I don't engineer my acting. I have no method at all. I don't know what to do in each take, so I wouldn't know if there is no continuity.
These things bothered me, but obviously I was proved wrong by the director. Ultimately the end result was what he wanted--- and that's the way it is.
You almost walked out of the film. What made you stay back?

(Laughs) It happened on the second day. I called up Karan (Johar) and told him I can't cope with this.
Karan Johar?

Yes, Karan Johar. He was the film's producer. I told him that I can't do it and will give up the film. He said the same thing happened with Kareena Kapoor in her first film and that everything will be okay. However, once I got into the rhythm with Shakun, which was much later in the film -- I started understanding his point of view and he understood mine.
You are all praises for Shakun, but let's say, hypothetically, if the film had not clicked, would you have said that he is good?

I like a director who takes his own stand. He had a point of view which I accepted--- and vice versa. We met halfway. I like it that he wanted it in a certain specific way and he managed to do it, so I respect him for his conviction.
I protested because perhaps I was irritable in that cage on my face. Somewhere, it was some distraction.
I just want a 'yes or no' answer - If the film had not clicked would you have praised Shakun Batra?

I worked in a film called Aurangzeb and the film didn't work. I praised the director then. Even now, I think it has one of my good works.
Would you have praised Shakun Batra – yes or no?

Yes, I would have because he gave me a role and agreed to do what I wanted.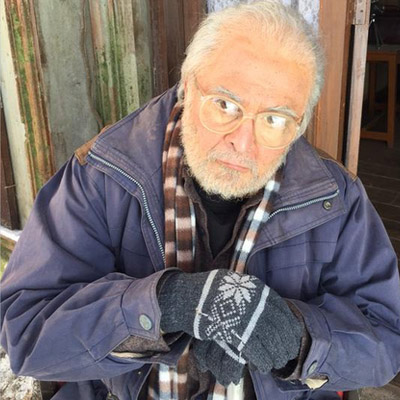 Image Source: twitter/chintskap
You played a grandfather in Sanam Re too, which had released just a few weeks before Kapoor & Sons. Didn't you feel Sanam Re would take away the novelty out of Kapoor & Sons considering you were playing grandpa in two movies simultaneously?
I don't view my work in such a manner. I am not a gimmicky actor; I don't manipulate my acting or manipulate the way I want to work. I play as it comes; I play it like I have another subject, just like I was considering a new one that has come to me lately.
What's the subject?

The new one?
Yeah.

I am not at liberty to tell you right now because I have not yet said yes to it. Nonetheless, we were on the topic of why would you have two roles where I play an elderly person. I don't see anything wrong in it as long as I play them differently. I didn't look the same in the two films.
You didn't have prosthetics in Sanam Re, but you were as convincing in it as you were as in Kapoor & Sons.

What has prosthetics got to do with my acting?
I would like to know that why you needed to have so much prosthetics. In fact, somebody did criticize you on this of late...

No, this is one thing which we dealt with. We wanted this character to look a little weird and funny because he was the only funny thing in the film, which was otherwise very taut and tense. Everyone has a problem, everybody is very vocal, everybody is talking in the film and there is tension all through.
So, we wanted that I should look funny yet old, and at the same time, there was pathos in the character. So the design, the make-up that Greg Cannom achieved was after a lot of look tests. We wanted to age him, even more to look 90. Now, when you talk about Sanam Re, it was not such an important character in the film. It was an extended guest appearance which I did only for Divya Khosla more so. This is how the prosthetics came into play.
In the first draft of Kapoor & Sons, it was you who was supposed to die in the end...

Was it? I don't know that.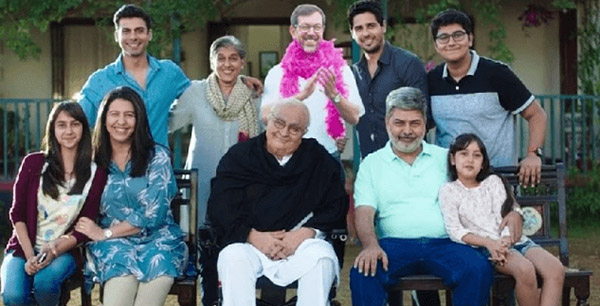 Image Source: youtube/DharmaMovies

That's what Shakun told us -- that after many revisions they killed Rajat instead of you because it would have been very predictable to kill the grandfather.
(Smiles).
Did you know that?

No, I didn't know. Drafts keep changing. So many things keep changing. What I heard was only the last draft.
How was your connection with Ayesha DeVitre because she was doing your hair…

Exactly, I was about to come to that. I didn't know it till we were ending the shoot that she was also the writer of the film. I thought she was only doing the hair.
In retrospect, she did a wonderful job. When I saw the film, I said it was a very difficult film and why the film worked I think is because each and everyone gave their best to it. Everyone was involved and it was shot in a stretch. Everybody except me knew the lines.
Why didn't you know the lines?

I don't know because (a) perhaps I cannot (b) I don't want to because I feel I become very repetitive. I might become monotonous and robotic.
What did you think of the dialogues in films like Kapoor & Sons which have a modern director compared to the Hindustani that was there earlier? Of course things have to change with the times, but isn't the change too drastic?

You think so?
Yeah...

In today's films, I think the language is contemporary. Like consider that line of mine in Kapoor & Sons which was so impromptu, in fact it was not a part of the script...
Which line?

The line was 'Teri maa nahi hai, teri Mummy nahi hai kya?' It was not there. It just happened. I thought Shakun will just cut the shot. I just happened to say it, but everybody laughed while shooting and that's why I probably I thought Shakun retained it.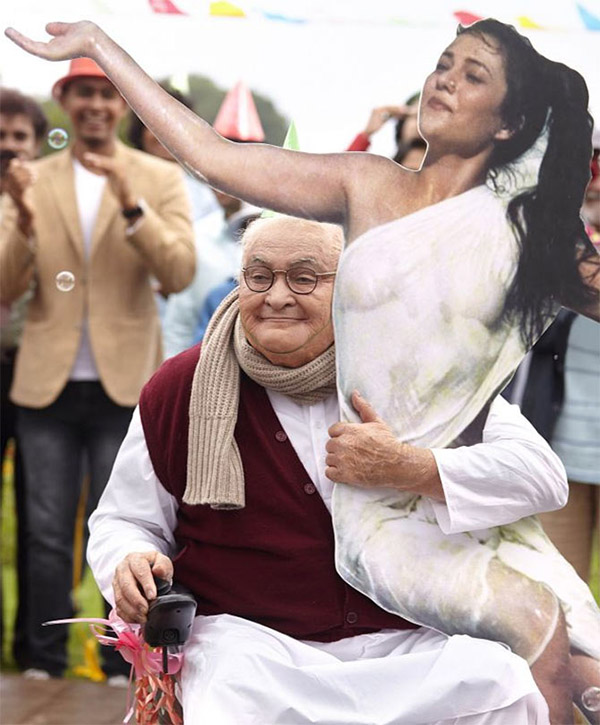 Image Source: youtube/DharmaMovies

Ok...
So that's what I like about a director who is open to changes if the need be.
Consciously or subconsciously, was there anything of Prithviraj Kapoor in that performance?

Was it there?
I am asking...

(Thinks hard) Well, no.
Just in the way of speaking - the booming voice, the joie de vivre.

No, I didn't ever think on those lines.
No?

No, I didn't.
Okay…

You are the first person to ask me this question.
Is that a good thing?

Well, I can expect that from you.
Would you have liked a grandfather like the one in Kapoor & Sons who smoked weed?

People say that, people say that…you know that.
Smokes weed and eyes the nurse...

Sees porn, shares porn with his grand kids, smokes weed with his grand kids. That's what young people loved about him.
Would you have liked such a grandfather?
Maybe I am little old-fashioned, but this is what today's generation loved about that man. He sees porn, discusses women with them. However, I don't know if I would have liked one like that.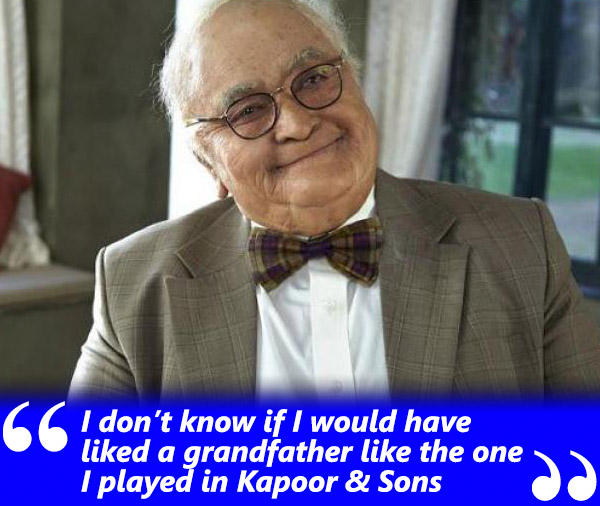 Image Source: youtube/DharmaMovies
You would not?
No, I don't think…would be more…..
Shocked?
Not shocked. I am a little conservative when it comes to such things. I am a very conservative father also. I have said in my book that I share a very different relationship with my son. And you are talking about a grandfather, that's two generations apart.
How conservative are you? He (Ranbir Kapoor) does not smoke in front of you, for instance…
Well, I don't mind him doing so. We have a drink together. He doesn't smoke probably out of respect. I didn't in front of my father, my father didn't in front of his father. I am built that way.
Do you get upset about his girlfriends?
No, I don't have an issue with his girlfriends. He always brought his girlfriends home and I went to his house when he was sharing his house with another girlfriend of his.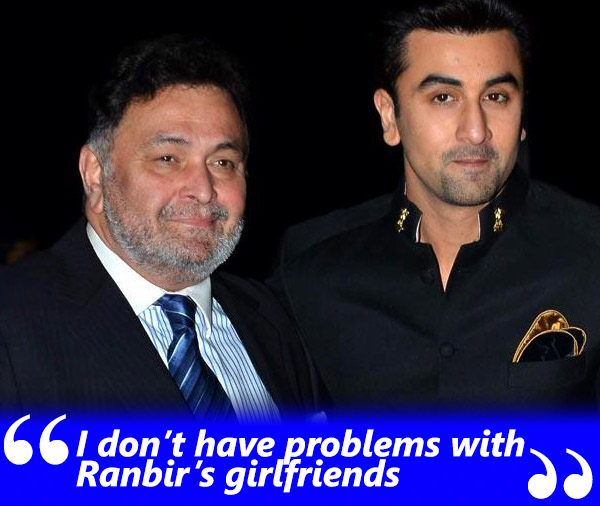 (Ohh…laughs). She was also one of them…

(KM in a hushed voice…..Katrina Kaif…)
Ohh…I am not a bad actor you know…
(Both laugh)
Anyway, coming back to the topic, I am a little conservative in my opinion and I have said that in my book. I am not that back-slapping father with his son.

But he is petrified of you from what I can see…
No. He is not petrified. Perhaps it's out of love and sheer respect. We talk work and otherwise, when it's needed.

Is he a mama's boy?
He is more close to Neetu because over the years, when I was busy, most of my time went to my work. Hence, the children had their mother mostly. So, I guess, he is attached.

Would you like to say anything more on Kapoor & Sons before I go off?
Well, I would l like to say Thank You to Karan Johar. Third time lucky with Agneepath, Student Of The Year and now, Kapoor & Sons. All three very different and challenging roles. I won a number of awards for Agneepath, in which I played the villain, and now, thankfully for Kapoor & Sons. I am very thankful to Karan for having thought about me and of course, Shakun. Sorry Shakun, I have told you earlier and also mention at every award function that I really troubled you, but the end result was good.