Andarkahini: Official Trailer Starring Priyanka Sarkar In Multiple Roles Released
Arnab Middya is debuting through this movie. The cast includes Rajesh Sharma, Saayoni Ghosh, Anindya Chatterjee, Soumitra Chatterjee, Siddhartha Chatterjee. Andarkahini will be releasing on 6th September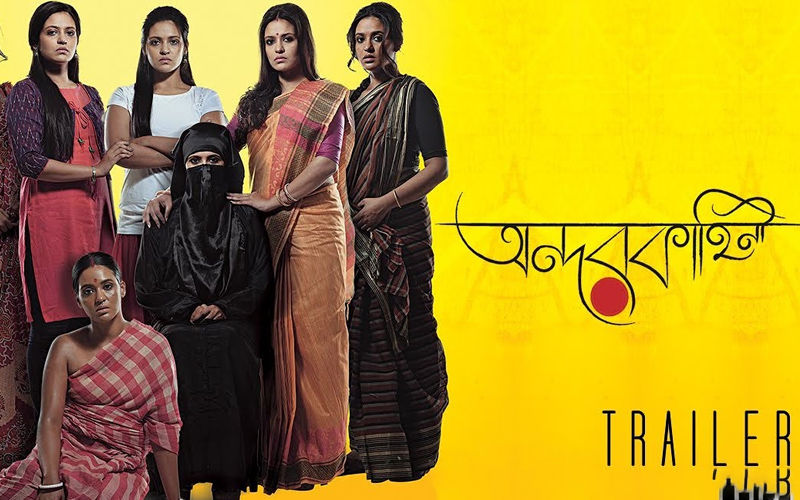 The official trailer of Andarkahini starring Priyanka Sarkar has been released. The movie is directed by Arnab Middya who is also debuting in the Bengali film industry through this movie. The cast includes Rajesh Sharma, Saayoni Ghosh, Anindya Chatterjee, Soumitra Chatterjee, Siddhartha Chatterjee. Andarkahini will be releasing on 6th September.

The trailer shows Priyanka Sarkar in multiple roles and the troubles she faces. Priyanka Sarkar is also seen in village girl, affluent class woman, middle-class woman, and lower middle class. How she is dealing with society. The trailer stitches four stories of different diversities with the core crisis of womanhood. Four women. Four variations of relationships. One society with four facades.

Watch the official trailer here:
Andarkahini is a story about the relationship between four women. The first story explores a girl's relationship with her father and her boyfriend. The second story focuses on the relationship between a brother and his sister. The third explores the relationship between a husband and wife during the recession and the fourth is about the relationship between two girls. The girls are so close to each other that they share everything under the sun. Basically, there are myriad relationships in a woman's life but these are primary.

On other work front, Priyanka will be next seen in Abhirup Ghosh's next thriller 'Rahashyo Romancho Series'. The thriller revolves around three different stories from three different genres - crime, suspense and supernatural.

Priyanka Sarkar will also be seen in Debarati Gupta's Filter Coffee Liquor Cha. The film is about the love story of a South Indian boy and a Bengali girl. Nishan KP Nanaiah will be essaying the role of the South Indian boy while Priyanka Sarkar will be seen as the Bengali girl.'Filter Coffee Liquor Cha' will be produced by Prosenjit Chatterjee's home production Nideas Creations. The film is expected to release during Puja.


Image Source:- youtube/andarkahini