"Ananya Panday Is A Honeymoon Baby," Bhavna-Chunky Get Candid About- Their Daughter, Themselves And Student Of The Year 2
Ananya Panday's parents are real and frank. They know all eyes are on their daughter on Friday, when Student Of The Year 2 hits theatres. In an EXCLUSIVE INTERVIEW with SpotboyE.com, they rewind on their marriage, daughters Ananya and Rysa both, and of course, Karan Johar without whom it would've been all incomplete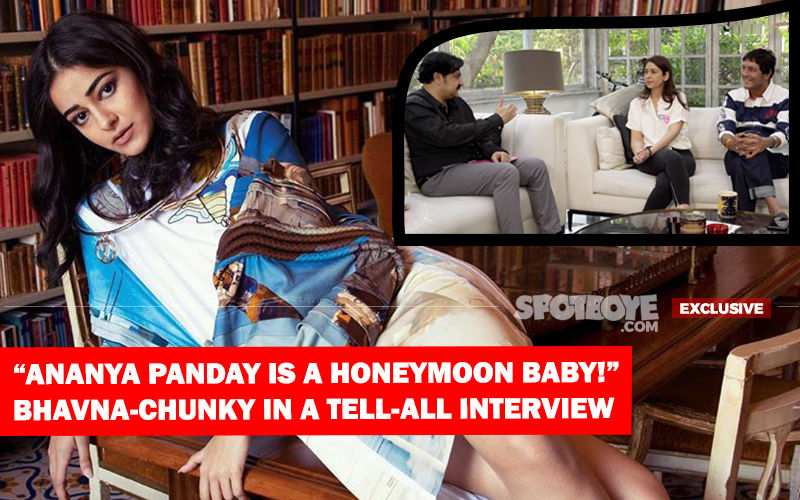 It was a warm evening, when I walked into their place at 5 30 pm yesterday. But barely two minutes in their lovely, plush flat and I knew that I am in for a meaty interview. Looking so made-for-each-other, Bhavna and Chunky Panday played the perfect hosts. Not at all in a hurry, no fuss about the camera angles and make-up- how rarely you get a stage of such kind in today's times!
I candidly asked them to retrace Ananya Panday's 20 years right from the labour room- and the couple was equally candid if not more, to tell me that Ananya is a honeymoon baby. During the chat, when we touched upon Bhavna's growing up years- Bhavna was frank to say that she is the tough cop while Chunky is the sweet one. We got to know from the Mommy that she had even confiscated Ananya's phone, once. One of the most interesting things that emerged was that Ananya, Suhana Khan and Shanaya Kapoor used to dance to Bollywood songs in kids' birthday parties!
SEE THE INTERVIEW, IT'S A STEAL
!
Without batting an eyelid, Bhavna also told us that she is the hard cop while Chunky is the sweet one- when it comes to handling kids- Ananya (20) and Rysa (15). Bhavna says, "I had confiscated Ananya's mobile phone, once." Chunky reveals that "as parents, we were under lots of pressure when Ananya had to choose between Student Of The Year 2 (SOTY 2) and an academic course for which she was selected abroad," and Bhavna chips in, "But Ananya had already made up her mind, SOTY 2 it will be!"
Yes, we have spoken to Chunky a couple of times on Ananya and he had revealed a few things about Ananya. But the above
VIDEO INTERVIEW IS SPECIAL
.
Also,
YOU MUST READ THE CHUNKY INTERVIEW IF YOU HAVEN'T TILL NOW. CLICK BELOW
.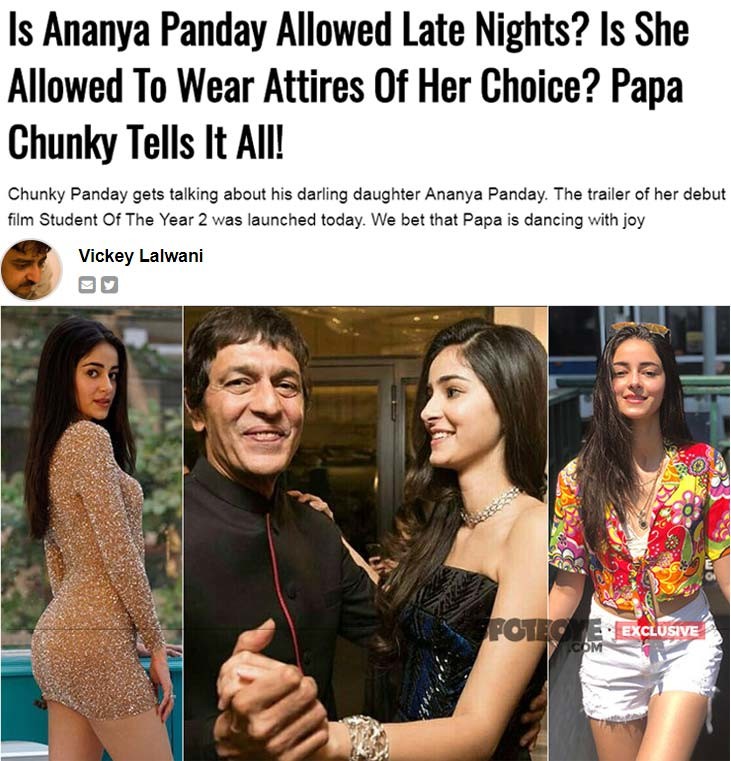 SOTY 2 is produced by Karan Johar and directed by Punit Malhotra
. The film hits theatres on April 10, Friday. Tiger Shroff, Ananya Panday and Tara Sutaria head the cast.
Alia Bhatt has a cameo in a song with Tiger
.
All eyes on Ananya Panday, over the weekend. The janta is waiting to see how Chunky and Bhavna's elder daughter looks and acts on the big screen.
All eyes on Tiger Shroff and Tara Sutaria too!
Image Source:- Instagram/ananyapanday/
chunkypanday