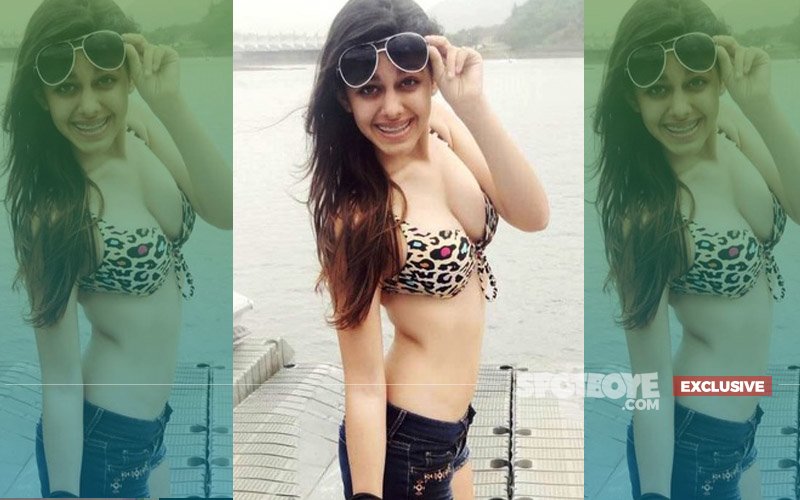 Your browser does not support the video tag.
Tell us about your childhood.
My childhood was very different. My mother (Pooja Bedi) was very strict with me. Academics had to come first. It was like 'first do well in your studies and then go out to have fun'--- that was always the rule. So that's what I did. I kept my grades up and everything was great. Now I study at New York University.

You are rampant on social media and have many followers...
I have no commitments here right now, so I come here and do whatever I want. My trip to Mumbai is always a lot of fun. And with social media, honestly I don't know how it became such a big thing with me. I just went on to start off with a site called 'askfm', it used to be really big at one point and I was like 'OK, let me see what the fuss is all about'. Askfm became really popular at that point, so that by effect it came on to my Instagram as well. I know that people are watching everything that I am doing today, but it's okay; I put it out there for them to see and so I can't complain (smiles).

You said your mom was strict. A Bedi mom being strict is a little difficult to digest. So, what was she strict about?
Last night I was out with friends and she was constantly calling to ask 'Where are you? When are you coming back? Which friend are you with? Give me his/her number, so that I can check on you'. Have I answered your question? (pauses).

Go on...
The thing is that my mother didn't have any rules on her when she was a child and she hated it. She used to ask for rules and regulations from her mother. So as a mother she has become what she wanted her mother to be with her. She is strict but in reasonable amounts, not overtly.




For instance, we have a rule that if I am out post midnight, I have to message her every hour to just tell her where I am and if I am okay. Nowadays it has become lesser because I fight back saying, 'I can't have these rules anymore, I am old enough, I live in New York all alone, if you can't control everything there then why here?'.

How did your mother react when people comment on the pictures you put up on social media?
Some are very nice comments, very sweet people that I see all over the place, they always come up to me to say that how much they like the way I am and the way I behave.

And then there are people who comment and say hurtful things at times and of course I would be lying if I said that it doesn't hurt from time to time.

But I shall remain on social media. There are many lovely people out there. For every one hater, there are hundered people who love me for what I do. And those hundred people pounce on that one hater and that makes it even better (smiles).

You still haven't answered my question...
My mother understands because she also had to grow up with the same thing; she has always been under the public eye. I am strong and thick-skinned, it's not getting to me.

Going back a little, how was it when social media started commenting on your body. Where were you? What was happening at that time? Also, what made you put out those pictures?
I put up pictures regularly. My Instagram is exactly what I am. For instance, if I am having a sleepover with my friends and we are all in our night clothes, in loose baggy t-shirts and pyjamas--- I will click a photo and if I look nice in the photo, I'll post it.




At the same time if tomorrow I go out for lunch and I am wearing a top and jeans and I look nice in a photo, I'll post it.

Similarly, if I am at a beach or in a pool in a bikini and I look nice in a photo, I'll post it.

As long as I am adequately covered, it's not vulgar in any way. My Instagram is my life. I feel like it will be dishonest of me to not portray a certain aspect of myself just because of what a few people would say. I feel like I will be betraying a certain portion of my followers.

Rewinding on that incident, a portal had taken my Insta pictures and suddenly I saw a lot many negative comments: Oh, what good is she? All she is doing is showing skin. These star kids won't achieve anything in life.' And I was like--- these people don't know that I have done so well right from school, they don't know that I attend New York University which is a very hard place to get admission into, they don't know that I have won national awards for art and writing. But yet they're hell bent on shooting off whatever comes to their mind.




I even read someone saying: 'Oh! She is not Bollywood ready, she is porn ready.' I was like, 'Oh! Just because I wear a bikini, which is what everyone does anyway but don't post photos of it, how is it that it makes me porn ready and not Bollywood ready? Do you not see Bollywood movies or people wearing bikinis on beaches? All these beautiful, and successful actresses wear bikinis and even short dresses. Why are they not porn ready? The comment just confused me.

For me, I respect your comments as long as they make some sense to me. So this made no sense to me at all. Comments starterd increasing and they were so random. There was no substance to what people were eventually saying.

Now, I am not the kind of person who would sit and reply to all the comments, so I decided to say something in return.

Next morning, when I woke up my counter had gone viral. It was everywhere. All the papers had covered it, websites had covered it, it was all over my Facebook timeline. I was being praised.

What exactly did you write?
It was a long post titled 'I am more than my breasts'.




Was it all your writing or your mother aided you?
It was December 31. My mother was in Goa doing her own thing. I sent the whole thing to her before I posted it and asked for her feedback. She didn't have network so it didn't get delivered and I really wanted to post the write-up before the clock struck twelve. I said to myself: Let me say what I have to and I am done.

So I posted it and a few hours later, she replied back saying, 'So lovely, so proud of you.'

Were the negative reactions coming from India only or abroad as well?
Only from India.

Did this happen to you because you are a Bedi?
Maybe, maybe not. My question is only that why did it happen at allI have never done anything to you. I have not even done anything that personally affects your beliefs or values. So why be hateful towards me?

Even stars are posting bold pics nowadays...
It's very normal, very natural.




Do you have Bollywood plans?
I am working on whatever it is that I plan to do. I am training and doing my best to be the best at whatever that I plan to do. And what I plan to do, people will see it in a few years from now.

So what's your plan now? Are you going to settle in New York or shift to Mumbai when your course is over?
I am definitely coming back to Mmbai. My course in NY requires me for only one more year. And then, I will be ready to take on the world.

Hmmm... How is your equation with your dad (Farhan Furniturewala)? Do you meet him often?
My equation with my dad is great. My brother and I both see him very often. In fact, I had a brunch with him recently. Even when I am in New York, we talk very often. He calls me frequently.

You were just 5-years old when your parents parted ways. Did it affect you?
Honestly, I was so young that I don't even remember it that well. I was old enough to remember my dad being around the house, but at the same time a majority of my formative years were spent with my mom on the weekdays and my dad on the weekends. It was a planned schedule. That's how I grew up and everyone was so happy in my surroundings that I never thought that 'Oh, my family is broken. My parents are divorced' The fact that they got divorced is not a sad or a negative thing. At the end of the day, it was for the better.

Do you miss your granddad? He stayed with you sometime ago and has now moved out...
I am still on very good terms with him. We meet very often. I don't like fighting with people (laughs).

Coming back to your passion for social media. Actresses put out out their pictures on social media and they're body shamed. What do you say to that?
I think hate in any form cannot be condoned in any form. It is as simple as that. Whether you are body shaming or slut shaming or any type of shaming, they'll do what they are doing and they'll look how they look. You focus on yourself, work on yourself , make yourself better. It upsets me so much because I don't get how people feel the need to sit behind the screen, phone or anything and say something hurtful.

Sometimes when there are negative comments on my photos, I look at them and I am curious to see the person who commented. I go to their profile to figure out the kind of people they are, what kind of backgrounds they have. So there was this girl who had commented on the fact that I posted a bikini photo--- but when I went to her profile, she had put up her bikini photo as well. I was very confused. What such double standars? Are you hating just for the sake of hating?

You should have written back to her...
No, if I go on replying to everyone who says something negative, I will have no time to do anything else with my life. I have your opinion and if you go overboard with it, I will just block you. As simple as that.

When you move out, walk on the road, go clubbing with your friends in Mumbai, or travel to any part of India--- do you think the way people look at women in India is different from what happens in New York?
Each place has its own sentiments, culture and values. In New York, it's acceptable to be roaming around in a certain way. People are not shocked if a girl is wearing crop top and shorts. At the same time, if you roam around in crop tops and shorts in India, it's not something people see in their environment on a daily basis and so you have to respect their sentiments as well. I might not agree with them, but I respect it. So with respect to that I will make it a point to not dress in a certain way when I am walking on the streets. Or if I am dressed a certain way, I will make sure I stay in the car and come out only when I have reached my destination.

Coming back to your equation with your mom, how frank/open are you with her?
I can tell her anything about my life. But do I tell her everything about my life? No. I am not the kind who will go up to her mother and tell her that I have a crush on someone. For me, that's awkward. Not because my mother will say that it's not your age to have boyfriends but if she asks me if I have someone in my life and if there is someone, I will admit to it.

Do you as a teenager advice your mom when she has been in a relationship or she's feeling low. She recently had a break-up (with Akashdeep Seagal)...
Of course, I do. My mom was very clear since the beginning that she loves us and will always be there for us and we can tell her anything--- but she is not our friend but our parent. That doesn't mean that we can't have a great bond or relationship with her.




Do you fight with her? Are there days when you both don't talk to each other?
Of course just like any other mother-daughter relationship, we do fight. But we are the kind of people who will fight a lot, close our doors, and ten minutes later mom will come and ask , "Baby, what do you want for dinner?" We love each other so there is no point holding on to grudges. It's impossible for two people as opinionated as us to not say something and of course opinions will clash.

Living in New York, are you in touch with Bollywood movies? Who are the actors you admire?
Alia Bhatt has impressed me a lot. I really liked her in Student Of The Year. Highway and Udta Punjab took me into another world. She definitely tops the list of my most favourite people. Then of course there is Deepika, Priyanka and Katrina. It is impossible to be like Deepika. Ever since I saw Krrish, Priyanka has been my favourite. She is doing so well even in Hollywood and I have respect her a lot.

What about the male actors?
Hrithik Roshan, because he looks like a Greek God. I like Varun Dhawan and Sidharth Malhotra too. Then there are the classics- Salman Khan and Shah Rukh Khan. It's very hard for me to pick one because everyone is so different. Everyone has their own charm is Bollywood and that's the best part. Even when they play a certain role, they somehow retain their characteristic elements in it. For example when Salman Khan plays a character, there is always an element of Salman in it. I love that part about Bollywood films.

And how can I forget Ranveer Singh? He is amazing. The way he behaves, the way he is, the way he dresses- he just doesn't care and is unapologetic about it. I love such kind of people.

You are like that, aren't you?
Exactly why I like him. I'll do what I want. Let people like it or not.



Image Source: instagram/aaliaf