Abhay Deol: Marriage Is Not My Cup Of Tea
In a tête-à-tête with SpotboyE, the actor talks about his definition of 'masala' films, the institution of marriage, and, of course, Happy Bhag Jayegi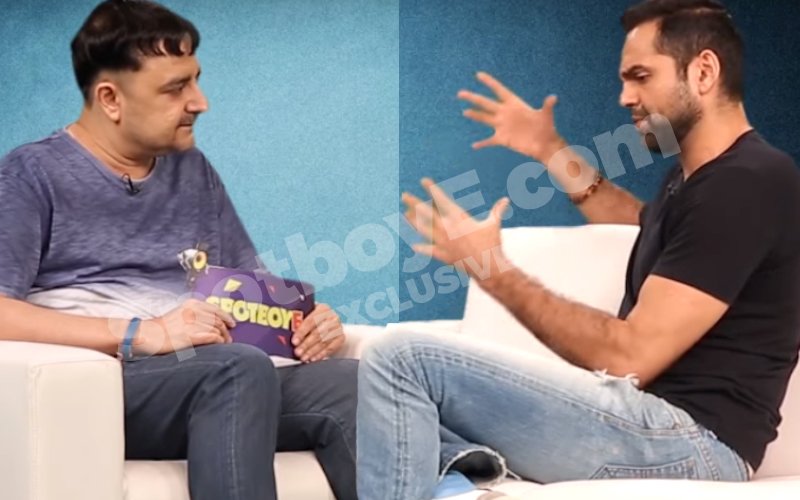 If you could associate the word unconventional with an actor, it would be Abhay Deol. Having done films like Socha Na Tha, Dev D, Oye Lucky! Lucky Oye! among others, the actor has surely carved a niche for himself. The actor is currently promoting his upcoming release Happy Bhag Jayegi which hits theatres tomorrow and despite his erratic schedule, was all set to answer a volley of questions when we caught up with him at Sun N Sand, Juhu a few days ago. The PR repeatedly asked us to wind up within 6 minutes, but even before the interview began, the actor, in his characteristic nonchalant style, made it clear that he was in no hurry and we could ask as many questions as we wanted. Excerpts from the interview:

What made you select Happy Bhag Jayegi?
I loved the script. The film has India, Pakistan but it isn't a political, thriller, action or a drama film. It's a comedy. I am selective of films in general, but comedy has to be written right. Aur khasiyat humaare director (Mudassar Aziz) ki ye hai ki wo bahut achcha likhte bhi hain. He has been writing for many years now. His command over language is very good. Be it Hindi, Marathi or Urdu. He is able to play with words really poetically. Also, relatability to the character, which is very important for me. I found that here. So I thought, why not?

Where has Abhay Deol been? Why don't we see you?
I am very selective. My effort has always been to find a script that's not necessarily formula, in-your-face sort of mainstream, typical. I also don't want to make movies that are so arty-farty that they are indulgent. Mujhe wo beech ka balance pasand hai. For example, Dev D, or a Zindagi... or a Socha Na Tha; these movies have the superficial elements of songs, picturesque locations, production value and actors which make it a commercial film, but there is something different in the content. You get to see something new. That's very difficult to come across. Jabb bhi mujhe wo mila hai, I have jumped on it. Also, it took me a while to learn that it's not just about making good films, it's also about marketing, distribution. Agar aapki film achchi hai lekin kisi ko maloom nahin ki wo cinema mein play kar rahi hai, kyunki marketing itni kamzor rahi hai, to koi dekhne nahin aaega. That affected me in a lot of negative ways. I never lost faith in the films themselves, because when that happened a lot of people turned around and said, 'dekha aapko bataya tha sir ki off beat picturein chalti nahin hain.' I thought, that's okay, but that's not true. If I had a big producer or director backing my film, it would have been marketed well as well. Then my next step was, how do I continue making the films I want to make and also have them backed by reasonable producers, distributors or studios? That also takes time, because bigger studios don't pick up the ideas I like.

So, are you telling us that after One By Two, you are still going to produce movies?
Of course, I am.

There was a time when one felt that you no longer wanted to produce films.
You may have felt that, but I never said that.



Image Source: moomblr

You said, few lessons learnt from there...
Lessons learnt, for sure. I think it was more in response to someone saying, 'Would you produce again?' and I said, 'For sure, I have learnt so much from it. Why would I not?'

You had mentioned somewhere that you are still fitting in. Do you still believe that?
Yes, I don't think I will ever be absolutely in it deep. I guess I am from a film background so on one level you feel like you are part of it in any case, but I don't think that way in the larger perspective. Also we were very sheltered while being raised, I think that has had an effect on me in a way which means, I will actually never fit in completely. There will always be something that will be different or outside of the industry and maybe that's my conditioning from childhood.

What holds you back from masala films?
I don't think anything holds me back; it's just what my definition of masala films is. For me, Dev D, Zindagi Na Milegi Dobara, Socha Na Tha and Happy Bhag Jayegi are all masala films. So it's not that I am holding back from masala, it's just that the kind of masala I like may not be typically masala. You know what I mean?

Your taste is different...
What do you define masala films as? For some people, Dev D was an off-beat film, for me, it's a nice balance of off-beat and mainstream. For me, that is a masala film. When I see bigger films with characters that are larger than life, I think that puts me off a little bit. Because a larger than life hero is very typical of a typical masala film and I don't find those characters attractive. I like characters that I can believe in, can relate to; that a hero is not because he beat up 10 people but because he overcame circumstances and that made them heroic. That does not fit into the masala very easily.



Image Source: twitter/ErosNow

So tell us about Happy Bhag Jayegi. What's your role in the movie?
Happy Bhag Jayegi, like I mentioned before, is like the Socha Na Tha and Zindagi Na Milegi Dobara kind of movie. It's light, funny and has elements of drama, of course. I play Bilal Ahmed, a Pakistani. He belongs to Lahore, very urban, has studied abroad and returned. He is a bit displaced. His father wants him to become a politician, whereas he always wanted to become a cricketer. He has made a lot of sacrifices in order to please his dad. He doesn't have an identity of his own. When Happy comes into his life, everything goes haywire. All that refined, suave, soft- spokenness goes out the door. He is just losing it, he is angry, upset. Happy puts up some challenges to him that make him go in a different direction in life. Aur Happy ki khasiyat yahi hai, she creates change wherever she goes.

How was it working with Diana?
It was fun.

We are seeing two actors (Diana Penty and you) who had disappeared from the Bollywood scene together in a film.
You know, after getting to know her a little bit, I was like, 'Yeah it makes sense that you took 4 years to come back. I totally understand you, I get you.' And I think that made the experience a bit more special because so far I haven't met an actor, who has the same sort of insecurities and reservations that I have. In fact, I found myself telling her 'Let's do it this way, that way', the very things people used to tell me, I started telling her. Suddenly there was me sitting in front of me and I was playing what other people played when they would talk to me. And then she would react how I would react. What I am saying is that there was this relatability with her. We were on the same wavelength. So the collaboration was far sweeter because of her.



Image Source: clipper28

There was a time when people said that you have shifted to the US. Was that true? Did you not want to come back at some point?
No, that's not true. I did spend a lot of time there. I have family in the US. My sisters are there and it's easy for me to spend a lot of time there. And because I wasn't working and had time on my hands, I thought, 'Why not?' I like to live in a place for a long period of time because that's when you really understand a place. And I am fortunate that I can do that.

We don't see you in parties. What holds you back there?
No one invites me (laughs) Unko lagta hai shayad wo hai nahin yahaan pe. Wo LA mein betha hoga, Mumbai mein hai ya nahin, aaega ya nahin aaega. Honestly speaking, I am not very much of a party person. I don't like to go out much. It's not like I don't go out at all, but it's seldom.

Do you believe in the institution of marriage now? Five years ago, you said you don't.
See, I do believe in the institution of marriage. I always have. Not for me personally (it's not his cup of tea), but I do believe that it works for some people—to each his own. What I don't believe is that you have to marry the person you love in order to show that you are committed. I believe signing on a piece of paper doesn't guarantee love, monogamy, commitment and all of those things. That comes through trust and understanding two people have. And that is what I mean when I say that marriage is not an institute for me. But it works for some people and they turn around and tell me that it works and they are right, because they have made it work.



Image Source: in

Your love story with Preeti Desai ended last year. How did you deal with it? Was it tough?
Things are up and down. Sometimes you are happy and together and sometimes you are solo and you pick yourself up and move forward again.

What's next after Happy Bhag Jayegi?
I have read a script I really love. I am hoping that gets finalised. Happy...is a certain kind of movie that this is not. So they both kind of fill a niche and they both fill it really well. So I am hoping that I get to do this one as well. But dekha jaega, abhi release ke baad hi maloom padega.

I wouldn't call this your comeback film, but are you nervous about its box-office collections?
Whether come back or not, time spent or not, you are always nervous for a release. You could be having back to back releases and you are still nervous. So that's normal. I am excited. This time around, at least, I do have the backing of a good studio and producer, so I am less nervous. It's not like both the producer and director are newbies and the responsibility rests on my shoulders. With Krishika (Lulla), Aanand (L Rai) and Eros behind me, I am less nervous. They have a lot of faith in the movie; they have proved it in the industry as filmmakers themselves, so I can be comfortable in the fact that they have faith in the film and will push it. And people will at least know that it's playing. Then it's up to people.