Ajeeb Daastaans' Armaan Ralhan On Working With Jaideep Ahlawat And Fatima Sana Shaikh: 'Half The Battle Is Won If You Have Such Amazing Actors Opposite You'- EXCLUSIVE
Armaan Ralhan, who was recently seen in Karan Johar's anthology Ajeeb Daastaans, talks about the five-year gap between his first and second films, working with Yash Raj Films and Dharma Productions in his first two films and more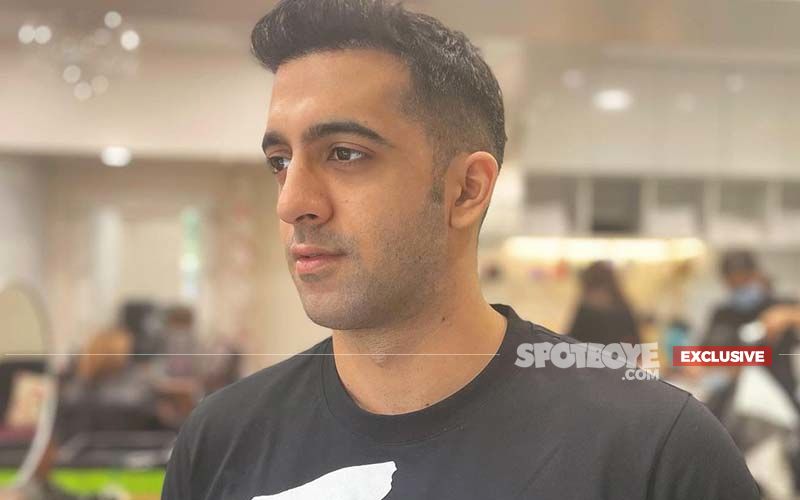 Armaan Ralhan, was recently seen in Karan Johar's anthology Ajeeb Daastaans in Shashank Khaitan's story, Majnu, opposite Jaideep Ahlawat and Fatima Sana Shaikh. The actor, who debuted in 2016 with Ranveer Singh and Vaani Kapoor's Befikre, got rave reviews for his part and has been enjoying the success of the anthology.


In an exclusive conversation with SpotboyE.com, Armaan talks about the film's success, the five-year gap between his first and second films, working with Yash Raj Films and Dharma Productions in his first two films and more. Read excerpts from the interview:


Ajeeb Daastaans has emerged a big success. How has it been dealing with its reception?
It has really been nice. In such times when things are so bad, and the main hope is that people's suffering stops and the situation improves, it's humbling to know that we could hopefully entertain people and get their mind off for some time. The response has been overwhelming and people are directly trying to reach me on Instagram and I am trying to reply to as many people as I can. Even people from the industry, whom I have admired, are reaching out to me.


People have been so kind and it feels amazing as this is what you work for as an actor. You try to play characters as honestly as possible and hope that the people respond and connect with it. People have been complimenting me on my looks as well. Personally, I don't feel I have any extraordinary looks to talk about, but if people like it, I can just say a thank you to my parents for their genetics and the hair and makeup artists, the DOP and Shashank who worked with me.


In your first film Befikre, you played a high-class gentleman, and in your second film you play a rugged goon. Do you feel fortunate to get an opportunity to show your versatility so early on in your career?
That was and is the goal. I became an actor to play different parts and get to change my way of looking, speaking and thinking for my character and explore myself through them. I wanted to work with directors that are making a difference to the world and I feel lucky to get the opportunity to play two such different characters in my first two films. Hopefully, the third and the fourth one would be extremely different too. That is the goal.
You worked with established names like Shashank, Jaideep and Fatima in Ajeeb Daastaans. What did you learn from them?
A lot of learning was subconscious, but Shashank walked and guided me through the character. He taught me a lot from an acting standpoint on how to be the character, be honest and let things happen as oppose to backtrack and create a scenario. As for Jaideep and Fatima, while working with such amazing actors, a lot of great things rub off on you. They just elevate your performance as half the battle is won if you have such amazing actors opposite you. You just have to be present and react to what they are giving you. The credit for my performance goes to these three people.
There is a big five year gap between your first and second film. Why is it so?
Befikre released in the end of 2016, so technically, it was more like 2017. After that, there were a few films I was supposed to do but for some reason they got pushed or delayed further down the line. Also, Ajeeb Daastaans was supposed to release last year but due to the pandemic, Neeraj Ghaywan sir couldn't shoot his story before and had to do it in December last year, so it got delayed by almost a year. But things happen for a reason and at the right time. Although, I hope that once things settle down, the gap won't be so much going further.


Do you feel that the failure of Befikre had to do anything with the gap?
There was work that came my way immediately after Befikre, but a lot of it was in the same space, whereas I was keen to show a different side of me. Working with someone like Aditya Chopra sir, Ranveer and Vaani was a chance of a lifetime and I don't regret that at all and am grateful that it was my first film. I hope to work with them again soon but I believe some films work and some don't, it's the process and the journey of making the film that is the most important and help you grow. Every actor has hits and flops, at the end of the day, you put your head down and give your all to your character.


You have worked with two of the biggest production houses in India in your first two films, YRF and Dharma. Do you feel lucky in that way?
100 per cent. It is a big privilege and honour. I have grown up watching YRF and Dharma films and most actors would love to be in my place and I really hope to continue doing good work with them. But I also want to work with new people as well, anyone who has a nice and engaging story to tell and cool characters to offer.
Apart from Majnu, which is your favourite story in Ajeeb Daastaans?
I enjoyed all of them, but apart from Majnu, I loved Kayoze Irani and Neeraj sir's films. I felt Konkona Sen Sharma and Aditi Rao Hydari were brilliant and I am a big fan of Shefali Shah ma'am and Manav Kaul sir. They are actors I look up to. And even Abhishek Banerjee, Nusshratt Bharuccha and little Inayat were amazing. At such a young age to be such a powerhouse performer, I was blown away by her. But I have a huge bias towards Majnu and will always hold that close to my heart.


There is a similarity between your first two films, you were the third wheel in both. Do you feel the tag is associated to you now?
I feel it's too early to box me, but the goal for me is not to be just the third wheel and mix things up. I want to surprise the audience and put out something that breaks the image created by my previous work. The third wheel thing was just a coincidence and another one was that both my characters were bankers but set in different world. I just hope that the next character that comes to me would be different and hopefully this time I'll get the girl.


For your first film, you chose a supporting character while for your second film you chose an anthology, both very unusual choices for a newcomer. What was your mindset behind it?
Whatever the project is, what matters to me is the story, my character and working with good people. In those aspects, I feel these films chose me and I wouldn't want it any other way. Once I do more work, hopefully I'll get in that place to choose the kind of work I want to do.


What are you working on currently?
I have shot for a film that comes out next year but I can't talk about it yet. Rest I am taking stock of the situation for now and haven't signed anything yet. All I hope for now is for us as a country to recover first.


Usually YRF signs a multiple-film deal with debutantes. Do you have any other YRF film in the pipeline?
Adi sir is a mentor of mine and I am sure we will be working again in future. He saw and liked my work and reached out to me to tell that to me. He has always been honest to me and hopefully there will be not just one but many more YRF films down the line, but there is nothing to talk about right now.


Ajeeb Daastaans worked so well on OTT. Will you be now open to working on web shows as well?
The whole climate of cinema is changing so fast today. Even in the west, you have to be little platform agnostic. It's not much about the format anymore but the story and its characters. I want to do films, but I don't see it as an either/or situation. The idea is to give good stories to people which they enjoy watching. I have grown up watching cinemas in theatres and my desire always was to do that but you have to adapt to the time, and right now we don't even have that access. So, I just want to do good work with good directors and engage people with my work.




Image source: Instagram/armaanralhan