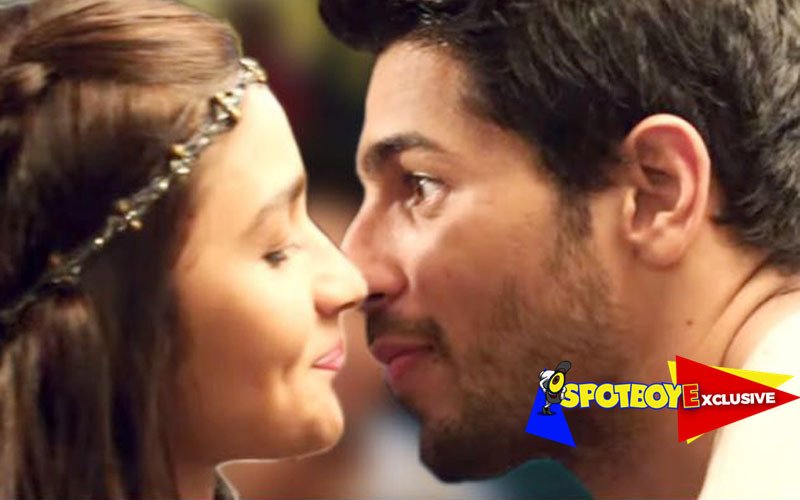 A filmmaker, whose project recorded the third highest opening weekend collections this year, waited for four years to effectively bring out a Gen Z family film. Shakun Batra is rightfully basking in the glory of his second adventure as a director, Kapoor & Sons. His mentor Karan Johar is more than proud of him. SpotboyE caught up with him to know what success smells like!

Has the success of Kapoor & Sons sunk in?

Yes, it has. It's nice when you come to office, log aapko buri nazar se nahi dekh rahe hain. It's a great feeling to see them happy with your work. More than the numbers, it's gratifying to be praised by those you looked up to. Javed Akhtar, Farhan and Zoya, Mahesh Bhatt and even Anurag Kashyap called in to say how much they loved the film. That was overwhelming.

Did people look at you with a 'buri nazar' after Ek Main Aur Ekk Tu? The box office status of that film is still debated.

No buri nazar yaar! It fetched good reviews and a decent box-office. People smiled at me even then. But yes, there were four years in between when nothing was moving for me. I was working on a script for eight months, which didn't go anywhere. Then, I wrote Kapoor & Sons for a year and then I waited a year for the actors' dates- and then I shot for a year. So it's great to see people smiling at me again.


It must have been annoying to wait...

Yes. I spent eight months doing stupidity with that script which didn't head anywhere. I've abandoned it and am never going to go back to it. Hopefully the next film I make won't take me four years.


Over to the film's story. Did you fear losing your way with so many sub-plots in the narrative?

After Ek Main Aur Ekk Tu, I suddenly had so much to say, with so many subplots, so many narratives entwined into one. I was excited. I had a climax where everything collapses. But I wasn't worried about this. When I was editing, I was most eager to get to the climax. Yes, it took us time to carve every subplot which is why it has enough justification and a concrete ending.


And...

I am a big fan of multi-narrative films. I wanted to try making one myself. I love watching the family films of the 1990s and they were entertaining--- but they were ajeeb. Mere ghar mein to koi bhi unn filmi characters jaisa nahi tha. Families were unreal in those films. No family has relatives who are all sugar dripping all the time. I couldn't fathom that. When I watched Monsoon Wedding, I felt this is how a family is together. It felt so real. I wanted the Kapoor family to look as real as possible.


Rishi Kapoor is one of the talking points of the film, but neither was he easy to get nor was he easy to work with. Right?

He's charming and enjoyable to watch. He's got what it takes. I didn't want a natural 90-year old because khuda na kare if something went wrong, I would have had to start the film from scratch.


He has been open about how much he disliked working with you...

He still calls me up. We chat every day. He still tells me, "Aaj maine tujhe phir gaali di hai," and laughs about it. We both are happy with the film and what it has snowballed into. We're happy that the friction and the arguments have borne fruit. And hopefully next time, it won't be as crazy working with him as it was this time.


He had issues with the way you shot the film, each scene from numerous angles.

My way of shooting wasn't conventional and he is more used to conventional means. That's what the friction used to be largely for. But when he saw the film he told me, "The way you have shot it is correct." That ended it all!

Who or what was the toughest to deal with on the sets?

A scene where everyone is together after Dadu's 90th birthday bash! I think I could have staged that (apology) scene much better. With so many actors, it's stressful to communicate right with everyone.

F
awad Khan's gay element in the film has been treated very sensitively. Was that a deliberate decision?
It had to be subtle. We wanted it to be a whisper and not a scream. We make a big deal about a gay or lesbian character in our films. It needed a film which doesn't blow it like a trumpet. Aligarh made a big deal about gay characters and people were turned away that yaar nahi dekhte hain iss mein gay hai. I didn't want to do that. I wanted Fawad to come across as any other boy you'd know and then there is an additional aspect to his personality. It wasn't the central plot of the film and not his entire character either.

Fawad was apprehensive about his public image in Pakistan because his character had gay shades...

No, Fawad wasn't apprehensive at all. He read the script and asked me how I planned to treat it. I said exactly as subtly as I have written it. He was game.

Given that Sidharth Malhotra and Alia Bhatt are in a relationship, the kissing scene must have come in easy, right?

There was bhangra music playing downstairs where we shot. We were fighting it because it was an emotional scene and there was no silence. Alia and Sidharth were getting annoyed with the distraction. In that madness, they had to kiss and make it all so emotional and not lusty. The scene took a few retakes but they eventually got it right.

D
id Karan give his inputs?

Karan gave me the title while walking on a street in London. He called me and suggested that we name the film the way shops were named 50 years ago. I added the 'Since 1921' to it. The family was originally called Seth, which changed to Kapoor--- and it fell into place. Karan lets me do what I want. He lets all of us be, that's why none of our works actually bear a 'Dharma' tag. Karan is supportive, liberal and generous as a producer. He reacts from an emotional space. He words his opinion but never thrusts it on any of us.


What was Karan's reaction when he saw the film?

Tears, which signified approval.


Do you compete with the other Dharma protégés?

We support each other and we're friendly. We don't have the same stories to tell.


Do we see you venturing outside Dharma?

I will continue working with Dharma as long as I can, and as long as Karan allows me to. I feel secure here.
Image Source: facebook/kapoorandsons & hqdefault