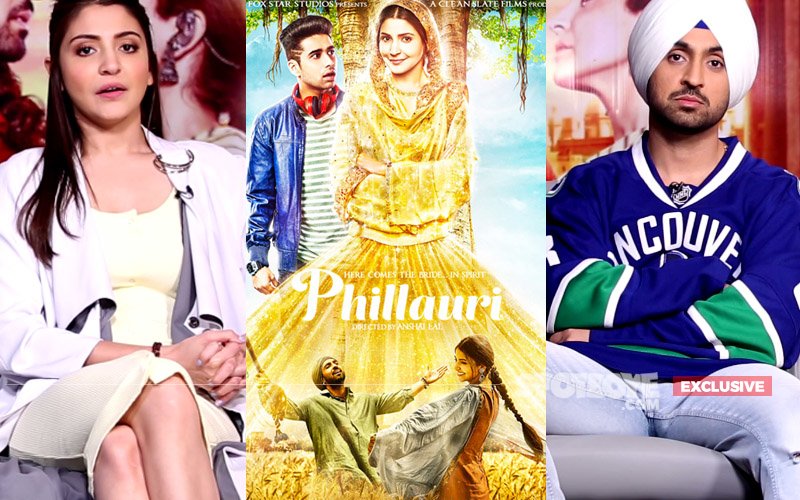 Your browser does not support the video tag.
Anushka Sharma's debut production venture, NH 10, was applauded by critics and audience alike. Two years later, the actress is ready with the second project under Clean Slate Films – Phillauri. The film, touted as a fun-filled romantic film set in Phillaur (Punjab) stars Diljit Dosanjh, Suraj Sharma and Mehreen Pirzada besides Anushka and hits theatres tomorrow.
Ahead of the Phillauri's release, SpotboyE.com sat down for a chat with Anushka and Diljit. Excerpts:
Anushka, how did you think of casting Diljit Dosanjh in the film?

He fits the character well. He inherently possesses the qualities of the character he is playing. Also, he has a 'thehraav' in his performance. He was perfect for the role.
He was fabulous in Udta Punjab...
Anushka:
Haven't seen the film yet.
Anushka, what lead you to call him? Had you seen his work before?

I knew Diljit as this huge star in Punjab because of his music. I had heard his songs, but not seen his films. I happened to watch Jatt & Juliet on a flight one day on a friend's laptop and I was intrigued by him as an actor. You know sometimes an actor leaves a thought in your head that, 'Oh! This one is really good' He was the perfect combination of being charming, funny and possessing a certain depth at the same time. So when we were discussing who should be cast in the film, I suggested Diljit's name but Karnesh (my brother) said that he doesn't shoot without a turban and at that point of time we had not imagined the character to be a Sikh, so we let the topic go.
Sometime later, the subject came up again and Anshai (Lal, the director) and Anvita (Dutt, the writer) were of the opinion that this could be what the character looks like – maybe he wears a turban. So we re-imagined the character and now, I feel he was perfect.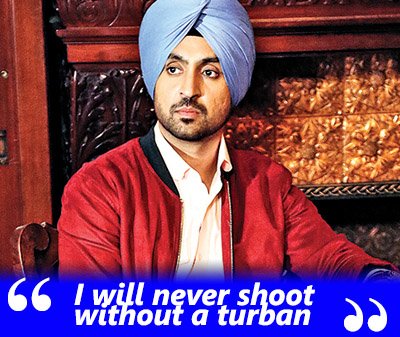 Image Source:
thehdwallpapers

Diljit, will you never shoot without a turban?
Never.
Diljit, did you sign the film instantly?

Ji haan. Mujhe bahut achchi lagi kahaani aur jab climax pe baat pahuchi to mujhe laga ki ye film mujhe zaroor karni chahiye. It was a pleasure meeting Anvita, Anshai and Karnesh. Also, I had seen NH10 and was of the opinion that the production house (Clean Slate Films) is producing good content and are attempting a fresh story yet again. I said yes.
Do you believe in ghosts?
Diljit:
Yes.
Anushka:
Yes.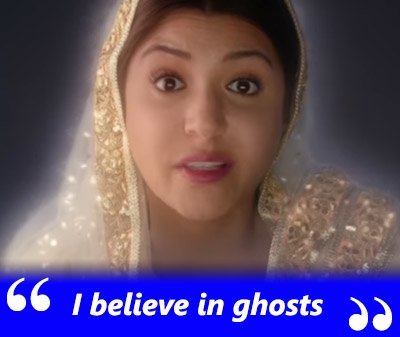 Image Source: youtube/FoxStarHindi

You recall any incident?
Anushka:
Well, sometimes you feel a presence. But aise main batati nahin hoon, log hasenge hum par (laughs).
Diljit, how was it working with Anushka?

It was great. I didn't feel like the producer was present on set. There was no burden. Everybody was working towards making something good.
Were you comfortable doing the romantic sequences with Anushka?

What my character would do was decided at the narration stage itself.
Tell me more about the film, Anushka...

Phillauri is a family entertainer. The love story is beautiful. The ghost angle is unique and logon ko kuch alag dekhne ko milega.
Which was the most difficult scene?
Anushka:
The second half of the film constitutes an emotional sequence, which was difficult to perform. We shot the scene over 2 days and as an actor being in the same head space for that long was challenging.
Diljit:
I tend to discuss whatever I have in mind with my director and team. Hence, I can't pin point anything difficult, in particular.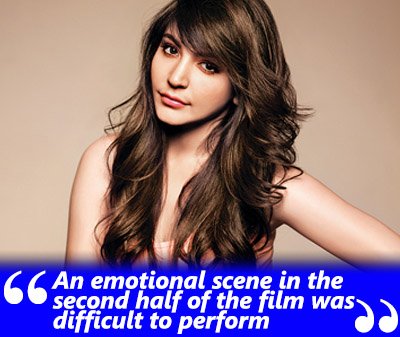 Image Source: theviralswipe

Anushka, are you nervous about Phillauri considering your previous releases, Sultan and Ae Dil Hai Mushkil, did well at the box-office?
I don't think I am nervous. That feeling of kya hoga, kyunki kuch expectation hoti hai film se, to wo hai, but aise negative way mein nervousness nahin ho rahi hai. In fact, I am excited with a little tinge of anxiety. All in all, it's a very expectation oriented feeling.
As a producer, how are you maintaining the budget? What is the modus operandi?

When you pick up a film to do it, you know what the film is going to be budgeted at, how much you want to scale it up, how are you going to mount the film. Harr film ki alag kismat hoti hai. Accessibility and commercial viability pe bhi farak padta hai. But it will always be according to the story.
What's next from Clean Slate Films?

At the moment, I can't talk about it. We will be making an announcement soon.

Thumbnail Image Source: instagram/anushkasharma