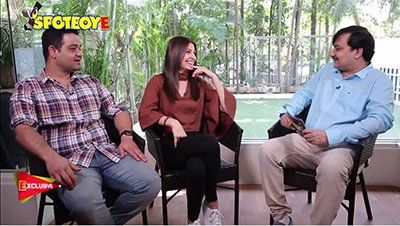 Anushka Sharma's upcoming film Phillauri is ready to hit theatres on

March 24

.
The trailer which has won rave reviews broke out this morning. The time was right to catch up with this beautiful and talented star who is co-producing this film with her brother Karnesh.
Karnesh joined the chat, and here are the excerpts of what followed soon after:
Who decided to give the name Clean Slate Films to your production house? It doesn't have even a bit of Anushka and Karnesh in it, unlike the norm these days...
Anushka:
It was a conscious decision not to put our names. Clean Slate Films itself was a very instinctive decision, and so was his name. Clean Slate Films for us signifies that we will go into every next film without the bag and baggage of our previous films. That gives us a clear mind to approach any new story.
Who decided to start the production house?
Karnesh:
It was Anushka's decision.
Anushka: We used to watch films and talk a lot about backing good content. But that time, he was in the merchant navy.

Karnesh: NH10 encouraged us to only go further. And to tell you the truth, I was bored of living on the sea. After that, I worked at YRF for a little time.

Producing films is a risky proposition. Anushka, why you want to risk your hard-earned money?
Karnesh: Hum aisa nahin sochte. Paisa humko drive nahi karta.

Anushka: Karnesh is right. Money has NEVER driven us. We always thought that we should chase excellence, 3 Idiots came later (laughs).

Karnesh: We are doing what we are paassionate about.

Anushka:
Gamble comes into play, but that happens when one is short on confidence. We are sure of what we are doing. We know what our company should dive into. Our company's vision is clear.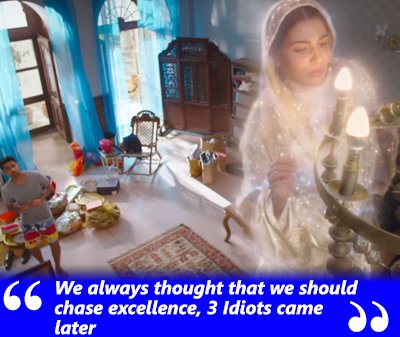 Image Source: youtube/clean slate

Your first collaboration NH10 clicked, but what's the plan to sustain?
Karnesh:
Our plan is very basic, back good stories and good talent. Don't think all the time that how much money your film will make. Go for content that will resonate. Go for people who are nice.
Anushka:
By the time you carry this interview, the trailer of Phillauri would be out. It is a much more accessible film. It will give you a fair idea of our company. Clarity, Conviction and Content define Clean Slate Films.
NH10 was so unlike of what you've done in Bollywood as an actress so far...
Anushka:
It was unlike of what I have done, yes. I have done 13 films so far. Mind you, that's not a lot. But still, I am in the place where I am. And that's just because I have followed good stories.Like, I remember when NH10 came to me, I had got very excited. The same happened with Phillauri.
Karnesh:
After attaining a certain stature, Anushka has the freedom to back good and different content, and has developed a good business acumen.
Anushka:
May I add that studios begin to back you if you have made a credible career by the time you embark on production. They know that we have come to them with a good story and right intention. This in turn, helps us, to continue chasing good stories.

Anushka, you have the knack of zeroing down on good stories even when it comes to selecting films as an actress- Sultan and PK are two cases in point...

Anushka:
(Laughs) I had the same thought. I remember when Adi (Aditya Chopra, YRF head honcho) called me for Sultan, I wondered what will I be doing in a Salman Khan film. Salman is larger than life in most films, but then I realised that it had lot of potential and scope for me. I won't do any film for just the heck of it. Think of it, Sultan was a different film for Salman too.
Many people have asked me why I want to produce films now because actresses tend to produce films towards the end of their careers. I think that's so stupid, you should produce films when you're doing well in your career; you can pitch your ideas well and people will back you more. That's how I look at it.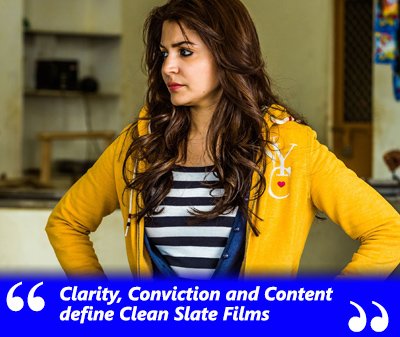 Image Source:hdwallpapers

Intelligent...
Anushka: Clean Slate Films has been launched not to make films with me as an actress.

Karnesh: The idea is to make films which essentially connect with the audience and cast people who suit the character in question.

Anushka, you spoke about Sultan. What about PK?
Anushka:
With PK, Hirani told me that his wife has told him that the PK heroine is the strongest female character he's written till date. That excited me, plus Hirani is such a fab writer. It was: Great, karna to padega.
Do you have differences?
Anushka: Of course, isn't that natural because we are working together? But at the end of the day, we are always on the same page. He has always been a part of my life and I have always discussed the roles I am offered with him.

Karnesh: While you have your differences in every relationship, you need to trust the other person. Stress points do crop up, but that should never stay. That forms the crux of our brother-sister relationship.

How was it during childhood?

Karnesh: I used to fool Anushka into making my parents buy things which I wanted.

Anushka:
And I used to blindly trust him. Like I remember asking my parents to buy me a video game aur ek din bhi maine uska remote haath mein nahin pakda (laughs).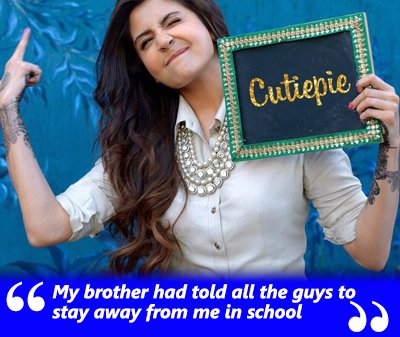 Image Source: twitter/anushkasharma

Who makes up first if and when you'll have a fight?
Karnesh: No rules. Depends.
Anushka: I get angry fast, but I cool down fast too.

Karnesh:
I get angry late, and I cool down late.
Ever give gifts to each other?Anushka:
He is a gift in my life
Karnesh:
Last time, I gave her Rs 100. Demonetization hua tha, and she didn't have a Rs 100 note (laughs).
Anushka: Hum gift wale nahin hai. Jo zaroorat hoti hai, woh aa jaata hai. We both don't know our bank accounts, inclusive of PIN numbers.
Karnesh: Everyday when we leave the house, we ask money from my mom.

Secrets? Karnesh, did you ever tell her about the crushes you had in your teenage days?

Karnesh: Ya, and every time she said: Not worth it.

Anushka: Ladkon ko sixth sense hota hi nahi, he is always going after wrong girls.

Karnesh, are you a protective brother?
Karnesh: Yes.
Anushka: I never got roses, not even chocolates in school. After he left school, I started getting attention from boys. I was later told that he had told all the guys to stay away from me.

Back to your production house. Who decided the casting of your upcoming film Phillauri?
Anushka: I loved Suraj (Sharma) in LIfe of Pi and I rooted for him.
Karnesh: The character needed an easy going guy who does not have any bag and baggage of a personality.

Anushka:
As for Diljit (Dosanjh)'s role, we had many names in mind. But I happened to see Diljit's Jat and Juliet (Punjabi) on a flight. I broached his name, but we hadn't imagined our character with a pagdi them. The team got together, and felt that he would fit the role as a T.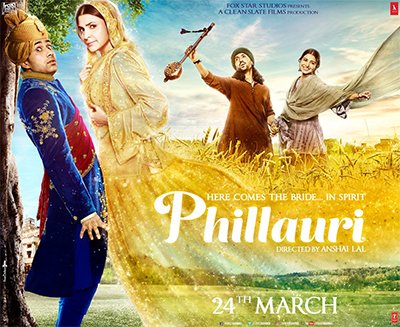 Image Source: twitter/cleanslatefilms

Anushka, did you have anyone else for your role?
Anushka: No, Anshal Lal (director of Phillauri) came up with the film with me in mind.

Hand-on producer? Will you be on the sets of every film you produce?
Anushka: By default, I was there in Phillauri (laughs).
Karnesh: But isn't that a part of our job? There are certain aspects of filmmaking where Anushka is the right person to take a call. At times, it could be me.

Future plans?

Karnesh: We have a bank of scripts.

Anushka: We are very transparent and approachable. And we have not hired anybody to read our scripts. We are always there, we are one voice.

Thumbnail Image Source: hdwallpapers
They say the best things in life are free! India's favourite music channels 9XM, 9X Jalwa, 9X Jhakaas, 9X Tashan, 9XO are available Free-To-Air. Make a request for these channels from your Cable, DTH or HITS operator.