Athiya Shetty EXCLUSIVE INTERVIEW: Talks About The Motichoor Chaknachoor Controversy, Debut Film Hero Missing The Bull's Eye And Lots More
Athiya Shetty is looking ahead for the release of her third film Motichoor Chaknachoor which is finally hitting the big screens on Nov 15, after courting several issues. We recently got talking to the actress wherein she addressed the controversy quite candidly, spoke about her debut film Hero not living upto expectations amongst many other things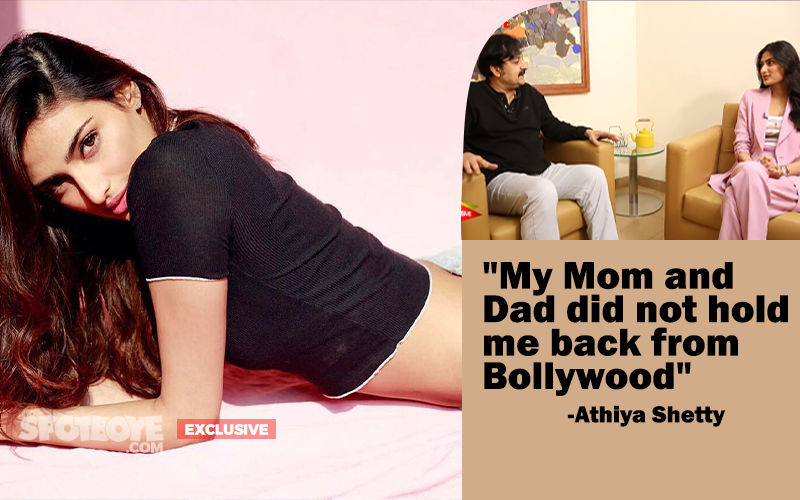 Why has it been so slow for you till Chaknachoor?
Everybody has their own timelines and journeys in life. I have never been the one to be part of any rat race or get intimated because somebody is doing more movies than me. I have always been very individualistic and concentrated on myself.

After Hero, I got Mubarakan which gave me the exposure and recognition. Then, I knew I had to move out of my comfort zone, work on myself as an actor, do workshops, better my craft and that's exactly what I am doing now, Motichoor Chaknachoor will make it clear what I mean.

Salman Khan launched you with Hero, but the film didn't live up to expectations. Did it hurt?

I feel that can happen to anybody on any film because you can't predict what the end product is and you can't predict its success at the box-office either. I didn't sign Motichoor Chaknachoor or Mubarakan because I thought it's going to make this much money and I'm going to get this out of it. I would say that you work because you're an actor and you want to play different characters.

So, I don't think Hero didn't work for me. I think it taught me a lot. It gave me the confidence. So, that's a film I would go back and redo again.

Still, was there some kind of despondency at home especially in the first few days when it didn't do well?
Yes, you're disappointed because you have a certain expectation and excitement because it's your first film. But, I feel your first film chooses you so it's all the more special. The film is very close to my heart. I have a mentor like Salman Khan. I made some good friends and my first film will always be a positive memory to me.


You said you wanted to play a lot of characters, get into acting. Where does it stem from? Has it come from growing up in a film family?

I still believe that I haven't seen the world because I wasn't allowed to go on sets when I was younger. My mom being strict wanted us to focus on education. But, I did a lot of theatre and drama in school so that's how I developed the liking of being on-stage, acting etc.


So, you mean to say that you never went on a film set with your father?

I did when I was older. I went on sets of films like Hera Pheri, Main Hoon Naa. After the age of 12-13, I started going with him sometimes.


It was at the Heathrow Airport, we had just visited a bunch of colleges all over America and I started crying. My mom asked me what happened. I knew I wanted to be an actor, but I didn't know if it was the right choice. There were so many questions in my mind and I just said that I want to become an actor.


Did your Mom and Dad hold you back from entering Bollywood at any point?

Not at all. Why would they do that? My father is an actor.

Was your mom protective what with all those petrifying stories we hear in Bollywood?
No, I feel this industry is sometimes portrayed to be this big bad world which it is not.

We receive a lot of love and appreciation from so many people. So, there were never any qualms or apprehensions of sending me off alone. I think that's a part and parcel of growing up and being independent.
Any dos and don'ts- intimate scenes, kissing?
I wouldn't do something that I'm not comfortable with. I'll definitely voice it but otherwise there are no dos or don'ts right now.


How was it working with Nawaz?

It was an amazing experience. I loved working with talented actors like Nawazuddin Siddiqui; He is a thorough professional. He has never treated me like a newcomer which is so refreshing and nice.

How would you describe your role in the film?
The name of my character is Anita and everybody calls her Annie because she has one ambition in life and that is to settle abroad. So she is looking for somebody whom she can marry and move out. And, she finds Pushpinder Tyagi (Nawazuddin Siddiqui).


Was it intimidating to work with Nawaz?

Of course, before signing the film I was extremely intimidated. But I feel as an actor, you're playing a character. So once the cameras rolled, I forgot that I was acting opposite Nawaz.


Nawaz is a man of few words; how was your equation with him?
He is definitely quiet but I feel maybe that helps him in his performances and also to be a better actor.
Coming to your director Debamitra, she had spoken to us saying she was asked to leave the project by producer Rajesh Bhatia. As a woman, what did you feel?
I trust Debamitra and I have done this film wholly and solely because of her. It's extremely unfortunate what has happened but I continue to draw inspiration and I call her every single day. So my equation will always be the same with her. And I feel this film was made with so much of love and positivity.

You even took a stand but producer Bhatia didn't listen to you…
I wouldn't want to comment on this as I don't want to take any names. But, I will always stand by my director and in this case because she is somebody who has put in a lot of hard work.

Had you completed the film before she left?
I don't want to discuss it right now as there is too much of negativity attached to it.


Right now, I haven't shot anything further. I believe that the people who make the film are your director, writer, DOP and technicians.

At home, who is the easier one to crack between Suniel and Mana Shetty?

Both (smiles).


Your fav film of your Dad?

I like Dhadkan, Hera Pheri, Awara Paagal Deewana, Main Hoon Naa.

Suniel Shetty has a very peculiar way of talking. Is he like that at home too?
Not really. But, he is honest. If there is something on his mind, he will always express it. He never holds back. And that's something I really admire about him.

Your brother Ahan is ready to face the arclights...
Yes, and I'm super excited for it


Image Source:- instagram/athiyashetty/spotboyeteam