Azharuddin: Sangeeta stood by me during the betting controversy
Azharuddin opens about Sangeeta, Sachin, Virat, ban on Harsha's commentary, and of course, the film Azhar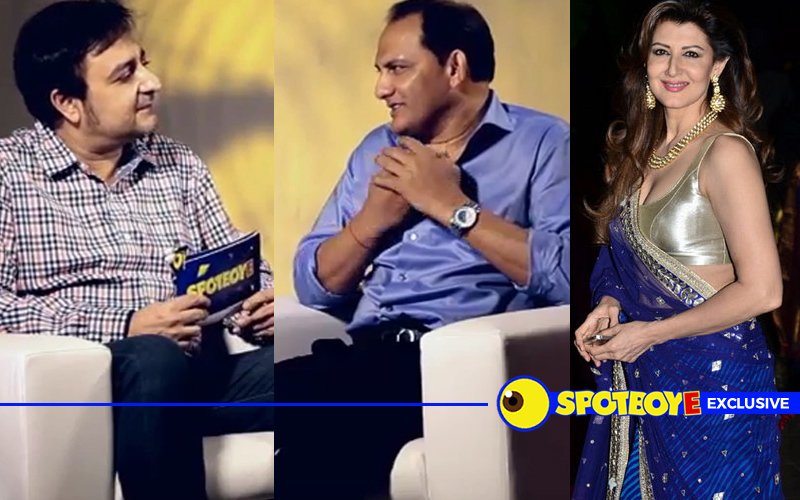 Mohd Azharuddin was in town, recently. How could we miss the opportunity to sit down with the man whose life is going to be put on celluloid by Ekta Kapoor? SpotboyE caught up with the flamboyant former cricketer for an interview. Excerpts:
Did you ever think that a film will be made on you?
Never. Leave aside film, I didn't even think that I'll become a big cricketer.
What was your reaction when
Ekta
Kapoor
called
saying that she wants to make a film on your life?
I said 'No' and I told her it's just not necessary, but she persuaded.

And then?
A lot of my friends told
me
that I should allow
Ekta
to make the film, because many people want to know about my life
.

Were you apprehensive about how your betting controversy will be portrayed?
Whatever is in the film is with my approval. I have been very strict about that. I wanted only the truth to be depicted. I think the film has turned out very well. The people should see it with a positive bent of mind.

Did you know that
Ekta
was out to cast Emraan Hashmi for your part?
That was not my call.
Ekta
is the producer and she had every right to cast Emraan. She informed
me
about it, and I told her that I had no issues with the decision.

Tell us about Emraan's training...

He had played cricket, but he was a bit raw. Three days I had to bowl underarm to him so that he can connect with the ball well. Then, we started throwing the ball at him. After 2 months, we started to actually bowl at him.It isn't easy to teach anybody how to play. Emraan saw a lot of my footage of my playing days. Finally, he got it right and I gave them the green signal to roll.

Let's go over to your cricketing days. Tell me the innings that has the most special place in your heart...
That's a tough question, but since you insist on just one, I would say the 100-odd I made against New Zealand in Wellington in 1990. I enjoyed that knock very much.

I thought you'll say the innings at Cape Town where you outscored Sachin Tendulkar in a 222 run partnership...
Yes, that was another good one. At one stage, we were 58 for 5. But if you ask
me
to place a finger on just one, it's the Wellington knock where we had sunk to 16 for 4.
.
The conditions were very tough (at Basin Reserve) and I was struggling for form as well, I felt very satisfied with that innings because I had a certain plan in mind before I went out to bat day on how I'll play-that and it all fell into place.

The most difficult bowler you faced?

Courtney Walsh was tough to comprehend, I could never pick if he was bowling an inswinger/ outswinger, I just played as per the length of the ball. The most intelligent bowler was Wasim Akram. The fastest spell I faced ever in my life was from Patrick Patterson, once I even got out to him fending a short ball.

The bowler you loved to face--- 'Aaj to todunga isko' types...
I loved facing Lance Klussener especially when I hit him for four consecutive boundaries; he was bowling at my strengths!

Were there instances in your career when you were given out wrongly?
Many times, I was given out when I actually wasn't. It happens. It hurts, and it hurts all the more
if your given out especially when you are going well. I remember I was going very fluently on 60-off at Port Elizabeth and the umpire raized his finger when I hadn't snicked the ball to the 'keeper. The ball had hit my back thigh, not my bat.

You showed your displeasure?
No, but it was very frustrating.

Were there instances when you were 'Out" but the umpire said 'Not Out'?
Hota hai, every cricketer ke saath hota hai. Mere saath bhi hua tha.

You were known to walk off when you knew that you were 'Out'...
I may not have done once or twice, but otherwise I did.


There are umpires and there are columnists, who were harsh on you. Rajan Bala, for one. He is no more, but he went hammer and tongs against your batting and captaincy. Did you react then?
I may have reacted once or twice, but not always. If you want to become a big name in any field, you must learn to take criticism in your stride. In that criticism, you have to extract the positives which are often buried. If you can do that, it helps. I don't know if Bala knew how to play cricket, but he sounded knowledgeable about the game. At one point, we became friends and started chatting up for hours about cricket. It is not possible that everyone will think and write only good things about you. I don't hold any grudges against Bala.

There are players, there are columnists, and there are commentators too. Harsha Bhogle, who wrote your book, has been banned from the IPL commentary panel...
It's sad. Harsha has done his job so well. Harsha and I have played cricket together at University level and he is a very nice guy. Whatever has happened to him is very unfair.

Did you speak to him after the ban was imposed?
Yes, and I asked him if I could do anything to help.

And how is he feeling?
He is very sad, and naturally so. It's like asking a doctor or a lawyer to stop doing their job.

Coming back to the film. Have you asked for any changes?
I have seen the film in bits and pieces and yes, I have asked for few modifications. Nothing very big, just a bit here and there.

Have you kept in touch with cricket?
Oh, yes. At times, I even go to the stadium to watch a match.

Why did you suddenly join politics?
I thought that I should utilise my stature, whatever little, I had. I wanted to do something for the people. My cricketing days had only adulation and functions around me. I am happy that I could connect with people and do a lot of hard work for my constituency. I saw life from close quarters.

Do we have any player in the current time who has an Azharuddin in him?
There are better players than Azharuddin. Attitudes will change in cricket, though

As effortless and graceful as you were in your batting? The only one I remember who came close to playing as wristy as you was VVS Laxman...
I don't see people playing with wrists. I guess it's a trait with the players from only South, Time for West, East and North to come up with some of them (smiles). Believe me, it just came naturally to me. I didn't know anything about wrist playing techniques when I started off. The only thing I knew was that I have to go out there and score runs. It was only when the media started writing about how I play that I felt I should develop those techniques.

Do you see a Sachin Tendulkar in Virat Kohli?
Virat is a great player with outstanding consistency. You can see his hunger for runs. Plus, he is a superb fielder

That doesn't answer my question...
It's hard to compare two people. But it's early days yet. What Sachin became was over a period of time.

Are you in touch with your teammates?
I say 'Hello' to them if I see them. Everybody is busy in his own life.

Not in touch even on the phone?
Kapil Paaji (Dev) and I talk over the phone, sometimes.

Buzz is, certain players are worried about the way they'be been presented in the film...
They should not be worried. There's nothing in the film that will hurt them.

Prachi Desai plays Naureen (Azhar's first wife) and Nargis Fakhri plays Sangeeta Bijlani (Azhar's second wife)...
Prachi has done a very good job. Nargis has looked very glamorous. Both seem to have done their research very well.
Your son is an Asst Director on the film...
He assisted Tony (D'souza, the film's director) in Hyderabad, I wasn't around then. Tony has done a very good
job. I know him, he always kept me in the loop about the stor, and did not even hesitate to ask me questions. if and when he had any.
What was your reaction when you learnt that Tony had been asked to direct Azhar? He hasn't had a good run in his first two films--- Blue and Boss?
I don't think that such things matter. Success is never permanent. I have lasted through tougher times
.

How did you cope up in those 12 years until a court in Andhra Pradesh acquitted you from the betting controversy
If I was to describe it one word, I would say 'patience'. My parents and Sangeeta stood by me all the time during the betting controversy. I got unparalleled support from Kapil Dev,
Raj Singh Dungarpur a
nd Kamal Murarka.


When you scored your third consecutive ton on debut, I was in Chemistry lab in college. You reached 100 and in that excitement, I kept the flame near a beaker containing ether. I forgot the basics that ether is a volatile liquid. A big flame went up and hit me on my forehead, and burnt a few hair in the front. I ran towards the mirror worried about my hair, and my teacher came up and said, 'Forget your hair, you almost burnt your face." Do you see that craze among fans in today's times? Has T20 contributed to that?
Cricketers are stars, even today. There is still craze for them. Even a U-12 and U-15 player who does well comes under the spotlight.

Let me rephrase that question. Are you happy with the shorter formats of the game- T20, IPL, et al?
I am very happy, it's throwing up some very good players, and you get noticed somehow.


Image Source:

facebook/AzharTheFilm, L

h3, Myvantagepoint, & Hdwallpapers