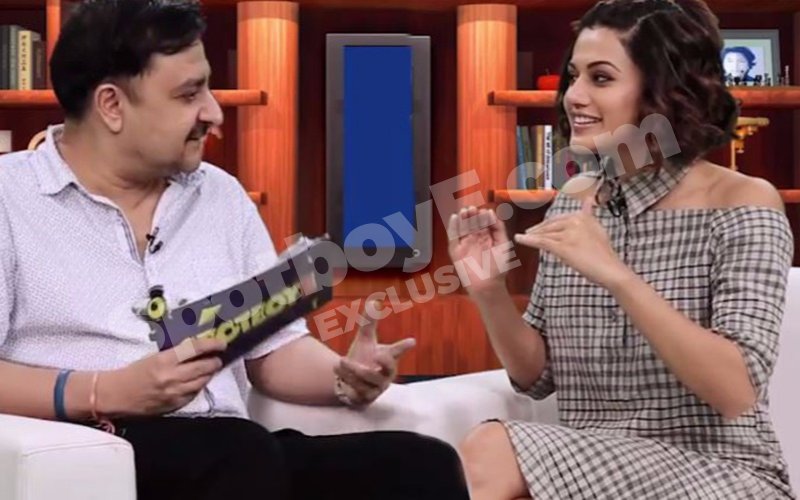 Taapsee Pannu has a lot of hopes pinned on Pink, which hits the screens today. The Aniruddha Roy Chowdhury directorial has her playing Minal Arora, a gritty Delhi girl who fights for her rights and dignity. In an exclusive chat with SpotboyE.com, the actress opens up about what being a girl means in India and also, the life-changing experience of working with Amitabh Bachchan. Excerpts...


You have done Chashme Baddoor (2013) and Baby (2015) in Bollywood. How much bigger is Pink?
Everyone wants to go a step higher in their career. I am slowly taking one step ahead at a time. My role in Pink is bigger than the one I did in Baby.

How did Pink happen? Where were you when the offer came?
I was at home (laughs). I got a call from Shoojit (Sircar, producer) sir's office. Ronnie (Lahiri, co-producer) called and said, 'We have something ready to offer you. Just come and hear the story and see if you want to do it'. The first thing he asked me was, 'Do you think a picture should be made on this topic?' I said 'Definitely. It's strange that nobody has made a film on this'. Then he asked me if I would like to play Minal (Arora) on screen. My answer was, 'I should be the only one to do this role' (laughs). Later, I got to know that (Amitabh) Bachchan sir is also a part of the movie. That was like a bonus, a gift.

How was it on Day 1? Were you nervous?
I was not nervous, I was very excited and had butterflies in my stomach. The shoot was happening in Delhi and my call time was after lunch, but I reached in the morning itself. I was really excited about it being the first day of shoot and that too, with Bachchan sir. I had a simple shot that day -- in fact, it's the simplest shot in any actor's career: I just had to sleep on a couch. But the number of retakes I have given for that one shot, I've not done it for any other. I was so thrilled about acting with Mr Bachchan, I kept blinking my eyes.

How would you term the experience of acting with Mr Bachchan so early in your career?
I always say that my luck-line is stronger than my lifeline, that's why I could act with him. I had never imagined or even wished to be a part of the film industry. So, for me, sharing the screen with Mr Bachchan is an achievement of my luck.
Image Source: Manav Manglani

Were there other shots where you goofed it up, especially when Mr Bachchan was in the frame?

People keep asking me if I was intimidated. Well, I was never intimidated or nervous. I get a lot of positive energy in his presence. He (Big B) says this and as actors, we also believe that if your co-stars are brilliant, you also look good automatically. In short, if you are performing well, it means your co-stars are performing even better. Acting is all about reacting, especially for someone like me, who is not a trained actor. The environment (on the location/set) really matters to me. So, when you have someone like Mr Bachchan on the sets, it's an amazing experience to just watch him act. To receive and react to the energy he radiates… he makes acting easy for his co-stars.

Tell us about Pink. What exactly is your role?
I play Minal, a Delhi-based professional dancer. Her parents are also in Delhi, but she doesn't stay with them. Minal often reaches home late after performances and her parents stay awake worried, waiting for her to return. She wants to spare them the daily trauma and so, shifts into a flat with two girls, who are from different professions and regions. The trio starts living like a family, a single entity. Then something happens that changes their lives forever.

The film revolves around the safety of women...
It deals with a molestation incident, but we are not going to preach anything. We have not made a documentary… we want the audience to remain glued to their seats for 2 hours, so what we have made is an entertaining thriller.

In real life, have you or your friends faced any such unpleasant experience?
I am from Delhi, so yes, there have been unpleasant incidents. But fortunately, they are not serious offences like rape or molestation. But yes, there have been incidents of eve-teasing and catcalls while going to school and college, people touching inappropriately in crowded places, etc.

What did you do then?
During school days, I used to get really scared by such incidents. In fact, I used to be so afraid, I wouldn't react. Also, my parents would tell me to avoid unsafe places or going out at night. 'Akeli gali mein jao mat, akeli kahin bhi jao mat', they used to say. I used to feel it's all happening because I am at fault. So, even if someone touched me inappropriately, I wouldn't have the courage to turn around and see who it was.
Image Source: Facebook/TheFilmPink

That's then, but you have grown up now…

Something happened to me in Mumbai a few days ago. I was going to meet my friend in the evening and was crossing the road. Two guys on a bike passed some comment and started laughing at me. I was talking to someone on the phone and they probably felt that I had not heard them. So, I just turned around and started staring at them. Within a few seconds, the fear was visible on their faces. That day, I realised for the first time that if you try to react, these men also get equally scared.

Does India need stricter laws?
I am not a perfect judge for these things… we do have laws, but we need strict enforcement.
People are not scared of law, many commit crimes thinking they'll get away with it.

Were you worried when the film went to the Censor Board for certification? It has just 4 cuts and now, the board is saying it's a must watch…
I always knew what the Censor Board's reaction would be (laughs). Throughout the making of this film, we have been careful to not include anything that's objectionable. So, the CBFC's comment has not come as a surprise to any of us.

How did you feel during the courtroom scenes when Mr Bachchan was grilling you? Some tough questions were asked…
It was an interesting experience. I was seeing a court for the first time in my life. We shot courtroom sequences with 6 cameras. In fact, that's the first time I saw one sequence being shot with 6 cameras. Every scene used to run into 12-13 pages and we used to get it okayed in one or two takes. This is a technical experience that I will take back from the film. Also, if I know the lines, I don't like rehearsing a lot --- it just drains my energy. So, a 6-camera set-up just made everything easy. Everyone had one camera each shooting their close-up and we were all acting/reacting real-time.

Also, when I was shooting for the scenes, Shoojit sir used to brainwash me every morning. He used to say things like, 'This is what is going to happen in the court today. Your family and friends are there. There are a 100 people present there… you are going to be asked a lot of tough questions, your character is going to be attacked' . So, I used to psyche myself out before shooting the court scenes.

Having worked with Mr Bachchan, where do you go from here?
I have never planned my films or the people I want to work with. I will choose the best from whatever options I get. I don't know if I'll go higher or not, but at least I want to maintain this level.