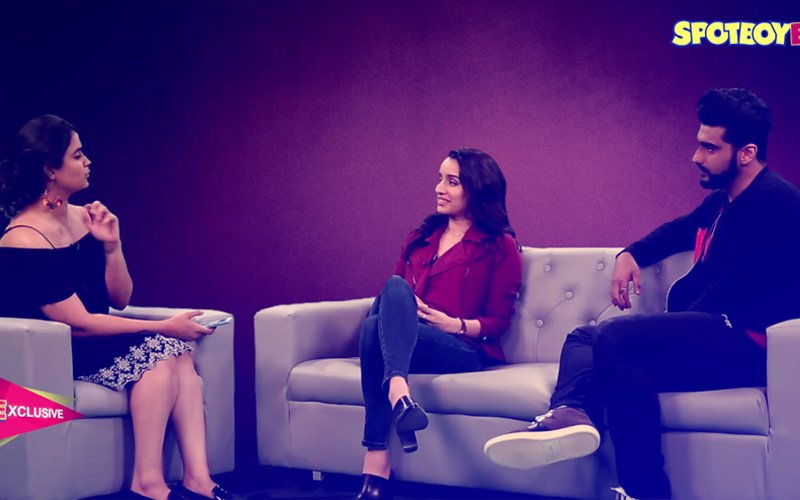 Come May 19 and Arjun Kapoor and Shraddha Kapoor-starrer Half Girlfriend will hit theatres. The film, based on Chetan Bhagat's eponymous book, revolves around a rural boy from Bihar, Madhav Jha, who enters Delhi's prestigious St. Stephen's College through sports quota and falls in love with a rich Delhiite, Riya Somani. Despite polar opposite backgrounds they bond on basketball and thus begins a relationship like no other.

Ahead of the film's release, Arjun-Shraddha sat down for a chat with SpotboyE.com.
Excerpts from a conversation that followed:

What made you take up Half Girlfriend?
Arjun: The fact that it wasn't a project. Mohit has worked so passionately on the material, and I loved the fact that he's making a film and telling an emotional journey of these two characters. We all have met a person jo dost se thodi zyada aur girlfriend se thodi kam hoti hai -- I think that got me excited. It has got all the trappings of being a quintessential Hindi film, but it has a new take on that in-between space for a young relationship and the journey that follows.

Have you read the book?
Arjun: No.

Shraddha: I started reading it, but Mohit told me that there are some changes that he's going to make so it's better that I connect with the script.

Did you say yes immediately after the narration?
Arjun: I read the script.

Shraddha: I am glad Mohit thought of me for Half Girlfriend because if he hadn't, I would have been heartbroken.

When did you first meet?
Arjun: We have known each other since childhood. We met at birthday parties.

Shraddha: We've been in touch even after that.

Arjun: I've known her brother (Siddhanth Kapoor) for years.

What were your first impressions about each other?
Shraddha: We know each other since childhood. No first impression.

Arjun: We were in fact glad that we could come together and work in a film where we don't have to play up the fact that we know each other or use some kind of chemistry from our personal lives. The character allowed us to be in a certain way. There's always been a comfort between us. This film has allowed us to concentrate and focus on our characters -- Na zyada dosti hai aur na anjaan hai, we were 'half-way' there.

Talking about the term 'Half-Girlfriend', do you think the concept exists? How open are you to it?
Shraddha: To quote my director and I personally agree -- this relationship was always there, it's just that we are doing a movie on this terminology now.

Arjun: We have given this relationship a name. When you are emotionally attached to someone, but haven't gone to the extent of committing because of certain circumstances, you call him/her a Half-boyfriend or a Half-girlfriend.

Is it more like a live-in relationship?
No, it's not. It's not a frivolous thing.

Do you mean it's platonic, but not romantic?
Shraddha: The reason why Riya (my character) is not committing to Madhav (Arjun's character) is because something has happened in her life or she is going through something that has made her guarded as a person and afraid of love. That is why she says that I will come half-way to meet you, I may not be your girl-friend but I can be your half-girlfriend, which a lot of people in today's day and age resort to.

Arjun: Not just today's times, it's been happening for so many years. Half-Girlfriend is about emotionally investing in a person. It's not about physicality.

Arjun, the first scene of the trailer is going viral with a number of memes being made around it. Does that amuse you?

Arjun: Yes, 'Myself coming from village area' (laughs). The more the merrier, as long there are eyeballs coming in. The film uses that in its purest sense though.

Being a Punjabi, how difficult was it for you to pick up the Bihari accent?
Arjun: Being a Punjabi, I had no bearing on it thankfully. I wanted to be sincere and ensure that it does not look cliché or like a caricature. Mohit was clear that Madhav's Hindi has to be impeccable. It was an exciting challenge as an actor.

And Shraddha, you are being called the 'Rain Girl' now...
Shraddha: I promise it was a pure co-incidence.

Which is your favourite song from the film?
Shraddha: Phir Bhi Tumko Chahunga. Arjiit Singh has sung it beautifully.

To talk of singing, many are of the opinion that actors today can easily sing because their voice is auto-tuned. Do you think that is true?
Arjun: Aise to phir sab hi gaa lenge!

Shraddha: I have been singing in all my interviews; let people judge. Interviews mein to auto-tune nai ho sakta! (sings Baarish).

An advice you would want to give to today's generation who is looking for 'Half-relationships'?
Arjun: I don't think any one is looking for that kind of a relationship.

But it can happen if you are scared of commitment...
Arjun: These things happen during the course of your life.

Shraddha: It's not like you have to make it happen. Sometimes situations come up and you have to accept that.

Arjun: Things don't transpire the way you want to all the time. Advice would be – Suno sabki, karo apni.

Shraddha: Jo dil mein aaye, wo hi karna. Follow your heart.