Brutally Honest Swara Bhasker: I Know People Think I Must Be Wild...
Here's an interview that will leave you in shock and then you will smile. And then, you will respect this girl. Read on for her extremely frank opinions on trolls, boyfriend, growing up years, marriage, babies, and of course, the masturbation scene from Veere Di Wedding...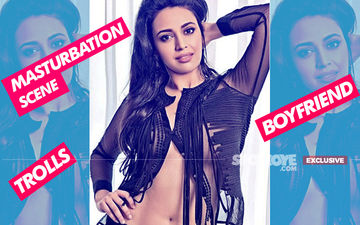 Did you really expect that Veere Di Wedding will be a success?
I had a gut feeling that it will do very well. It expresses the youth feeling of the young urban, I didn't expect a double digit collection on Day 1 though. I thought it would be Rs 6 crore at best. Kareena and I were betting, we both were nervous, even Kareena felt that it would be around Rs 6 crore on the first day. We surely did not expect Rs 10.7 crore. But we cracked it!

Do you have friends like the ones you had in the film?
I don't know anybody like Sakshi. I was scared of plating the super bitch, excuse my language. So I told Rhea and Shashanka (Ghosh, director) that let's not make Sakshi a cardboard of a superb bit**. Like I remember I had a scene where a chowkidaar tells me that you can't park your car here or he'll puncture my car, and I shoot back: Kar de puncture, karke dikha, jala dungi tujhe.

So while I have crazy friends, and I myself am a bit crazy, I really didn't have an exact reference point to build my character. Well, we all have had our misadventures, young age brings recklessness and the urge to explore- you know how it is. I just started observing the people around me more closely with whom I interacted, picked up a few traits from here and there aur ho gaya...

Did that chowkidaar scene get cut after you gave your inputs of not making you a caricature of a super rich bit**?
Nope, it was deleted in editing. Don't we all shoot more than what is finally put up on display?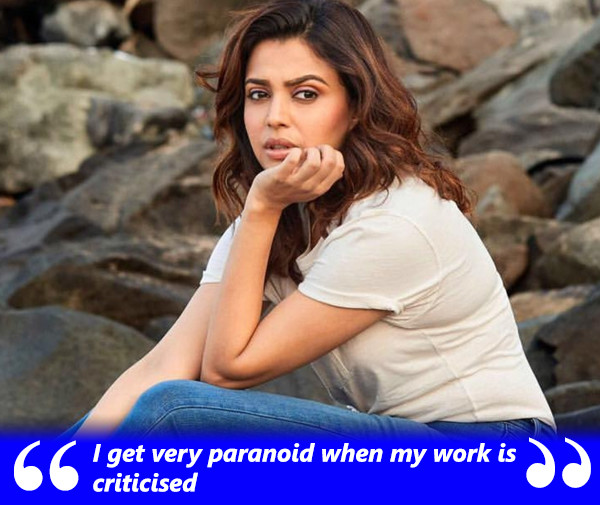 A couple of film critics felt that the 4 characters were contrived...
I don't think so. The spirit of friendship was so warm and genuine. But anyway, I didn't feel bad about whatever they said. I may not agree with them but I can't stop them. Each one of us is entitled to his/her opinion. No film can be praised by 100 per cent people. Love it or hate it, you can't ignore it (pauses). I just get paranoid if my work is criticised.

Veere Di Wedding has registered a victory, in my opinion --- because it has started a discussion. Pink was the last film I remember that started a discussion...
Yes. Whenever women do anything unexpected, they start a discussion (smiles).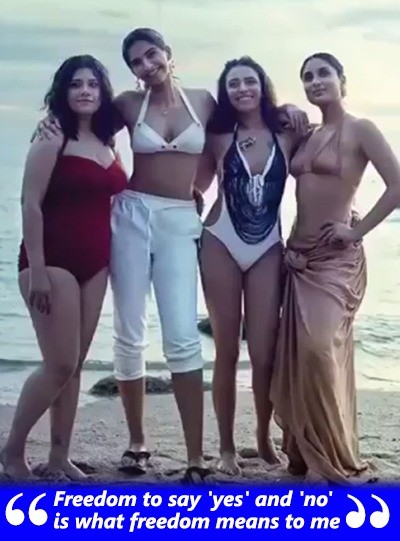 Especially in our country...
I think everywhere in the world.

Yeah?
Yes, we are a lot less forgiving towards women than we are to men. A man can hit a girl and abuse her --- and it will pass off as angst.

We had a decade of brilliant cinema of the angry young man. We had a character called Bunny in Yeh Jawani Hai Deewani who didn't know till the end whether he loves the girl or not. We had a Sid who didn't know what he wanted in life. Will we grant that confusion to a heroine? No, simply because she is a girl.




So, did this highly opinionated girl Swara Bhasker ever fight with her parents? Was she a rebel in childhood?
Who doesn't fight with parents? I also fought a lot with my brother. I wouldn't describe myself as a rebel because I am very close to them. I never lied to them about even my boyfriends, even if they got upset.

I remember seeing lots of films on DD, which commonly had an unwed mother. So, I always kept my parents in the loop even when it came to my boyfriends.

So, you were basically scared that...
(Interrupts) Listen, now I understood that what biology is. Aisa nahin hoga. I am talking about the time when I didn't know... you know what I mean.

I am so proud of my parents, they are my spine.

Did you ever get into trouble?
Many times for bunking classes. But I was a good student and teachers loved me. Lekin haan ek baar ek teacher ne principal ko complain kiya tha that I was sitting too close to a boy during lunch breaks.

You must have done that deliberately...
Well, we were sort of dating. Lekin us time pe dating kya tha? Sirf ek doosre ke saath baithkar khaana khaate.

And then? What happened in the principal's cabin?
(Smiles) The teacher had told the principal that I was in the guy's lap.I was shocked. I argued with the principal and told him that it hadn't happened like that. I also told him that the guy in question should also be called and reprimanded. Why only me?

Swara if you don't mind, can I say that largely, the people sat up and took notice of you only after you wrote that letter to Bhansali, which became the talk of the town?
Well, that's your individual opinion (smiles).

Well, I said 'largely'...
(Laughs)I didn't see it as a disrespect for him. Vagina is not a bad word. It was politely-worded letter. I was making a theoretical point. You are forgetting that I was one of the loudest to protest when Karni Sena unleashed criminal activity on Sanjay sir. My letter stemmed from not a vicious intent but just a deep belief that when we represent history, it can be misconstrued in today's context. We are already in a climate of vicious hate- Dalits are being attacked, Minorities are being attacked, Caste is becoming a tool of identity, Muslims are being lynched when they are in possession of beef and some of these are false charges- and why lynch even if those charges are true?

So here you are making a film (Padmaavat) where you stereotype a Muslim and then glorify jauhar. If I was the rape victim, I would feel that I was a coward that I killed myself, that too after allowing myself to be raped. It was a fictional story, a metaphoric story...lekin lens to aaj ka tha na?

I could have taken an appointment with Sanjay sir and told him about my views, but his film had became a part of national conversation. Okay, let me put it this way: You cannot put the onus on the rape victim and make her feel guilty.

I messaged everyone from Team Padmaavat saying that I loved the performances- and they all, including Sanjay sir and Viacom messaged back saying that I can disagree but it's my right to exercise my opinion. The film was liked by all, but there is the danger. You are getting seduced into liking it so much that you don't critically think about the negative fallout it may have.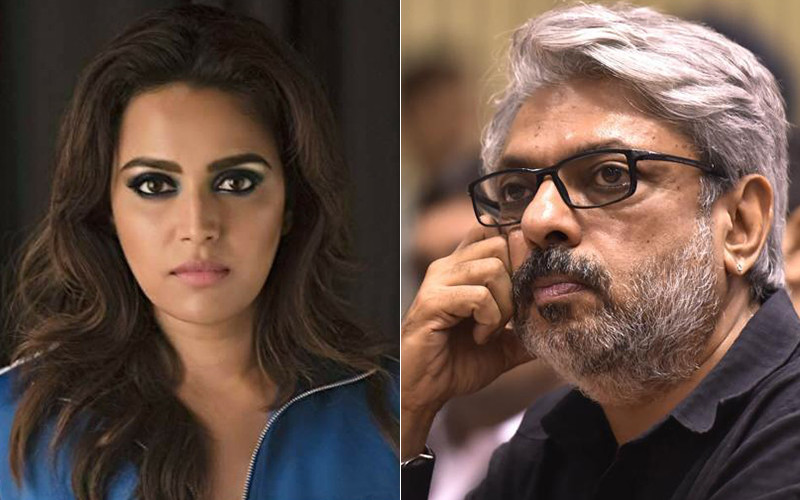 Now, let me play Bhansali's advocate. He was dwelling on history. If he had distorted it, he might have been again slapped...
I don't want to get into that. I don't think I have the right to tell the iconic Sanjay sir how to direct. He doesn't need lessons from anyone, least of all the young Swara Bhasker with all her opinions.

Smart usage of the word 'young'...
So yeah, Sanjay sir and I had a nice chat, I told him that he got all the sympathy and I got all the

Again playing Bhansali's advocate. If Padmavati had allowed herself to be raped by Khilji, which is what you are saying--- why would she do that when she knew that every day thereafter would be a day of rape? They were in a land of no law...
800 ladies went into jauhar with Padmavati. Are you telling me that not even one of them could rise against the torture and have a different opinion? Do you know they were living in feudal India where they were anyway oppressed and had to give in to many mighty folks in their system, so you are telling me that there was not one maid jisne socha ki mere life mein kya farak padega, aaj inke saath sona padta hai, kal ek Muslim raja ke saath sona padega. You are telling me that rape ke baad humko jeene ka haque nahin. We are a country coming out of the Nirbhaya case; that girl gave a statement in the hospital that she wants to live.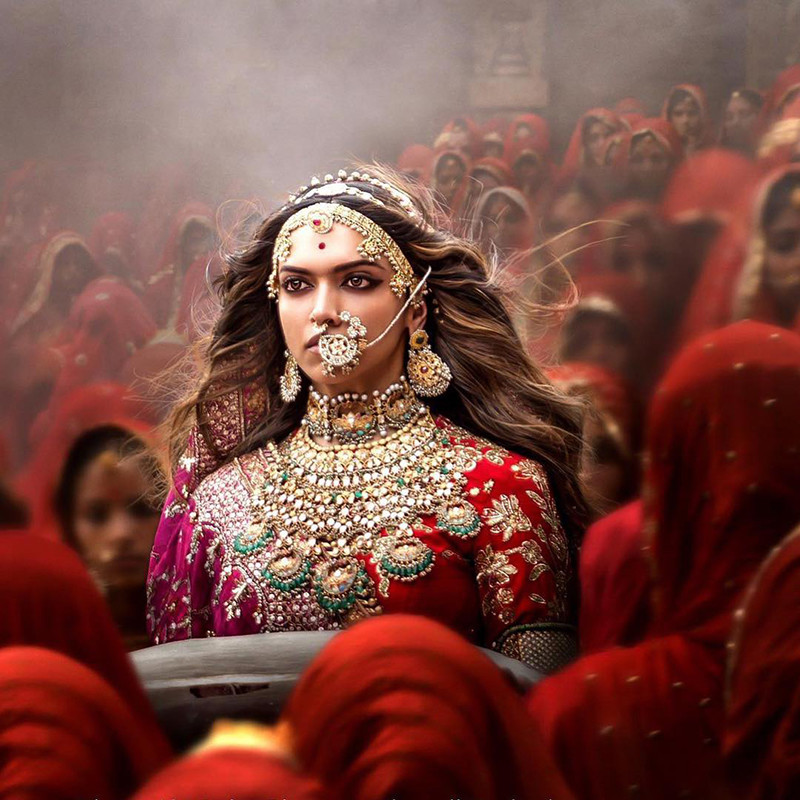 Okay, what does freedom mean to Swara Bhasker?
The freedom to say 'yes' and the right to say 'no'.

Coming back to Padmaavat.
(Smiles) You are really upset (Read: About that letter)

Would you have done Deepika Padukone's role if you had been offered?
I probably would have, but I would have asked a lot of questions and really argued with Sanjay sir. I never pretend to be more heroic than I am, I have my share of flaws, Let me tell you that in the past I have refused to mouth certain lines- Bangladeshi

I fight a lot with Himanshu (Sharma, boyfriend, writer), like for one during Raanjhanaa where I kept telling him that he didn't give any space to Zoya's world and ended up making stalking look cute. But at least she does not surrender, which is better than most of our Bollywood films.

Now, makers must be thinking that Swara kya bolegi, kya changes mangegi...
What is this? Are you provoking the filmmakers to not work with me? If I now don't get films, I will come and work with you (smiles)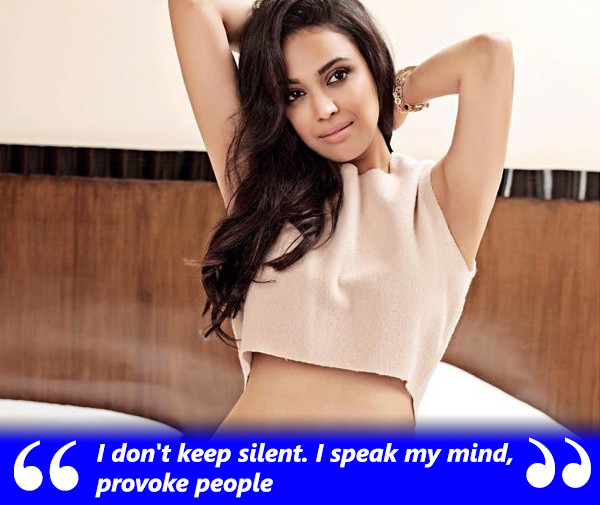 Now, let me play your advocate...
Thank you (smiles).

Has Swara Bhasker become a punching bag?
No, I don't keep silent. I speak my mind. So, I kind of provoke people. I say things inadvertently but trust me, I never say them with vicious intent, I have only stood up for whatever is right in the context of

I play your advocate, again. I really loved it when you stood up for Kareena Kapoor on social media...
To quote George Carlin: Never underestimate the power of stupid people in large groups. I felt responsible for those trolls because I had asked her to do that placard thing. I felt I had brought it upon her.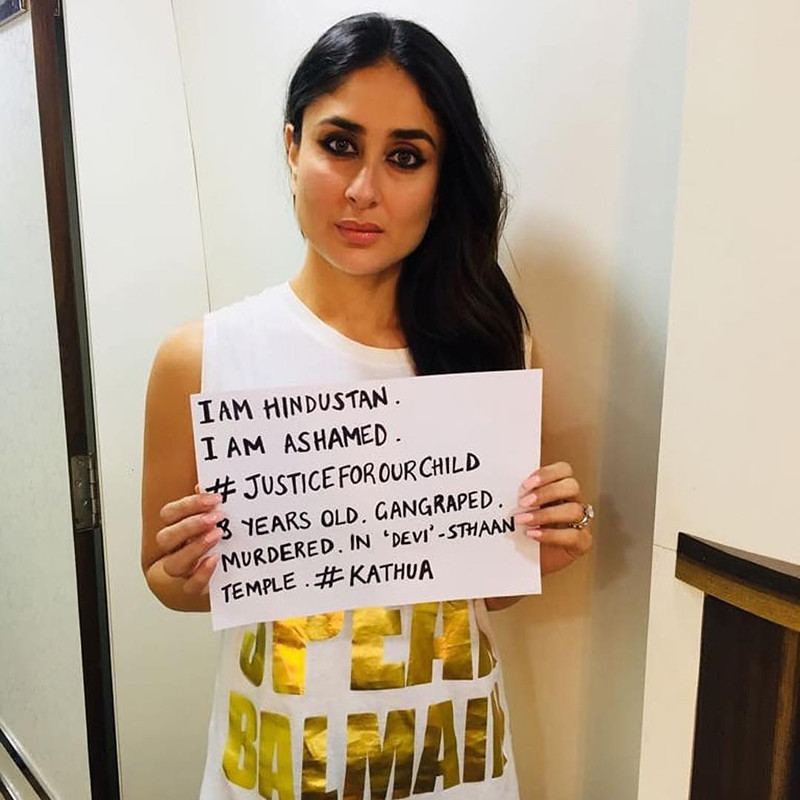 The interview will be incomplete without talking about your masturbation scene in Veere...
I was expecting the shock. But I didn't know that only grannies will be taken to see the film and they all will have a similar reaction (smiles).

I am very fond of Shashanka Ghosh. So yes, I was nervous. I asked for a closed set. The only thing I told Shashanka was, 'Let's make the scene funny, not vulgar'. So yeah, that 'Wait, 1 minute' (laughs).Remember that?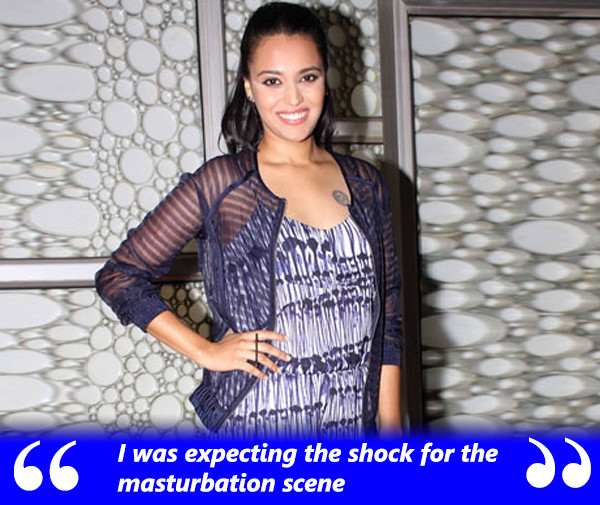 Yeah, It was like 'I am doing it everyday. How come you arrived early from office today'?
No. Yeah (laughs). I don't know. Never happened to me though.

Shaadi?
I believe in the institution of marriage.

I am surprised...
Really? Are you surprised that I don't smoke, I don't do drugs? I know people think I must be wild but I am very gharelu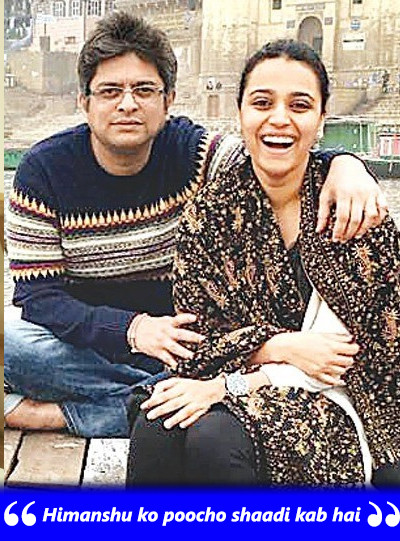 Shaadi kab hai?
Ab woh Himanshu ko poocho. Unilateral decision main kaise lun?
Parting shot. Kareena was lately trolled for wearing mod outfits during her interviews because she is a married woman...
I will get onto Twitter and... (laughs).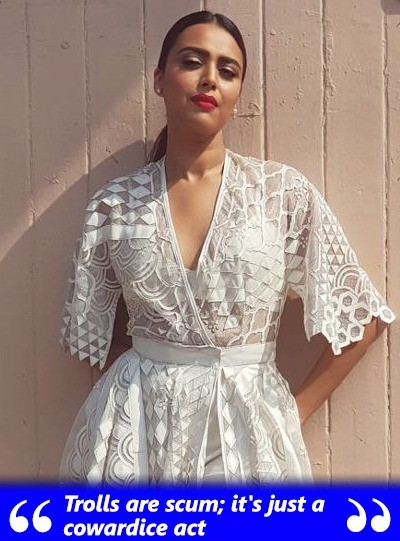 Get ready for another tweet from Swara Bhasker...
Listen, trolls are scum. it's just a cowardice act to attack people whom you take selfies with and then go home to write bad things about them, without even showing your face.

Image Source:- Instagram/@reallyswara
They say the best things in life are free! India's favourite music channels 9XM, 9X Jalwa, 9X Jhakaas & 9X Tashan are available Free-To-Air. Make a request for these channels from your Cable, DTH or HITS operator.