So, Aksar 2 makers are 'planning' to take Zarine Khan to court for her EXPLOSIVE Interview to SpotboyE.com, wherein she let out a can of worms on the harrowing experience she had with Varun Bajaj and Ananth Mahadevan during the film's making and promotions.

Now this 'planning to court' never happens, as far as my experience in journalism is concerned. But if it does, Zareen is unflustered.

Last night, we spoke to Zareen again. The Housefull 2 gal was extremely amused by Bajaj and Mahadevan's attack on her. As we said in our last story dated November 19, Narendra Bajaj (Varun's father) and Mahadevan had SABOTAGED their own film by calling the film's leading lady Zareen as unprofessional. Think of it, who does that? Also, the duo has gone on a couple of digital platforms and lashed out at her AGAIN. We would advise them to spend time thinking about a nice story instead for their next venture, as this one proved to be a non-starter.


Anyway, here is Zareen again. We counter her with Bajaj and Mahadevan's new allegations.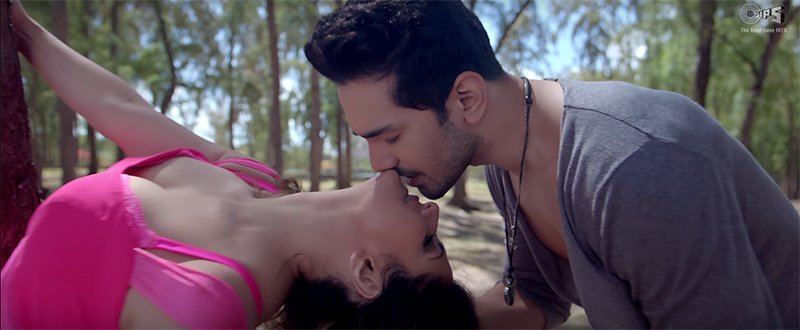 Zareen Khan & Abhinav Shukla In Aksar 2

Here's the conversation:

Narendra Bajaj and Ananth Mahadevan say that they had given you a bound script...
Did I say in your interview dated November 19 that the script was changed? I only spoke about how the kissing scenes were lengthened and certain scenes were shot which I was not happy about. If they were not guilty of that, why didn't they show me the film before release?

I hate drama. I hate being embroiled in any controversy. I live a simple life. It is only when fingers were pointed at my professionalism that I decided to come out and talk.

It is amazing that such senior people are lying and have stooped so low.


If they made Aksar 2 as per what they had committed to me, why was I not shown the film? Why was I not invited for its screening on Thursday

THOSE WHO MISSED PART 1 OF ZAREEN'S EXPLOSIVE INTERVIEW, CLICK HERE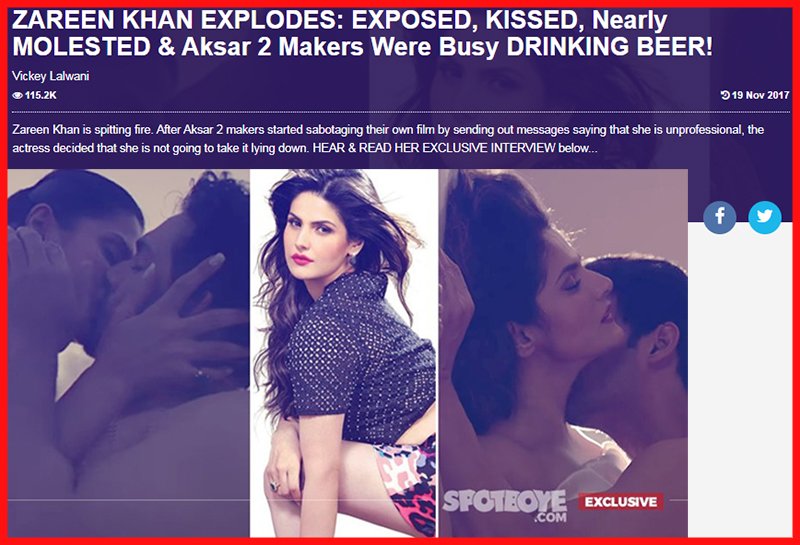 They say that 'you had tried the clothes in Mumbai before embarking for the shoot'...
Of course, I had tried the clothes. But every now and then, new clothes were being brought. You must talk to my fashion designer Shahid Amir to get details on this.

Why do you think they were suddenly bringing in new clothes?
No clue, maybe they had a certain image of my character in the film which changed with time. Honestly, I don't know what was happening (pauses).


Please continue...
Okay, let me explain.There were some clothes in that lot which I was not comfortable with. The makers and I decided that we'll do something at the shoot site- like maybe I wear a scarf or some covering that doesn't make them look so in-your-face. My stylist would have made the required changes.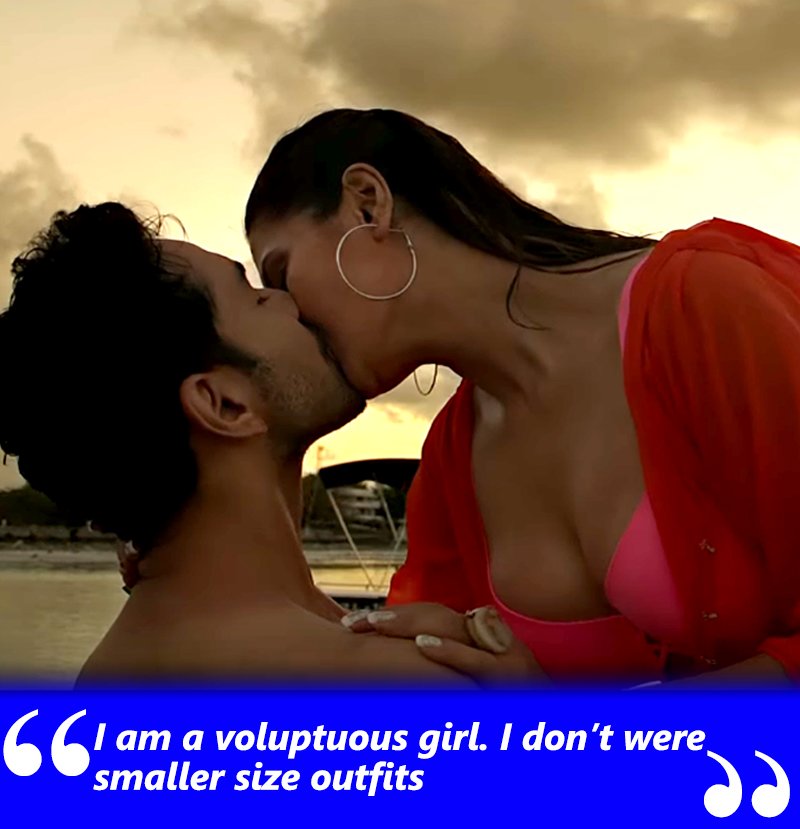 You mean you don a cover-up wherever you felt it was too much?
Look, I am a big-built girl, voluptuous. If I wear even one-size smaller than my actual size, everything looks very big. I don't know how to put this across, but let's say- it doesn't look good, it looks overtly exposing.

I have no problem in looking sexy but I have a problem in looking vulgar.

The makers conveniently haven't spoken about how they tried to hold you back at the promotions' venue, did not provide you with sufficient security...
Absolutely.

And then, they have said that they had conveyed everything to my manager regarding the Delhi itinerary. So for their information, my manager had conveyed everything that had been told to him. What they are omitting out here is that even I had conveyed them through my manager that I wouldn't be comfortable with a few things.
Was there anything in particular that you were uncomfortable about?
That whole fiasco in a Delhi club, which I told you about in my earlier interview.

Okay, so they wanted me to dine with the sponsors, maybe they wanted to show the full team eating food with them- I don't know what they had committed. And then the beer added to the dinner, it was all so weird.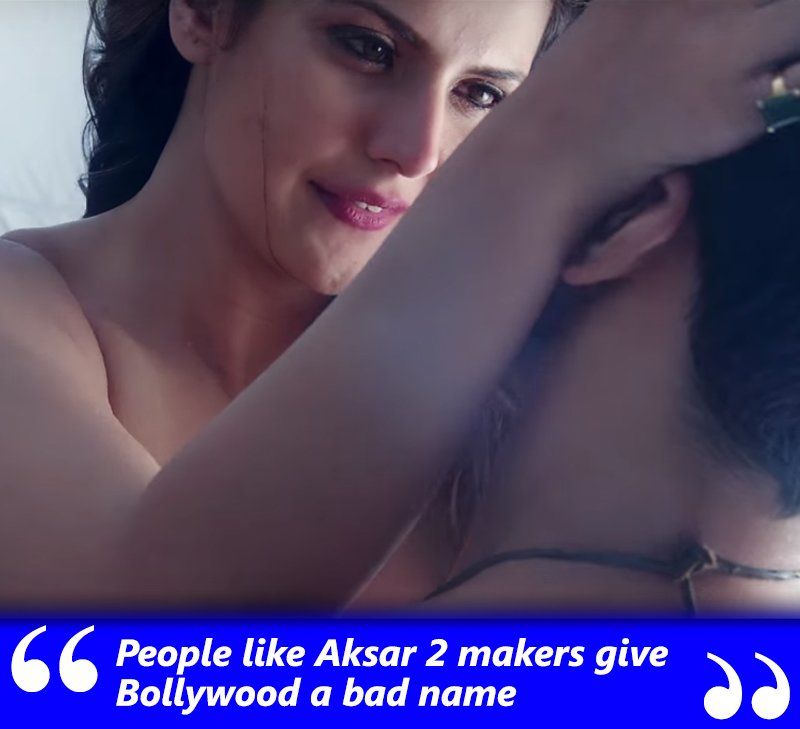 Were you at any point asked to sit and drink with them?
No. I will not lie. I was not asked to sit and drink.
Ananth Mahadevan has said that 'they worked hard on your performance'...
(Laughs) I think Ananth Mahadevan should not say anything. I feel so sad for him. He would come to me and say things in my favour, then hop across to Narendra Bajaj to say different things.

I don't think the producers are aware of this side about Ananth sir. Narendra Bajaj should sit down to talk with him, or take his phone and see his WhatsApp conversation with me.

I have it but I shall not release it because that's a conversation between me and my director. I was expressing disappointment and he was expressing hopelessness. Ananth Mahadevan was oscillating and I am sure Narendra Bajaj does not know that Ananth had said a few things about the producers as well.

For all you know, Ananth Mahadevan might have deleted that conversation..
(Laughs) I wouldn't be surprised either.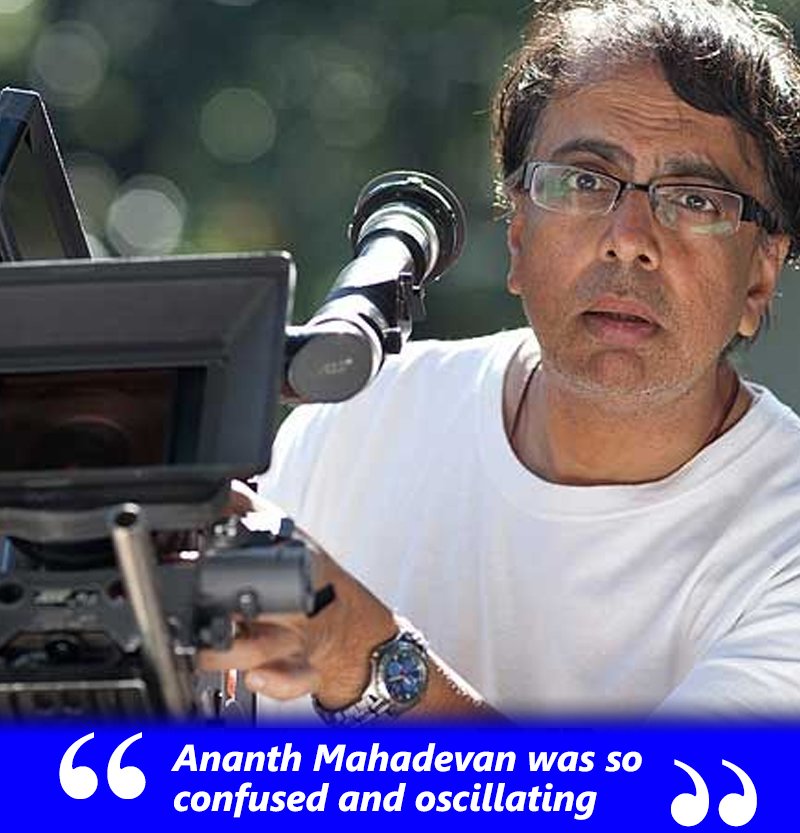 You should send those messages to Narendra Bajaj...
Maybe I will.

By the way, it was quite ridiculous of him to comment on the Delhi fiasco. He wasn't even there, his son Varun was.
He has proudly said that he is the producer, and since you say he was present on-the-sets, it indicates that he was calling the shots during the filming...
Yup, that's exactly what I have been saying na all along?


I repeat Ananth Mahadevan's statement 'they worked hard on your performance'...
Phew! What can I say?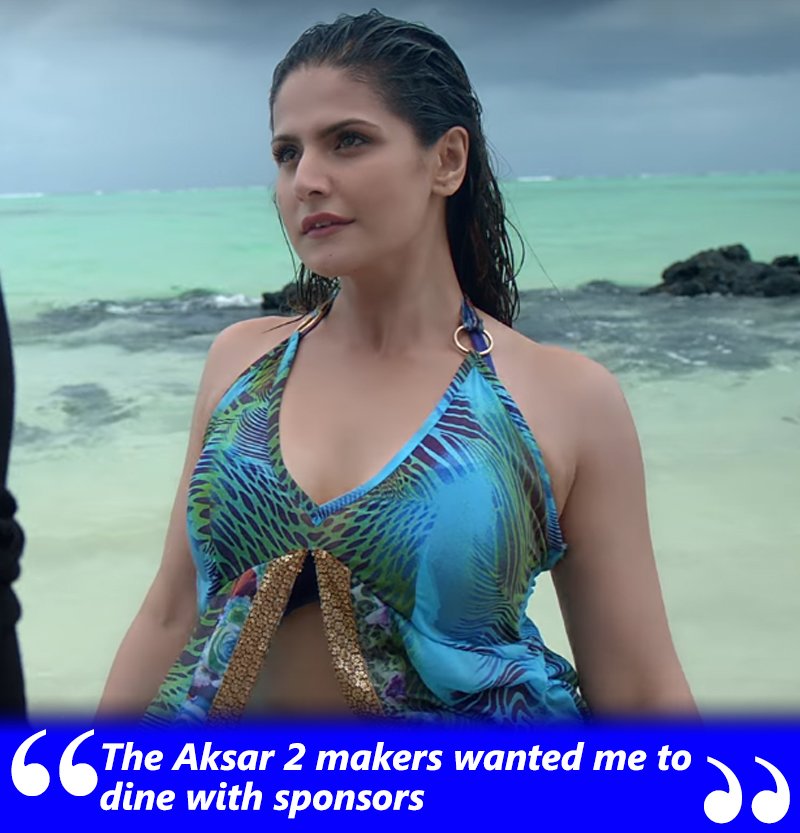 Did that statement hurt after working hard on a film?
It's just a case of stooping low. Yes, there were imputs by him. But I don't know how hard he worked because there was so much confusion during the shoots. Well, he had to work hard on some other actors in the film, and I just guess, he has mixed up the names; he is confused.

Think of it, shouldn't the director work hard on all his characters? It's his vision. And mind well, if he worked hard, I worked equally hard.

Any particular incident that would illustrate the confusion, chaos, et al?
Every other day, there was such a thing happening. Here is one, we were shooting for a song for which they wanted me to don a bikini. Now I had clearly told them that I won't wear a bikini for that song. They said 'dekh lenge, adjust kar lenge', and it was decided that my stylist would make a few changes or add a few things to it. Lekin nahin they wanted me to wear the bikini as it is, when the time came to shoot that song.
Did you wear it just like that?

No, my stylist wrapped a fabric around it so that it doesn't look teeny. They kept saying 'we won't shoot from here, we won't shoot from there', but...
Gosh! Matlab kaise bhi shoot karo, lekin please shoot karo...
If I start talking about such things, this interview wont end, so much has happened on Aksar 2 with me, the kissing scenes for one came out in such a different manner than what I had been given to understand. the kissing scenes were longer than the scene before them.....
They have even said 'you gave interviews in support of the film before it released'...
I can't be showing to the world what I have gone through with these people, but now....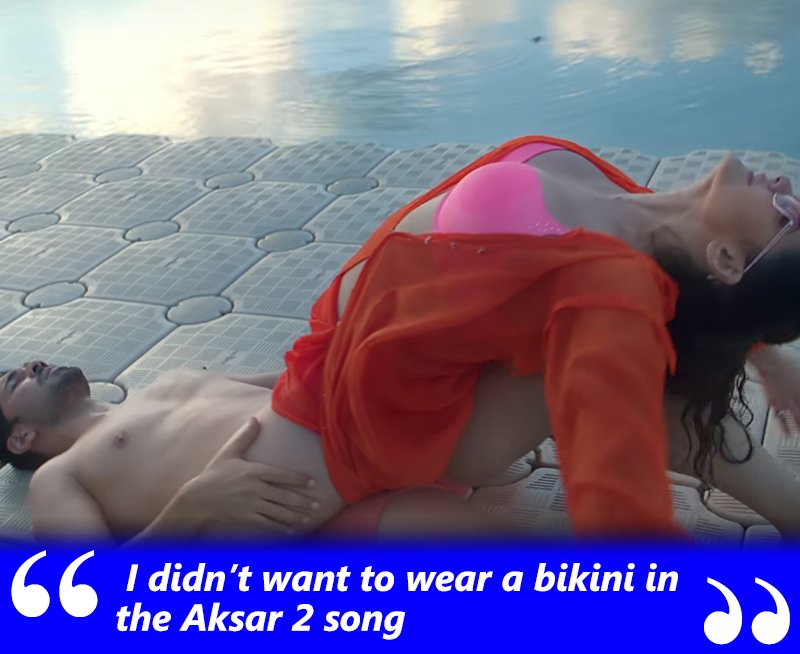 Did you suspect something fishy when they refused to show you the film?
Yes, because they had repeatedly turned down my all requests. If a maker is clean and honest, why would he not show his film to his actors? I just completed 1921 with Vikram Bhatt. The film releases in January 2018 but he has shown us the rough draft of the entire film, obviously because there is no hanky-panky.
Vikram is a very well-read guy...
I am his fan. I got to learn so much from him, you have no idea. And how can I forget Sajid Nadiadwala's Housefull 2.?
Sajid is a great guy...

Both Sajids actually- Nadiadwala and Khan. That film was a vacation for me.
Sajid Nadiadwala has introduced so many youngsters and stood behind them like a rock...
Yeah, that's why these people are where they are.
To sum it up, Frankly I have said all that I wanted. My upbringing makes me end this topic here, but yes, I must add that people like makers of Aksar 2 will scare away all the young girls who want to enter the film industry.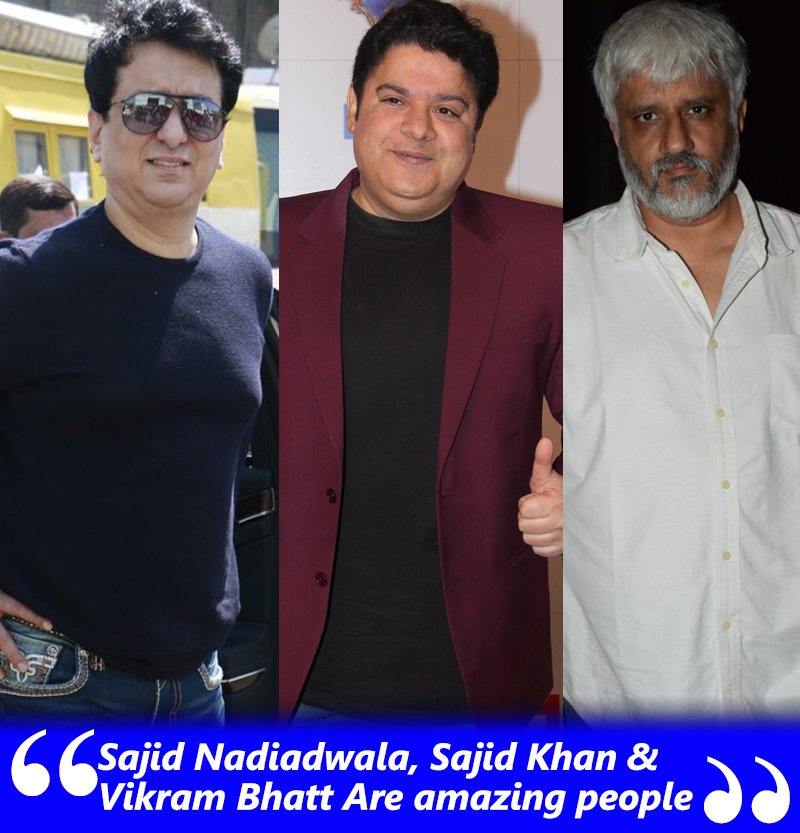 Narendra Bajaj says, "they don't come from the school of vulgarity'...
Oh yeah, you have seen his Aksar 2, na? You saw what was happening in it, right?
Sreesanth, your co-star in Aksar 2 has supported you...
I am thankful to Sreesanth, even he wasn't taken for promotions, not invited for the screening either. We hope we never experience this again.
Their behaviour was just not acceptable-- no courtesy, no apology, i hope no other girl experiences such a situation else her full idea about the film industry will change.
Parting shot?
I don't think I am the first one to go through something like this. A lot of girls keep quiet because they fear that they would then risk the chances of further getting work in this industry if they take pangas. But it was necessary to take a stand against such producers because the industry is an amazing place with amazing people who get a bad name due to people like these. Let's end it here.
Image Source: Manav Manglani & youtube/TipsOfficial