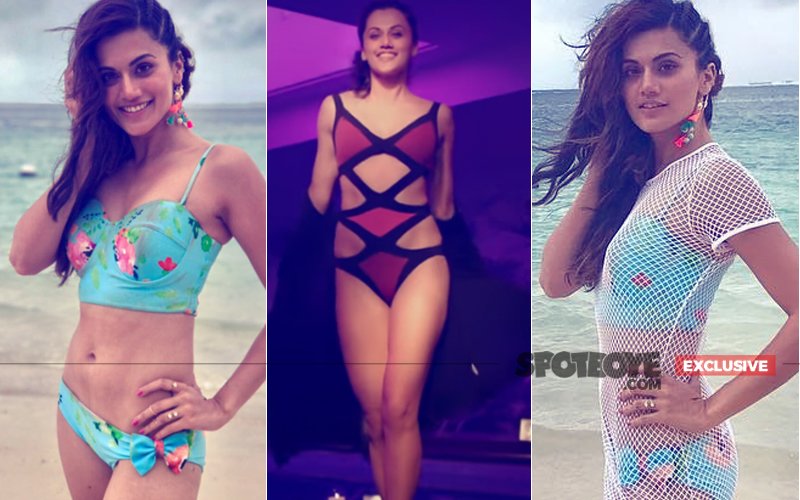 She has sizzled in a bikini in Judwaa 2. She has shocked the Bollywood film-goer by doing those jhatak-matak numbers, so unlike her history in B-town. And she has a little controversy brewing up around one of her forthcoming films.

Judwaa 2 has set the cash registers ringing and the time is right to talk to her.

Let's go straight over to Taapsee Pannu and ask her some right questions: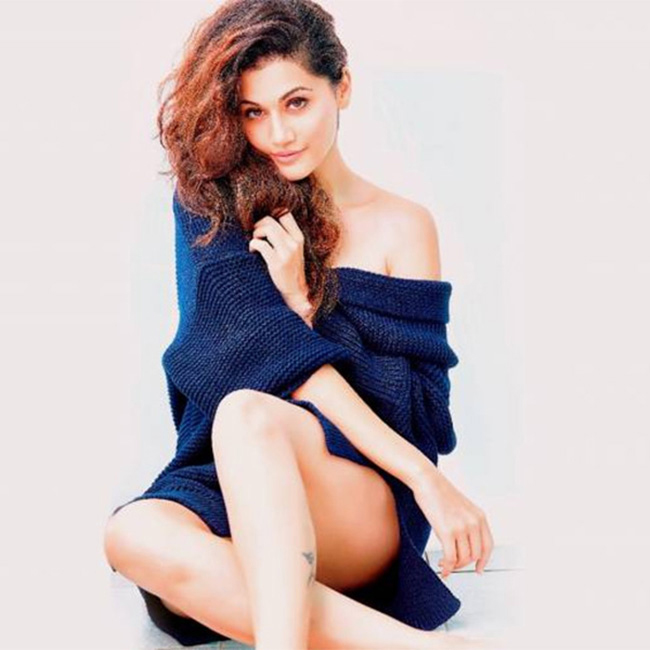 Taapsee Pannu Poses For A Photo Shoot

Judwaa 2 has got in a huge amount of people to the theatres. The first two days have witnessed Rs 36 crore plus collection...
Feels great.

Were you nervous before the release that there might be comparisons with Salman Khan's Judwaa and then you know how it is...
No, I was not nervous. I trusted it to open very well. I knew Judwaa is one property which the people own and have a certain nostalgia attached with it. So either way, whether the people want to relive it or want to see what we have done with it, people would come to the theatres. All said and done, I am not surprised at the flying start it has garnered regardless whether it is running in A, B or C centre.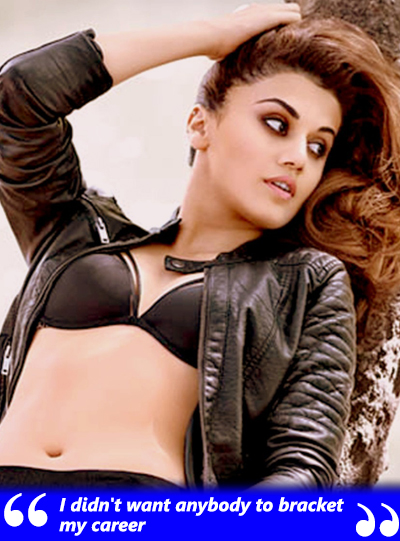 How did this masala film come your way? Asking you this specifically keeping in mind because you had got somewhat bracketed with serious content...
Yeah, and before I get fully bracketed into serious content, I decided to do an out-n-out commercial film. It is sad how the media and audience start stereo-typing us and bracket our career. I didn't want anybody to do that to me. Judwaa 2 was a deliberate attempt to exhibit to people what they don't expect me to do (pauses).

Go on...
David Dhawan had worked with me before and he had faith in my versatility. He knew what he could get from me on the screen for a typical potboiler.

I met Sajid Nadiadwala sir, and he asked me if i would be interested in a film like Judwaa 2.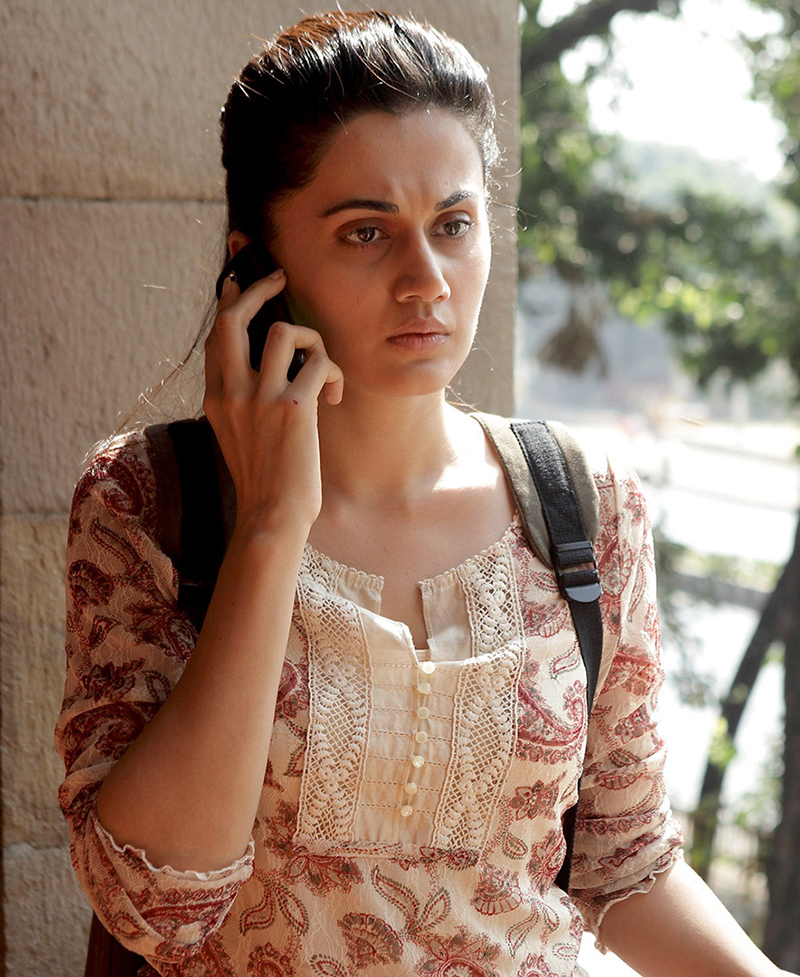 Taapsee Pannu In Naam Shabana

And?
I told him that I have grown up seeing such films, and it would be stupid to not do something that excites me. Isn't it boring to keep repeating the same kind of genre? Isn't it refreshing to rejuvenate and re-energise yourself?

Were you getting bogged down a bit because some of your films hadn't done well in the recent past?
No, I wasn't. I think all my films, except Running Shaadi, have done pretty well at the box-office; just one film's disappointing run is a very small minority to be bogged down upon. My film Naam Shabana has been the highest grosser women-centric film this year, so far. It depends on you how you see it--- whether you want to see it as an Akshay Kumar film who did a 5-day work in it or as a film which is helmed by almost a new face who is not really in A-list category.

I am lucky that I established ground on a non-safe zone by doing out-of-the-box films and the audience accepted me. Everyone does not get such opportunities. Now, it will be easier for me to do safe-zone films. That is how Judwaa 2 happened, and people can see the rest.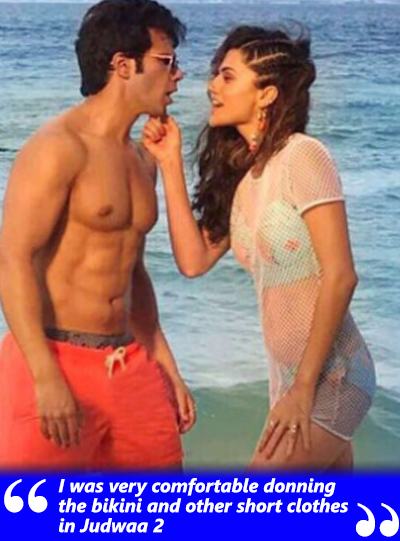 Those fast jhatak matak dances you have done in Judwaa 2, was it easy to match steps with Varun Dhawan? You told me the other day that you are a trained classical dancer, but wasn't Judwaa 2 stuff radically different?
Training in classical dancing gives you a very strong base, so much so that can pull off any dance format in the world. Plus, I have been dancing to Bollywood songs since I was 6-years old; dancing has been my first love. In fact, acting is something that I have learnt recently- something that I never wanted to do but ended up doing. You can make out from the film how happy I look while dancing. Let me rewind; I have done similar dances down South... lekin haan, Bollywood me pehli baar hai.

Coming to the first part of your question, it was fine dancing with Varun. No stress. I have danced in South films with some very good dancers. The great part was that Varun is very passionate about dancing, and it is great to get a co-star like that when you yourself are equally passionate about the same. His energy rubbed off on me and I hope he too feels the same about me.

We haven't seen you wearing short dresses either, like you done in Judwaa 2. Were you comfortable?
If I was not comfortable, it would have reflected on screen. I worked very hard on my body and I knew what I was getting into. It's not that I didn't have an opportunity to don a bikini before Judwaa 2. I could have done it down South. But I don't think that I had the right body for a bikini then.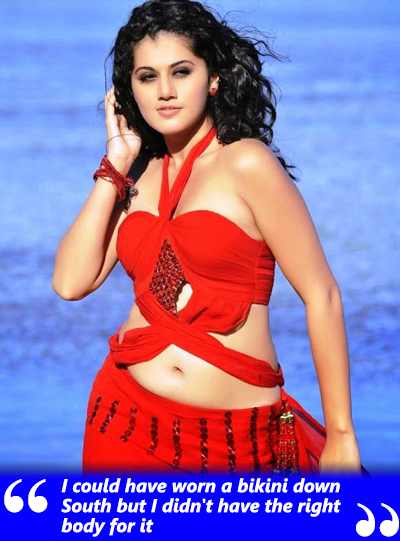 I don't think there's anything wrong to get into a bikini or a short dress. If you feel you can pull it off, why not? When I thought that I had the right body for a bikini, I went ahead with it.

What did you do to get the right body for a bikini?
I had to do a lot of gym sessions. I was never a gym person, I am a sports person who loves playing squash in particular. Sp squash etc can make you thin and fit. But to get into a bikini, you need to have muscles which are extremely toned. i joined gym for a full six months. Pehle squash jaati, aur wahan se baad mein gym.

Diet?
A few restrictions, not much though. I went glutton-free and lactose free. I will never force my body to any crash diet, it helps you to pull down soonest but once you leave it, you pronto go back to being what you were. So sometimes, I had a bit of fried food and cakes too; I have quite a fetish for cakes.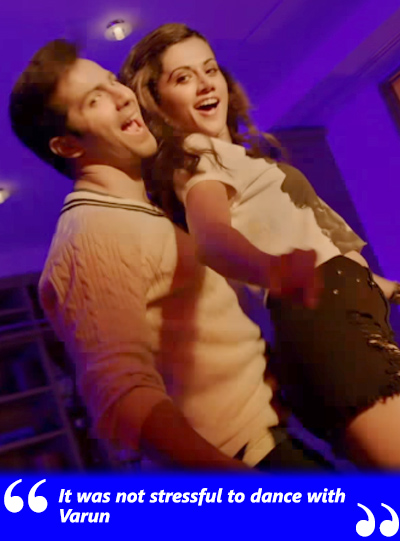 Tapsee Pannu On Dancing With Varun Dhawan

Are you going to maintain the Judwaa 2 body or...?
I will now look more like I do in Judwaa 2, and if and when required to get back to the bikini body, will need just 15 days.

What's on your plate after Judwaa 2?
I am doing Anubhav Sinha's social thriller Mulk with Rishi Kapoor sir and many other actors, and then I have the hockey player Sandeep Singh's biopic opposite Diljit Dosanjh, directed by Shaad Ali and produced by Chitrangada Singh.

There is buzz that you are doing a film with John Abraham, the Hindi version of The Invisible Guest. Co-producers fought, one set wanted you, the other wanted Kriti Sanon...
I don't get into ugly battles. My take is: When the Studio is in place and the project is ready to take off, the names of the cast will be announced and only then people should infer.


Image Source: instagram/taapseepannu, youtube/t-series, youtube/foxstarhindi, aboutfeed, artimagesfrom, expressentertainment