I must start off by saying that I saw parts of Begum Jaan in Mahesh Bhatt's office and personally think it's likely to be an award-winning performance...
Award mile na mile, we have put our blood and sweat into this film.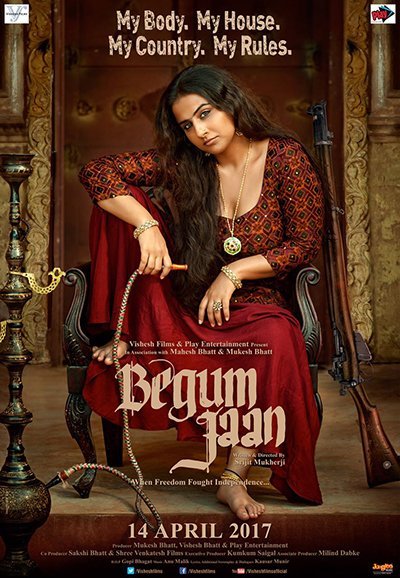 Mahesh Bhatt told me that it all started on Begum Jaam when you were in a flight with after Humaari Adhuri Kahani and he said, "Bani hai par nahi bani hai"...
Bhatt saab was asking me, "What is it that you want to do next? What is the role that you have not done?". And I told him, "I want to play a role which gives vent to my anger." He was surprised. So, we had a conversation around it. Next thing I know, in a few months he bought Begum Jaan to me.

Interestingly, Begum Jaan was offered to me in its original Bengali version, Rajkahini. But then I did couldn't do the film because I was taking a break for a few months at that time and Srijit (Begum Jaan director Srijit Mukherjee) wanted to start immediately.

Then after some time, Bhatt saab, Mukesh saab and Srijit came home and said, 'We want you to do this in Hindi, watch the DVD'.

I watched the film and I said to myself: 'Oh My God! I want to do this, this is calling out to me!' Begum Jaan is the most powerful woman I have ever played.

Bhatt saab says there is a latent anger in you. Did you express it in Begum Jaan?
I am someone who has never been able to express her anger. It's only now that I have gotten comfortable with expressing it, My mother always asks me: "When you are angry, why can't you get it out of our system, why do you keep it all in?" I think that's my personality, plus after I joined films, once you become a public figure--- you are all the more conscious, you do not want people to see anything but the good side of you. So I was feeling cloistered in that sense.

What is the anger about?
It's for various reasons--- judgement and criticis that I have faced over the years. I don't think I had dealt with all that. That needs a voice.

Today's women, in particular, have a lot of anger in them because you realise what your life can be, you realise what you want to do with it--- but there are some things that keep holding you back.

We are being constantly made to balance things. Talk to a girl or a woman of any age, and they will tell you the same thing. So all that found voice in Begum Jaan.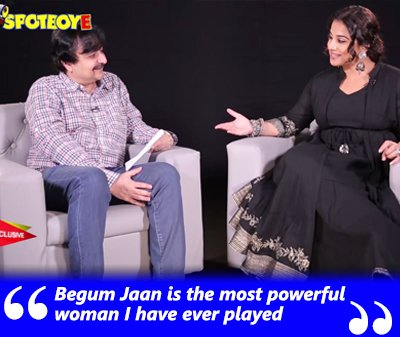 You faced criticism on your outfits. You were even trolled for that...
Man, woman, child, everyone should wear what they want. I am not aware of the trolls in my case--- because I don't read most things. I will do what I want to, if you have a problem with it, too bad.

If you want to voice your displeasure over me, its your prerogative. But that will not affect me.

But I know it affects a lot of people. Today, because you have the means the express your opinion and because it is faceless mostly, people get away with saying anything.

The unhappiness in their lives show through, there is so much negativity.

I will only say something if I want to appreciate you, otherwise just keep quiet. That is what tolerance is about.

I don't know why people have lost the ability to reign in their opinion. Also you have lost the ability to have an opinion of your own because you are constantly being told--- this is good, this is how it should be--- so after a while you just lose the ability to form an opinion.

Coming back to Begum Jaan and her anger, you have used a lot of cuss words in the film. Was it difficult ?
It didn't bother me at all. One, because Begum Jaan is very brazen, very unapologetic and she is the madam of a brothel. Their language is very coarse anyway, every second word of their's is a curse word. Though I haven't abused to that extent--- but I had no problem with it because you have to be true to the character isn't it?

And what about Vidya in real life? Does she use cuss words?
No, I don't . I don't abuse in real life. But I remember in college, when I used to take the train from Chembur to VT to go to Xavier's and we would get groped or pinched on the train, I have turned around and slapped people and abused them. Angrezi, Hindi jo ho, I will not take crap. Abhi zarrorat nahi padti. And I quite enjoyed abusing in Begum Jaan.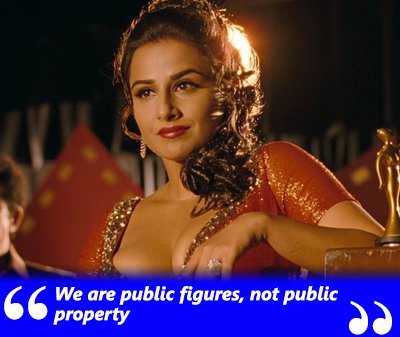 You gave a man the hardest time of his life at Kolkata airport recently, he put his arm around you and...
(Interrupts) Yes, it happened a few days ago. Bhatt saab, Srijit and I were in Kolkata for an award function. We were waiting for our return flight and a man came forward and put his arm around me. When a stranger, be it a man or a woman, puts his arm around you, you are a bit shaken up because he/she is intruding into your personal space. He said that he wanted me to click a selfie.

And then?
So I said, "Don't." But he did not listen. Then, my manager intervened and she told him, "Please don't do that". But he still put his arm around the third time. and started taking the selfie. And then, he put his arm around my waist. He was trying to be over-smart and I said, "What do you think you are doing, this is absolutely wrong." He then said, "Ok sorry. but can I get a picture?" I shot back, "No you can't. Behave yourself."

We are public figures, not public property. I just walked away after that.

Let me tell you another such incident. I remember I was at Siddhivinayak Temple once and I was praying. Suddenly, a man came forward and touched me on my shoulder. I opened my eyes and it was a random guy. Before I could say anything to him, he said, "Madam, please say hello to my wife." I told him to hold on for a minute and went back to praying. He again tapped my shoulder and said, "Say hello to her before that." I told him that he cannot touch me. I asked him if he'd be okay himself if touched by strangers, and if he will mind if his wife was touched by a stranger like this. I then continued to pray. Main dheet hoon (laughs).

Coming back to Begum Jaan. How was it shooting with 10 actresses? You are an accomplished actress and perhaps they fumbled?
No, each one of them is a really good actor. Some of them are from stage, some of them are from film, some from Southern films, some are from TV. So they were not short of confidence. Also, Srijit had put them through a workshop.

Did you undergo the workshop as well?
Drijit did not want me to do the workshop with them because he said bahut familiarity nahin honi chahiye between Begum Jaan and the girls. I read with them a couple of days but there was a distance.

But Srijit's team was so well prepared, it was the most well prepared team I have ever worked with, and mind you, in every department. Not just actors, but also in camera, costumes, make-up, hair- which is why we were able to wrap up the film in 32 days.

Also we couldn't afford to waste time. We went to Jharkhand in June and they said July mein barish hogi--- but it started raining in June itself. Every morning Srijit would peek out of the curtains with so much trepidation, ki aaj barish hone waali ki nahi. We had options for scenes--- barish hogi toh yeh shoot karenge, nahi hogi toh yeh karenge, downcast hoga toh yeh karenge. We were prepared for three scenes a day including scenes for when it would be really sunny. The humidity after the rains would be crazy but there was so much energy on the sets, it was like the heat was pushing us on. Maybe we just wanted to get it over with and get back to Mumbai where the weather would be better.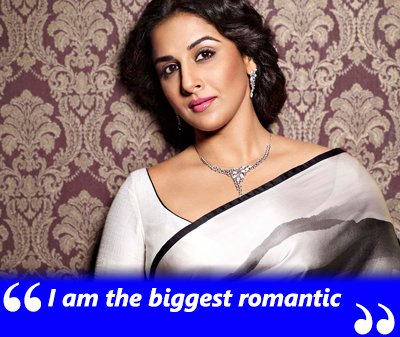 The script also kept you going, I guess. I have seen the scene where Begum Jaan confronts men who want her to vacate the brothel...
Yes, the caption says: 'My body, my house, my country, my rules'. Begum Jaan is Boss, you can't mess with her (laughs). I loved doing that scene.

Srijit revealed an interesting tidbit to me, the other day. He said that he was very particular about the make-up of every actress and often he would catch them trying to don some make-up on the sly when they were asked to be bare-faced. Did that happen to you?
No, because I have no problems going without make-up. I enjoy using these tools to my advantage. My skin was tanned for the shoot, other than that there was not much.

Evidently, you are very comfortable with your body nowadays unlike before. How did that transition happen?
Well, that phase happened a while ago. And slowly but surely, I started caring lesser.

You also stopped wearing Sabyasachi...
I think Sabyasachi is one of the most talented designers in the country. I have worn him a lot but post Cannes (pauses) I don't know if I can call it a fallout, but we have not been in touch. Not that anything has happened, but it's unfortunate.

With time, the acceptance of my own body and the confidence that comes with it has been growing. It has been a slow process though.

We haven't seen you romance onscreen in a long time?
Yeah, why is no one making me romance ya? I am waiting to do a role when there is a full-blown romance. Lovely dialogues, lovely songs, lovely locations.

And a lovely hero...
Yes (laughs). I would love to do that. I have always said, I am the biggest romantic.

Your last few films have not done well at the box-office. How badly do you need a hit?
(Smiles) I need it, I want a hit. My past few films have not done well and that was heartbreaking. Irrespective of that, with every film, you want your film to do well. Commercial success is important. I want the people who invest in the kind of films which I do, to make money. Thankfully, we broke even with Kahaani 2.

The lean phase must have been difficult to deal with...
Yes, but I love what I do. Commercial success has never defined my choice of films. I love being an actor--- so when I get a good role, I dive into it and give it the best I can. On set, I am not thinking: Yeh film chalegi ki nahi chalegi. Thankfully, I have always been free of that. I have tried, I have experimented--- some things have worked, some have not--- but that has never bothered me. I am too greedy about acting, I just love it too much. So I can keep the past behind and move on to the next assignment.

But you do say 'No' to films, especially nowadays. Like you said 'No' to the Kamala Das biopic and then the director said you are unprofessional?
To each his own. I did it for the right reasons and I was absolutely honest with them. There were creative differences in terms of the story, or rather should I say their approach. I don't feel the need to make it out to be anything else. I can say it as it is. It wasn't easy for me to say 'No' to it because I wanted to do a Malayalam film. I come from Kerala, though I was born and bought up here in Mumbai. And Kamala Das is so loved, so respected and her writing is so potent. I would have loved to do it. It just did not work out, it's a bitunfortunate. But, no regrets.

So, what's next?
Atul Kasbekar and Tanuj Garg's production house Ellipsis, is making Tumhari Sullu, which has me playing a late night RJ and it's fun and it allows me to tap into my naughty side.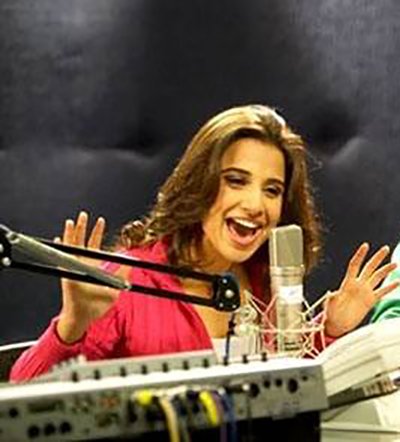 Is it similar to what you did in Lage Raho Munnabhai?
Not at all. She was an early morning RJ and this is a late night RJ. Isme alag tarah ki masti hai (laughs).

Thumbnail Image Source: Images,hdwallpapers,Manav Manglani