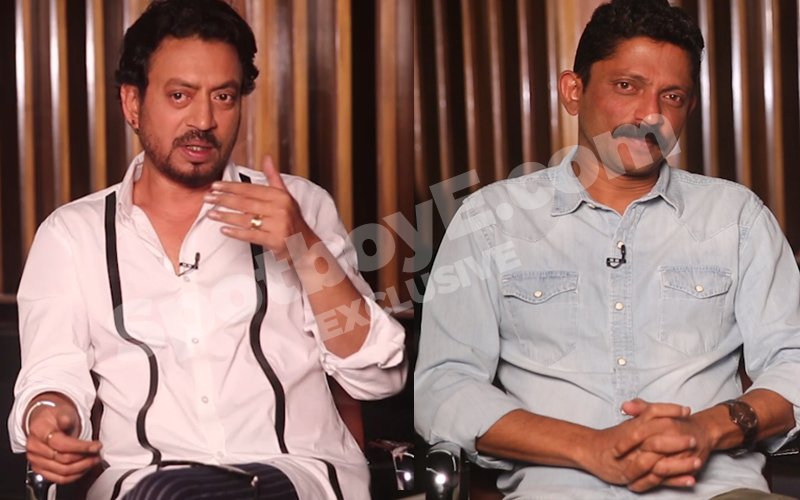 Your browser does not support the video tag.
Irrfan Khan is one of Bollywood's most talented actors who has proved his mettle in Hollywood too. The actor is reuniting with director Nishikant Kamat for Madaari, a film inspired by the abduction that recently took place in Marol. Ahead of the release of Madaari, SpotboyE.com caught up with Irrfan and Nishikant for a quick chat. Excerpts:




What made you give your nod to Madaari?
Irrfan: I wanted to do it because it's relevant. When a disaster takes place, we hear about it over news and then forget it after a day or two. But the ones, who are affected by the disaster, are affected for lifetime. Sometimes they are not able to cope up with what really happened. So this film tries to explore that aspect in an interesting yet entertaining way.




You're reuniting with director Nishikant Kamat 8 years after Mumbai Meri Jaan...
Irrfan: Sometimes, Nishikant makes 3 films a year and other times, he makes a film in 7 years. What can I do?
Nishikant: (Cuts in) He is blaming it all on me, but half the time he is busy in Hollywood and doesn't meet me for months. Then how can we work together? (Laughs)

Irrfan, you're known to be extremely selective with your scripts. What do you look for when you're choosing a script?
Irrfan: There's no formula to choosing the right project. It's just an instinct. You will never know which movie will work and which won't. So when you choose a subject, you see the potential of the movie, where can it go. It's all in your hands. Rest is beyond your control.

There has been a lot of hullabaloo on the Censor Board coming down heavily on films. What's your take?
Nishikant: Sometimes, if the hero is a rugged character, I love to see him smoking. But the moment I see him smoking, I read the disclaimer below and that's a turn-off. It's like telling a painter that you cannot use oil paint but some other paint! How will a painter feel if you are constantly trying to restrict him? And frankly, nobody is out to propagate smoking or anything. We're here for the love of art. Plus, the laws are almost 60 years old. They are redundant in today's times.

Irrfan: If we talk about the smoking disclaimer, I would really appreciate if all of us were that health-conscious in reality. But the truth is, we're living near the drains, breathing polluted air and there is no guarantee about the food we eat. And then, you have the audacity to come up with a policy that is not there in any country! I mean, all the possible problems exist here but filmmakers are not allowed to show it in films. How absurd is this?




So are you saying that entertainment industry is a soft target for government?
Irrfan: I feel that people who are running the system want to show that they care for us and hence they are adhering to this policy. But in reality, there is no concern. It's just a PR exercise for them. On one hand, it's okay to show a woman as an object of desire and the whole film is about gags on her boobs and her body. You have item numbers where a girl's body is exposed, parts of her body are talked about as products. Nobody has a problem with it. But then, they come up with absurd complaints with regard to other films. I find no synergy in this.




The industry has come together to fight against the Censor Board in several instances, the most recent example being Udta Punjab...
Irrfan: I wish the industry could come together like the film industry in the South – it is much more united, and has rules and regulations. In our industry, nobody is ready to discuss how burdened a small film is. And these small films are actually instrumental in bringing about a change in storytelling. If we get into trouble, we don't have one body which will speak on behalf of our cinema. Everybody is on their own. It's like, 'Mast raho masti mein aag lage basti mein'.




What changes would you like to see in the Censor Board?
Irrfan: Sensible people should be giving out certificates to films. People who are evolved and are not part of any political parties should be in this position. The government has an attitude where they favour people by giving them these positions and it is misused. So we need a body, where this group of evolved people will decide if a particular film is suitable for the audience or not.
Otherwise, if you are so serious about censorship and concerned about what we watch, then let's do it with television and internet as well. Let's just do it like China does! There should be a standard pattern to it. It should not be a futile exercise where a filmmaker is suffering because his film is held up and an 8-year-old is watching anything he wants to watch online.




Irrfan, would you like to direct someday?
Irrfan: No, I've realized I cannot. The most important aspect of a director is that he needs to be able to multi-task. As actors, we're fortunate that we only have to focus on our characters.


Image Source: Manav Manglani & facebook/IrrfanKhan & Revapad