I was speaking to your Dad (Rajesh Khattar) and he told me that you always wanted to be an actor...

That's true. I didn't have to verbalise it to my family. It was starkly evident what I wanted from life. I was extremely passionate about films since childhood. I was dancing and do a lot of drama at home and started watching cinema from a very young age.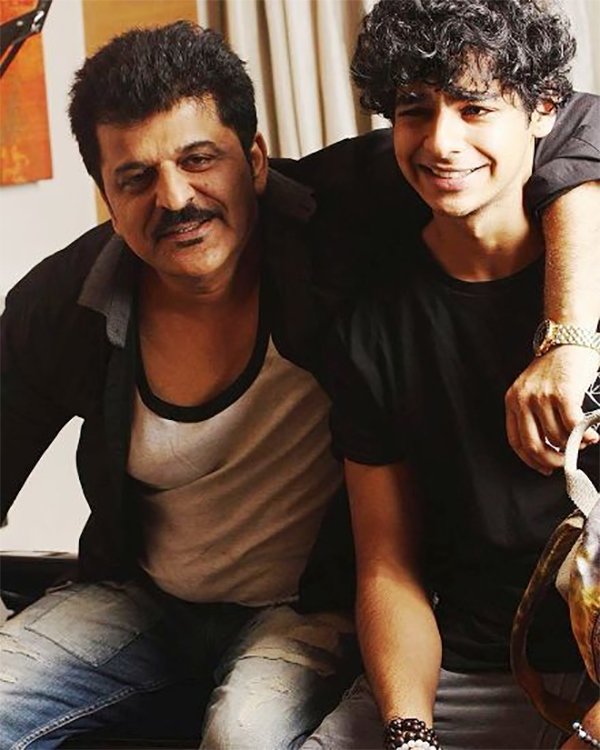 Ishaan Khatter With His Father Rajesh Khatter

When I was 7 or 8, my brother Shahid (Kapoor) stepped into Bollywood. I used to visit the sets with him. And I was quite observant.

Your Dad also said that you watch a lot of world cinema...
Cinema is history, cinema is our roots. We can communicate our feelings on issues through cinema. I try to absorb a wider range of cinema because there is much to learn from it. Coincidentally, I am representing a film which is representing world cinema. Who would have thought that Majid Majidi Sir would come up with something in Hindi?

Cinema was a part of you so early in your childhood. What about your academics?
I had interest in studies till 8th. After that, my attention span started dropping and my grades started falling. Suddenly, I was doing well in only languages. I wanted to read about Cannes and other film festivals. Aur kuch dhyyan hi nahin lag raha tha. Especially Maths and Accounts became very difficult for me. My mom (Neelima Azim) got scared. We had a chat. Thankfully, I could make her understand that I wanted something else from life than just Maths, Accounting or even Science.

I started training as a dancer. I started with western dancing. My mom was an expert in Kathak, but Kathak per se never fascinated me.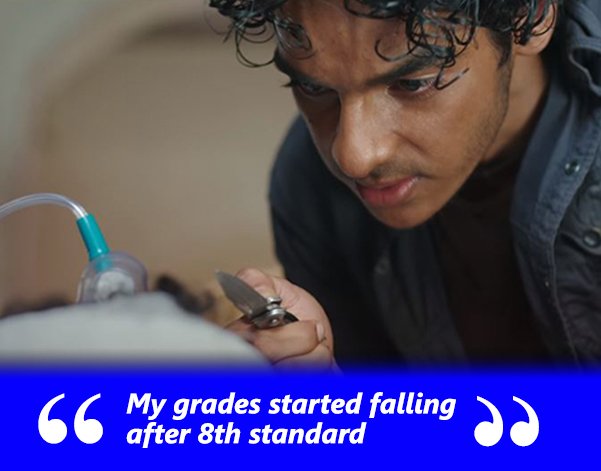 A Still From Beyond The Clouds

You acted in a few films... brief roles?
Oh yeah, I did Life Ho To Aisi and Udta Punjab. Both happened by accident.

Tell us about those accidents...
(Laughs) I was 7 1/2 when I was on the sets of Life Ho To Aisi and seeing seven other kids in the frame, I insisted that I wanted to be a part of that gang. Shahid requested the director--- and that's it.

And Udta?
Well, in Udta, it so happened that I was assisting--- and Abhishek Chaubey suddenly wanted a guy who looks sanki (eccentric) and is about 19-20.

How did Beyond The Clouds happen? Where were you when the offer call came?
Interesting question. I was in a grocery store and had gone to buy milk. Honey Trehan (casting director) who had worked on Udta Punjab too, called me. When I reached him and learnt that it was going to be a Majid Majidi film, I knew my life could change if I clinched it.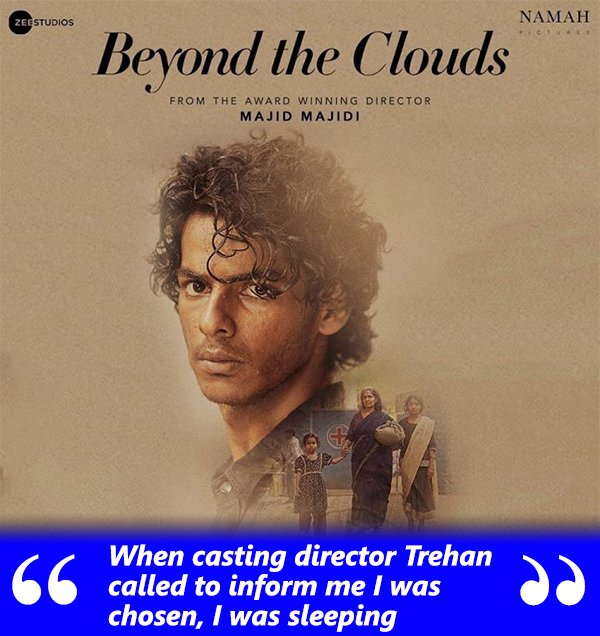 Beyond The Clouds Poster

I underwent auditions, I could see myself in Beyond The Clouds even before it had started to roll. I was very curious to know the story and practically everything--- but Majid Majidi Sir met me only 5-7 minutes and asked me to send him a tape of how I would do a couple of scenes in my style, which he obviously wanted in the film.

I shot those scenes on the phone, and then I was asked to shoot myself dancing in the rain.

After that I slept off for few hours. Around 6.30 pm when I got up, I saw a missed called from Trehan. I called him and he said: Go to the rooftop of your building and scream that you are the lead actor of Majid Majidi's next.

Whom did you give the good news first?
Mom.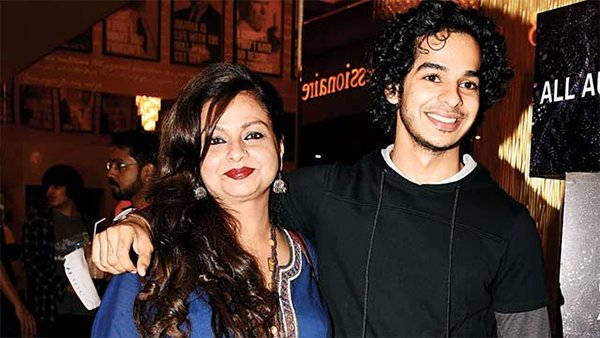 Ishaan Khatter With His Mother Neelima Azeem

We were overjoyed, and maybe she was more happy than I was.

And then, I broke the news to Trehan.

When did you tell Shahid?
I waited to meet him personally. He was taken aback. He didn't even know that I had undergone auditions for Beyond The Clouds. He only knew that I had Dhadak (the remake of Sairat) in my kitty.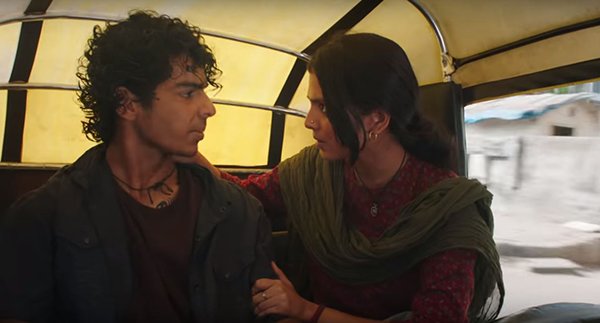 A Still From Beyond The Clouds

What exactly did he tell you? Any advice?
He said jo bhi karna hai sochke karna. I told him Majid Majidi Sir wanted to start off first. Shahid's advice was obviously coming with the intention that I do everything correctly.

I understand what you mean. So, did you call up Karan?
Yes, I told him that Majid Majidi Sir will be starting first. I told him that I feel strongly about Beyond The Clouds, and such an opportunity does not come twice. Karan Sir understood. He could have easily said that he didn't want to make Dhadak with me if I signed up with Majid Majidi Sir, but he didn't.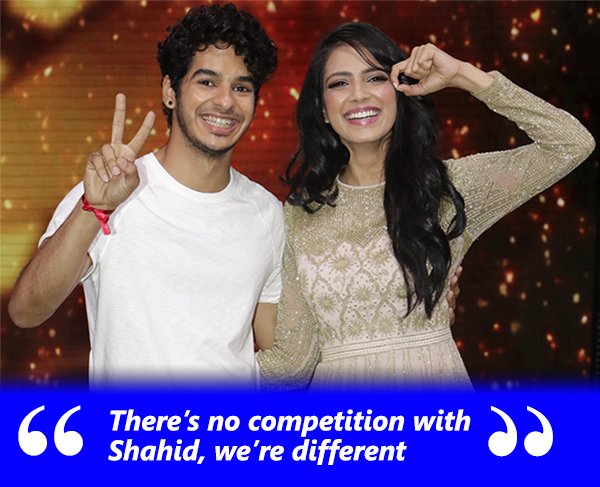 Ishaan Khatter With Malavika Mohanan

Right. Gracious on his part. So, what's your role in Beyond The Clouds?
I play Aamir, an 18-year-old who was orphaned at a young age. He leaves his sister's house when he is barely 13. He is quite a street hustler - smart and talented. His character undergoes a sea-change by the time the film ends.

Go on...
It's a very challenging role. It took me a while to recover some aspects of my personality. I was quite a bit in solitude for the initial part when the film went on floors because Mom was travelling. Also, I had to undergo a quick loss in weight so that I look malnourished.

The consequent was that I started talking very less, and continued to do the same even with my mom when she returned from outstation.

Was it easy to shoot with Majid Majidi as he always had a translator around him?
No crucial information was lost, and after a certain point I could understand what exactly he wants. You get used to a person if you hear and observe him carefully, which I did in this case.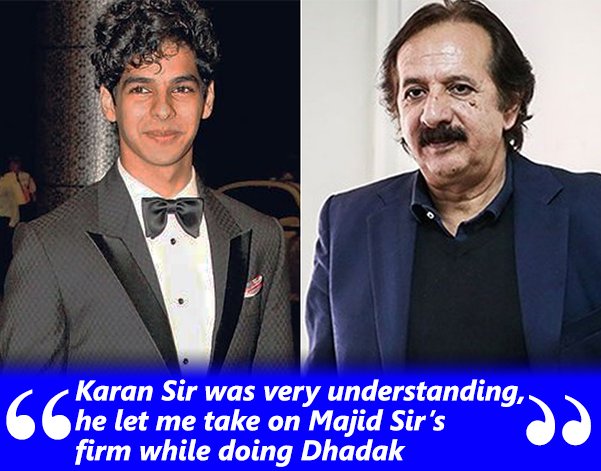 Ishaan Khatter And Majid Majidi

We all were sync with him, we love and admire him so much.

How much of Majid Majidi's work had you seen?
I had seen all his work barring his first film Baduk, which he made in 1992. It was not available on DVD. In fact, a similar thing happened with my mom, I couldn't see her work until I came across a fan on YouTube who said that he could sell me that content for a certain price. And lo! I bought it, saw it --- and my mom lost it again!

What do you think of the competition around you? You might be even compared to Shahid?
I don't see it as competition. I am a different human being.

As for my brother, he is 15 years older than me and so is like a father-figure to me.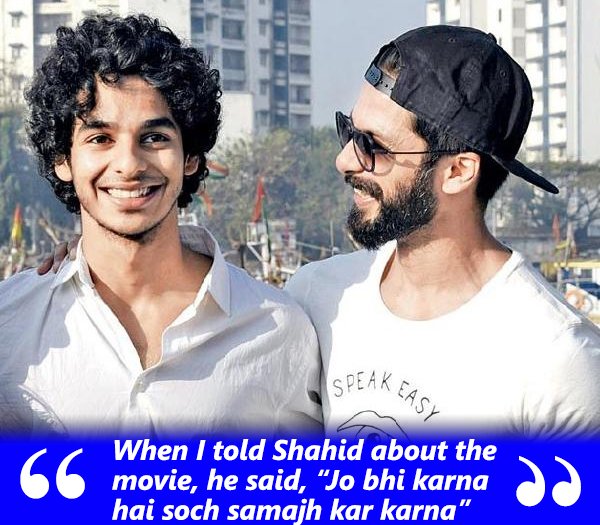 Ishaan Khatter With Shahid Kapoor

Do you think that star-kids have a head-start?
No, I don't bother myself with such thoughts. I am quite involved with what I am doing.

How close are you to Shahid?
Shahid has a large influence on me. He has taken care of me, and he took this responsibility at a very young age. He and I share a lot of exciting similarities - same passion for cinema and dance, and hence our chats never become boring or cumbersome. He is a very big part of my emotional makeup.


Image Source: @starsunfolded/@DNAindia/@bollywood
They say the best things in life are free! India's favourite music channels 9XM, 9X Jalwa, 9X Jhakaas & 9X Tashan are available Free-To-Air. Make a request for these channels from your Cable, DTH or HITS operator.