All You Wanted To Know About Shahid's brother Ishaan Khatter: Dad Rajesh Speaks Out
Rajesh Khatter has become a household topic for those who watch Beyhadh on Sony. SpotboyE.com spoke to him about the new hottie in B-town, his son Ishaan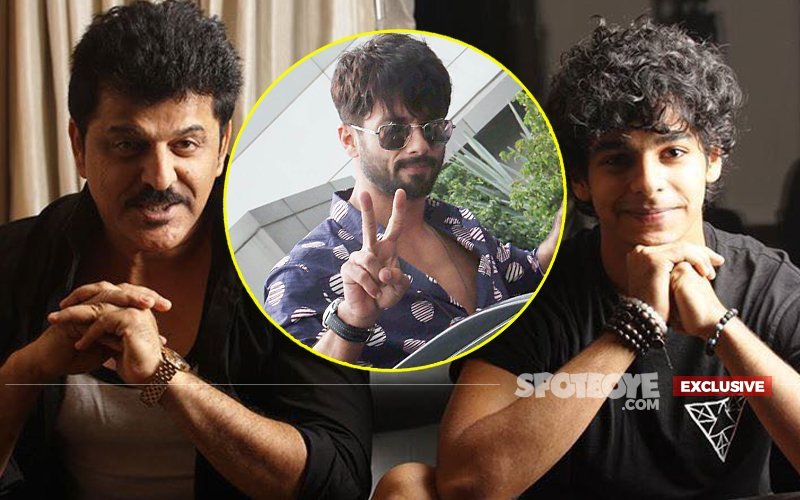 Rajesh Khatter is a well-known face on both the small and the big screen. We also know him as the step-father of Shahid Kapoor and now he is being talked about as the father of Ishaan Khatter, the young actor who will make his filmi debut with Iranian icon Majid Majidi's Beyond The Cloud. The time was right for a conversation with Rajesh. Excerpts from the interview:

We are seeing you on TV after a long time. Where had you disappeared?
You didn't see me on television. I had consciously kept myself away. I didn't want to work for that long but there were movies like Traffic and Manjunath which came in after Race 2 and Khiladi 786. Again I started getting offers, but I didn't take them up.

Why not?
Mujhe ek to TV pe bahut zyada maza nahin aata unless it's something very different. TV requires immense commitment for long hours and I am involved in other things like voicing for Hollywood films and running my company which does brand promotions. In fact, recently, I had to leave a big film because of TV.

Which one?
Matlab nahin bannta na yaar, nahin kar raha film toh, it will amount to dropping names. But I just say that it was a very good role. Anyway, now I am off to Himachal Pradesh for nearly 3-4 weeks.

For Beyhadh?
No. I am doing something new. Can't talk about it right now.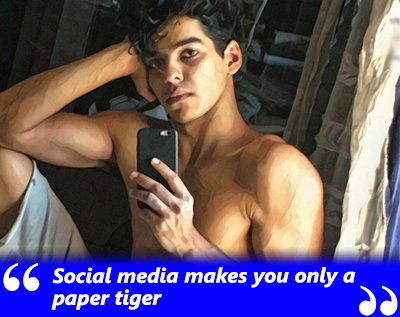 Is it for a movie or a TV show?

Well, it's for a TV show. Coming back to Beyhadh, the role excited me helluva lot. Also, it was a finite series – it's not a thing that is going to carry on forever. The cast, especially Jennifer Winget is a fabulous actress; I had never worked with her before.
You have done a lot of television. Why do you think that content-oriented shows like Beyhadh and 24 don't get the numbers? Where is Indian television headed? On one hand we say that web series and Netflix are popular, so why is good and different content on television not being watched?
One of the reasons could be that combined viewing is turning into individual viewing very fast.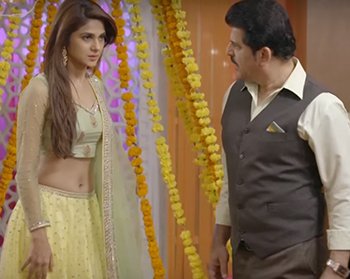 Image Source: SET India


I came across something peculiar. On digital, Beyhadh is No 1. Within 3 hours of telecast, the numbers go up to 7.5 lakh on YouTube and Sony LIV.
However, the numbers are less on TV primarily due to scattered viewership.

Secondly, I am told that Colors and Star have a bigger audience base than Sony and Zee. In the future, we will see an even more fragmented viewership.

For instance, I am sitting in a lounge at the moment and I can see that people are hooked on to their mobile phones. Some are looking at photos, some are watching programmes, some are even watching movies. The viewership has become so individualistic. People are watching what only they want to watch and there is so much available.

Convenience is another factor. If I talk about myself, out of Beyhadh's 70-75 episodes which I have acted in so far, I have only seen 15-20 on-air. Rest I have seen on YouTube.

Are you saying that very soon even the current TV numbers are going to change?
Absolutely. They will change. In fact, they have already changed and they are going to drop further.
The gross viewership of leading channels has come to half of what it was. Also, TRPs do not indicate the popularity of the show.
I remember, years earlier, Ravi Rai had produced something and I had quite liked it. I met him somewhere and told him that he was doing a fab job. He said, 'Aise matt bol, TRPs nahin hai'. I said, 'Matlab?' He replied, "TRPs mein registered hi nahin hai.' Imagine! This means that if TRP ratings were anything to go by, nobody was watching his show. Now, that wasn't the case. So, you see, there was some fault somewhere in the process of number aggregation. And this has continued till date.

The producers are working very hard to make it a good show, the content isn't cliché and the protagonist is almost the antagonist. You will gradually see that there are two antagonists in the show – one is me and the other may just be Jennifer herself.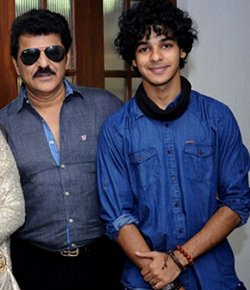 Image Source: sharestills
Coming to Ishaan (his son); you must be on cloud nine at the moment considering he has begun shooting for his debut film Beyond The Clouds, with Majid Majidi. Did he always want to be an actor?
Yes, he always wanted to be an actor. He was one of the kids in Vaah! Life Ho Toh Aisi! which featured Shahid Kapoor besides Sanjay Dutt and Amrita Rao and we always saw the spunk in him. His parents (Rajesh, Neelima Azim) and brother (Shahid) are actors, so I guess it was natural (pauses).

Go on...
There were so many speculations around his debut. We knew it was happening but I always felt it's too early. Each child has his/her own destiny, however I feel he has got the right thing at the right time and age and nothing could have been better. As a father, I am absolutely elated. It's a dream team and a great start – you have Majid Majidi as the director, Anil Mehta as the cameraman, Resul Pookutty on sound, A.R. Rahman giving the music, Vishal Bhardwaj writing the dialogues. What else do you want? Ishaan is extremely passionate about cinema. He sees it in a different light than all of us. I am very happy for him.

Did you give him any advice before he was to make his acting debut?
Now a days kids don't need advice. What you can do is have a healthy discussion with them. It's not like 'Baitho beta, main tumhe sikhaata hoon.' In parts of conversations, they all imbibe things.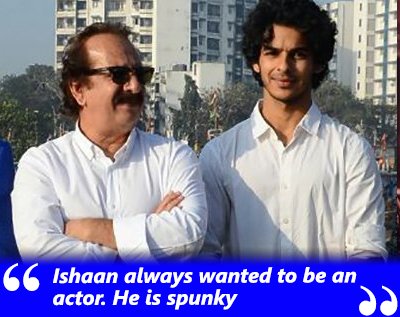 Have you always kept in touch with Ishaan?
We've always been in touch. I am in touch with Neelima too. We have a common interest in Ishaan. There hasn't been any point in our lives where I have been disconnected with them. Ishaan is always a part of any milestone in my life and vice versa...beta toh hamesha saath hi hai...family functions or any event.

You said Ishaan sees cinema in a different light. Please elaborate...
Ishaan has been exposed to American cinema as well, which is why his influences are different. His understanding of cinema as compared to ours at his age is vastly different. He has seen the work of most of the great directors and he imbibes from there. I think he is immensely talented, but ab waqt hi batayega.

There is a lot of competition in Bollywood these days, are you nervous as a father?
No, I am not. That doesn't mean that I am over-confident about him--- but I am not looking at it like a race. Everyone has to finds his/her own space here. I have been in the industry for 22 years and what I have seen is that nothing works here on proposals or strategies. If it did work, certain stories would have been far different today.

There are big superstars whose sons have not made it big, and then there are small time actors whose sons have become very successful.

The only thing which will make you is public acceptance! Written about in the media, buzz between Bandra to Andheri- all this is bullshit...only when the public accepts you, do you become a STAR!

What about social media?
Social media makes you only a paper tiger! I have seen people with millions of followers on social media, but in the actual world, what power do they have to influence the reality? Zilch! I am not talking about the mega stars, unki power toh waise bhi hai...but these paper tigers have no real powers whatsoever.
Since the time they started, tab se kitne aaye kitne gaye? More than 95 percent got wiped out, no one even remembers their names. The mortality rate in this industry is very high. Today I feel blessed that after 20 years plus also, my phone rings and I have the option to choose what work I want to do. Success means that you can choose what you want to do. Our superstars are successful in true sense because they can choose their work.

When you took that conscious break in between as an actor, were you not scared that producers would forget you? Out of sight is out of mind, they say...
I was never scared of that. I was not looking for my place under the sun. I was never idle, I was doing a lot of other things. If you talk about materialistic and worldly progression, that was happening constantly. So why would I put myself in that grind?
As I said earlier, television is a huge commitment. You are giving 15 hours of your day to it, including 2 hours of travelling. You miss many important moments and occasions of your life in that. You make many compromises. So, it better be worth it.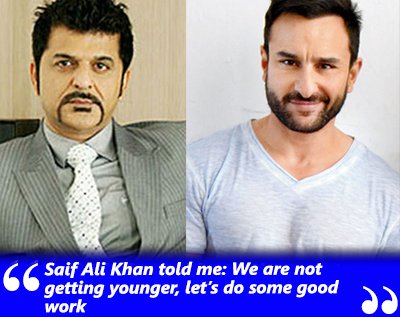 I can quote Saif Ali Khan here. He said a beautiful thing some years ago. He told me, "Come on yaar, we're not getting younger, let's do some good work". Adding a few more lakhs will not do much to my life. Initially, you do everything because you want to secure yourself. But for me, body of work is very important, and everything else is a by-product.
Beyhadh is very popular in the West. Once I was chatting with a fan from LA, and she told me that while the US elections were going on, she was watching Beyhadh, and she didn't allow her husband to change the channel. Even if her husband would cross the Television set, she would rewind and see what she missed. That gives me a bigger high than money.