Mahesh Bhatt: I Was Instrumental In Taking Vinod Khanna To Rajneesh
Mahesh Bhatt gets into a freewheeling chat with SpotboyE.com on Vinod Khanna, who is battling health issues. The filmmaker goes down memory lane and you'll love to read all that he pours out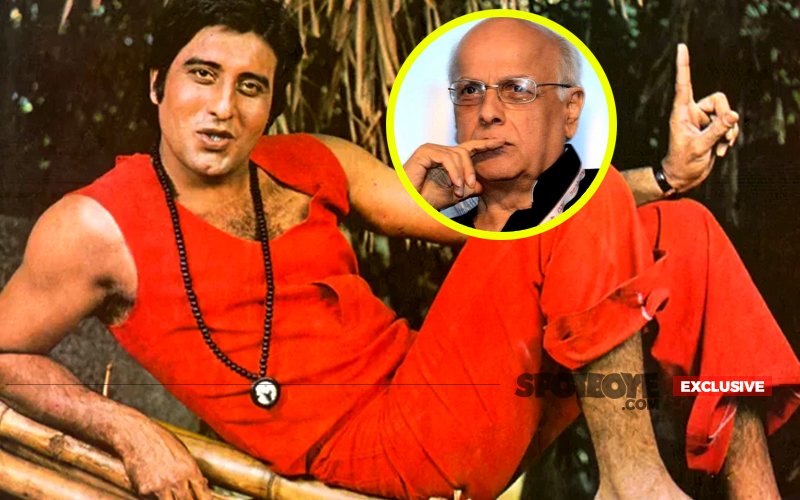 Vinod Khanna's picture from the hospital that went viral stunned everybody...
I was shocked to see that picture. I couldn't believe that it was Vinod Khanna. My last memory of Vinod was a very warm and energised individual. He was always blooming, but has now apparently withered. Even those who know him remotely were stunned by that image.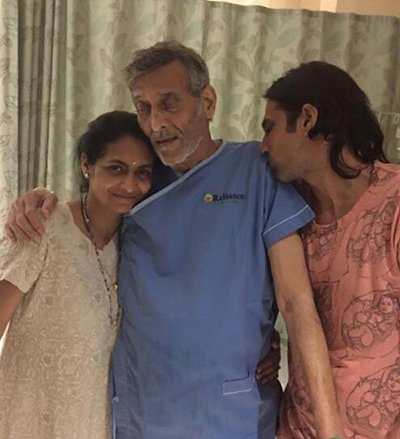 Image Source: instagram/showbizbazaar

You know him quite well...
Well, we began our careers together in a way. Vinod played the villain in Mera Gaon Mera Desh (1971), and I was the Production Manager on that film. What a stunning impact he made with his portrayal! And then we did Lahu Ke Do Rang (1979) which I directed. And then we were together at the Rajneesh ashram.

Frankly, I was instrumental in a way for Vinod Khanna joining the Osho commune. He had seen me donning the saffron robe and expressed a desire to join Rajneesh.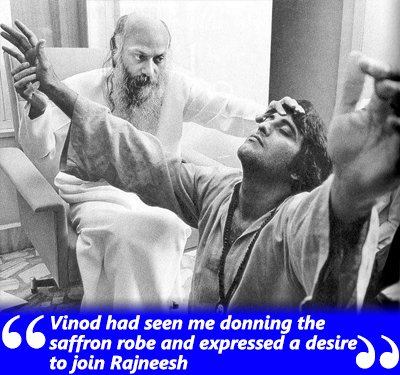 Image Source: recontalk

And then?
I came back in a little over 2 years, but he stayed on. In fact, he even followed Rajneesh to the US and aborted his successful film career. That really shocked everybody; he had almost touched his peak just around that time.

Why did you come back?
Oh, that's a different story.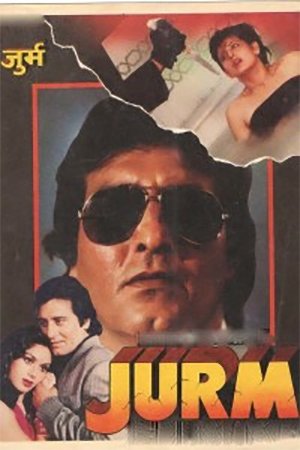 Image Source: newmovies

Tell us...
I was disillusioned.I couldn't get what I had sought out to search. I thought I could get the gyan I was given at the Osho commune from books. I didn't want to fool myself anymore. I gave my heart to it, but didn't find it rewarding enough.

Rajneesh ashram collapsed after some time and Rajneesh was handcuffed and jailed. The Osho show was over. Vinod returned but he couldn't get the momentum he had in Bollywood. Things had changed in the industry. But we did a film together- Jurm (1990).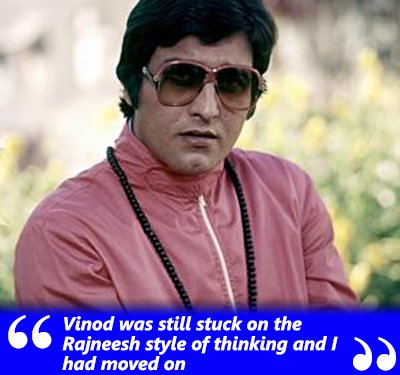 Image Source: punjabigram

Even Mukesh Bhatt knows Vinod Khanna well...
Yes, Mukesh started his career as a secretary to him for many years. After that, Mukesh got into film production and Vinod went into politics. We did meet once soon after that, and I realised that he had views on God, spirituality, religion and many other aspects of life which were radically different from how I saw life. He was still stuck on the Rajneesh style of thinking and I had moved on.

Was he married at that time?
Yes, he had married for the second time. I met Kavita too.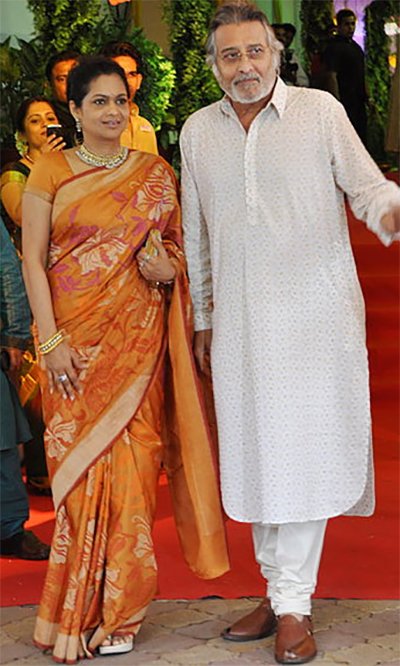 Image Source: ravepad

Wasn't the Rajneesh ashram a land of free sex?
There was a permissive space in that ashram, where the morality was different. There were a set of people whose inclinations were different and they were given a certain kind of therapy.

Was Vinod Khanna a part of that space?
No, I don't think so.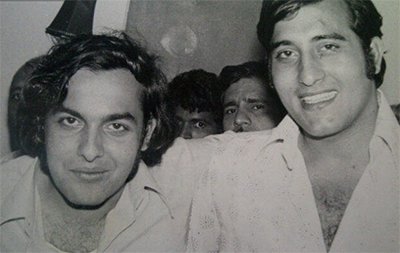 Image Source: punjabigram

Go on...
Vinod called me sometime back. We spoke warmly. I had heard that he was not well, I asked him about that and he said that he was 'okay'. I think he had announced in Gurdaspur that he is suffering from cancer. He didn't hide it.

This time out, he is down with dehydration. That's what I am told by Mukesh, who was told this by Vinod's brother on phone. Mukesh had called the Khanna family a few days ago to inquire about his health.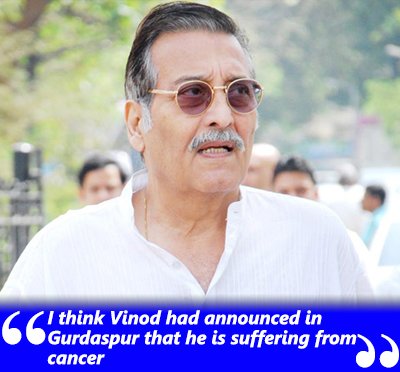 Image Source: fanworld

The interview will be incomplete without dwelling on the Amitabh Bachchan Vs Vinod Khanna duel in yesteryears...
These are hypothetical questions which have no answers, but yes Vinod's lucrative career which had bloomed big time was brought to a grinding halt by his tenure at the Rajneesh ashram. He came back to do a few films but couldn't rise to what he had created for himself prior to his departure.



Image Source: udaipurkiran

Had you heard that Vinod Khanna was the most potent threat to Amitabh Bachchan's No.1 slot?
Of course, and the media thrives on such things. But yes, coming back to your question, Amitabh and Vinod were definitely the top two contenders for the No.1 slot in the Bollywood of bygone days.


Thumbnail Image Source: whotalking & boxdop