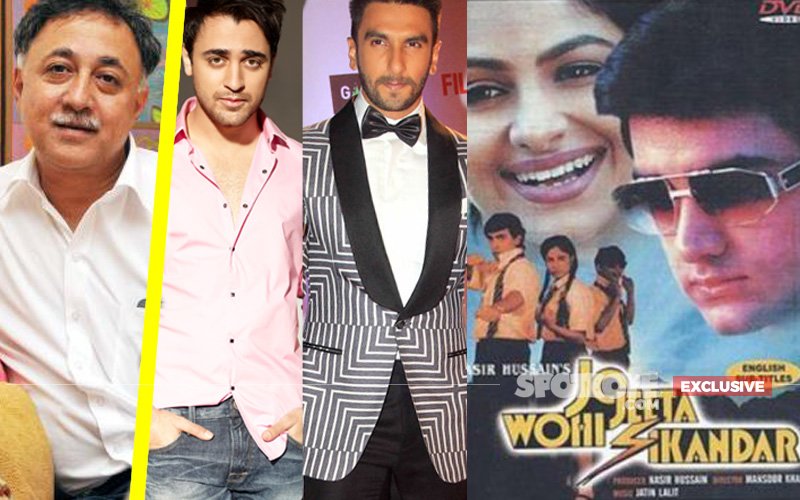 Despite directing just 4 films -- Qayamat Se Qayamat Tak (1988), Jo Jeeta Wohi Sikandar (1992), Akele Hum Akele Tum (1995) and Josh (2000) – filmmaker Mansoor Khan has left an indelible mark on Bollywood. The filmmaker, who quit Bollywood a decade ago to run a farm-stay in Coonoor, made a rare appearance yesterday at the ongoing Jio MAMI 18th Film festival. The occasion? Reunion Jo Jeeta Wohi Sikandar, the film which made stars out of Aamir Khan, Ayesha Jhulka and Pooja Bedi.

We met Mansoor for a freewheeling chat post the event and he touched upon various aspects of Bollywood. Excerpts:

Why did you leave Bollywood?
I didn't leave Bollywood, I didn't run away from something. I just moved towards something that I really wanted to do. I wanted to live a life outside the city, a life which is slow, closer to open spaces. I am not a city person. I was clear that I would leave Bollywood or an industrial thing and the city.

Do you still watch movies?
I watch them now and then, not every film.

Which was the last film that you saw?
The last one I watched was Dangal. I have seen Aamir's (Khan) films more than anyone else's. I have also seen and enjoyed Farah's (Khan) films. She is under the impression that I don't enjoy her movies but that's wrong. I think she has got great sense of entertainment. Also, Reema Kagti is doing great work. Her film, Talash was great and pretty underrated.



Image Source: twitter/aamir_khan

What did you think of Dangal?
It's an excellent film. Wrestling is a difficult subject. In films, it's not about the sport it's based on but you have to have that moment and in Dangal, the journey (of the protagonist) has been beautifully depicted.



Image Source: alchetron

To talk of Jo Jeeta Wohi Sikandar, who from the current lot of directors will be able to re-direct the film and which actor is fit to step into Aamir's shoes?
(Laughs) Everything starts with belief and connect, so I guess Shakun (Batra) who deeply connects with the film. I really liked Kapoor & Sons. Someone like him would connect to the emotion in the film rather than how the cycle race is shot. As for who could play Aamir's role, I can only think of Imran (Khan) and Ranveer (Singh).



Image Source: twitter/SrBachchan

How do you think Bollywood has progressed in terms of content from the time you left?
Everything has widened about Bollywood. It comes from two things – one, the commerce itself has allowed you many more things and second, the audience itself allows you more things. They (audience) are willing to watch films like Pink and Piku – slim-themed films as long as they are written and made well. Bollywood has progressed a great deal in terms of content. I don't know why people look at the obvious Bollywood films and don't give credit to these kinds of films that are being made. Why do they want ki sirf yahi filmein bane aur wo nahin bane? Wo to bannti rahengi.



Image Source: soundcloud

Do you have regrets about your films?
My only regret is that I didn't do justice to Josh.

Don't you miss Bollywood?
No, I don't. I like coming back and meeting my family, but the reason that I can go through a week in Bombay is because I can always go back. But the minute someone told me that you can't go back, I would be shattered.

What are you doing these days?
Last 3 years I have committed myself to travelling and giving lectures on the book I have written called The Third Curve, which is slightly abstract but the second part of it is 'End Of Growth As We Know It'. It's a book that explains to people that it is impossible to have perpetual growth and it isn't good either because it collapses your other systems. I am obsessed with the thought at the moment. I feel people don't think about it.


Thumbnail Image Source: imagearcade, getmovieinfo, Manav Manglani & fullhdfilmizletici