Mimi Actress Sai Tamhankar On Surrogacy: 'I Am Today's Woman, I Do Know That This Option Exists And I Have Accepted It'- EXCLUSIVE VIDEO
Sai Tamhankar, who is seen alongside Kriti Sanon and Pankaj Tripathi in Mimi, talks about her personal take on surrogacy, about why she chose Mimi, staying away from Hindi films and more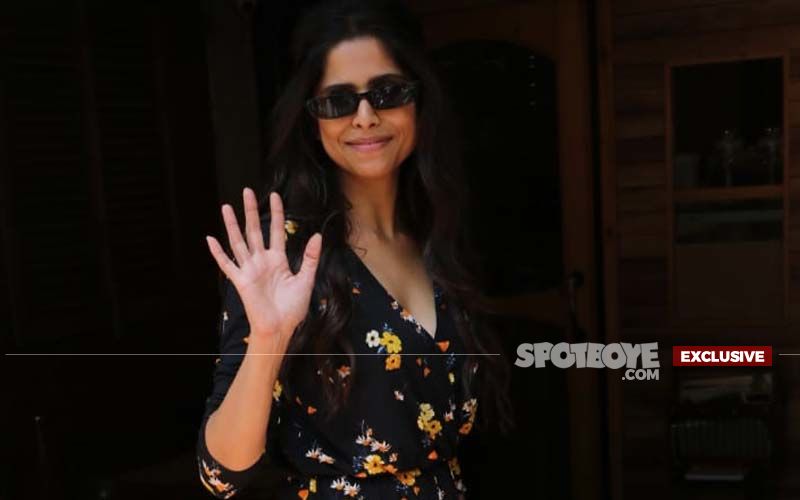 Sai Tamhankar might have predominantly worked in Marathi cinema, but her acting chops are appreciated countrywide. Recently she was seen alongside Kriti Sanon and Pankaj Tripathi in Mimi, arriving four days earlier than expected.
In an exclusive conversation with Spotboye.com, the actress talks about why she chose Mimi to come back to Hindi films, staying away from Bollywood, her personal take on surrogacy and more. Read excerpts from the interview:
Sai, what appealed to you about Mimi that made you say yes to coming back to Hindi cinema?
I get very excited when I get to know that I am going to be shooting with babies. But also, the storyline here is very different. We don't often talk about such subjects through our films and I think this is an exception. Also, my character is very nice and intense. All of us have that one person in our life who knows too much about us and we can talk to them any time of the day. For Mimi, Shama is that person.
You have made a name for yourself in Marathi and you come back to Hindi films after a gap of a few years. Is it scary starting all over again from scratch every time?
I won't deny that it is a little bit difficult as you are used to calling the shots. But at the end of the day, work is work. When an actor gets a chance to leave all their baggage behind and go on a new set with a clean slate, I think it is a very good approach to have. It fills your heart with so much joy and satisfaction and that is very important for me.
So, what has been your reason behind staying away from Hindi films?
I think I am very scared of getting typecast. After Hunterrr, I got a lot of roles and almost 90 percent of them were of sexually depressed women. So, I get scared of getting stereotyped and that's why there is so much gap and that's why I am very cautious while choosing the subject and character.
Surrogacy is a subject that is seldom attempted in Hindi films. Last film that I remember seeing on it was the Salman Khan, Preity Zinta and Rani Mukerji-starrer Chori Chori Chupke Chupke. Does Mimi offer a fresh take on the subject?
I think this subject has been talked about a lot in the regional cinema. Even Mimi is an official remake of the Marathi film Mala Aai Vhhaychy!, that bagged a National Award for this subject. I think even though a lot of films and content has been made on this subject, the perspective here is very fresh and different. Surrogacy comes with a very layered and complicated emotion in the whole process but we have explored it with a pinch of salt and humour and that is very interesting.
In your personal life, would you ever opt for surrogacy if circumstances are such?
I think I am today's woman and I do know that this option does exist and I have accepted it. Having said that, as I said, there is a lot of emotional and mental layering involved in this process and culturally, we are not as familiar with it. But yes, I know that this is the 21st century and science has gone way ahead and I am with science. If you ask me what I feel about surrogacy, I might not have an answer to that, but I have accepted this option and I am living my life. Let's put it that way.
Your co-stars Kriti and Pankaj come with the success of Bareilly ki Barfi behind them. How was it for you finding that comfort zone with the two?
With Kriti, the ice breaking was very easy as she is an extremely easy going and cool person. She doesn't have that stardom vibe or attitude to her which is amazing. And I am a huge Pankaj Tripathi fan. Who isn't in this country, tell me that? So, for me, it was very overwhelming to meet him and to share screen with him. It took a little time for the ice to break but what a wonderful actor and person he is.
A lot of people who have watched the film have termed Mimi as the best work of Kriti yet. Do you agree?
Absolutely, 100 percent. I think she has performed so well and everybody is going to be pleasantly surprised with her.
How was the process of learning Urdu for Mimi for you?
I believe that no one can learn the entire language in a particular number of days. You just try to explore something that is convincing and grammatically correct. So, I have just explored the language and I wouldn't say I have learnt it. Urdu is a very royal language; it has that grandeur with it. I had a lot of fun exploring that and I learnt several new things. I learnt small nuances that I didn't know existed before and it was amazing getting to know that.
Your last web show, Samantar 2, received praise pan-India. How does it feel to get acceptance and approval from an untapped audience?
We were very glad because the second season always comes with a lot of expectations, especially when the first season is appreciated so much. There's extra pressure but I am so glad that I was given a ready platter and a seat at this feast. I had a brilliant time there.
Are you doing any more Hindi films at the moment?
I have shot a film with Mr Madhur Bhandarkar and hopefully that should come by this year. That's all for now.
Most of your films till now have been the not so conventional Bollywood films. Would you be open to doing the typical masala potboilers in Bollywood?
That's why I did Mimi. It's a total package and what is seen in the trailer is just the tip of the iceberg. There are a lot of things that are still hidden that people don't know about, so I am really looking forward to Mimi as AR Rahman sahab's music has added to the beauty and charm of the film. I am in a very happy space right now.
Image source: youtube/SpotboyE/saietamhankar/SpotboyEArchives