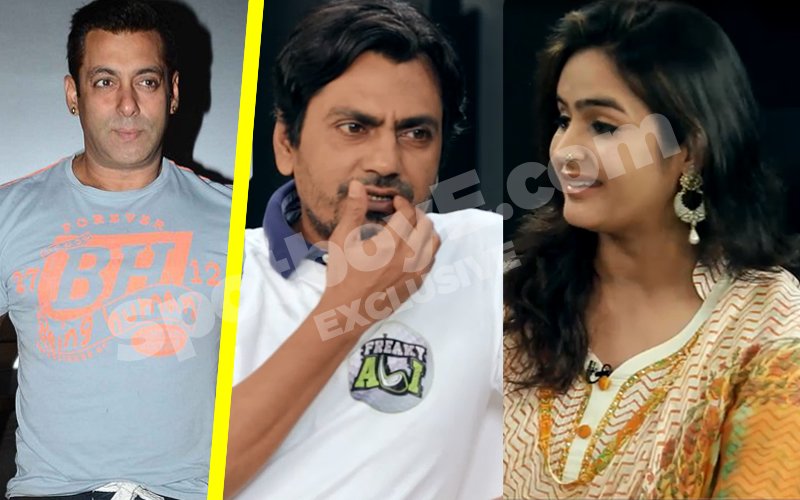 That Nawazuddin Siddiqui is talented is an understatement. Be it a comedy or a serious role, he excels. Sohail Khan's Freaky Ali (which hits theatres today) will see Nawaz donning dancing shoes for the first time as well. In an exclusive interview with SpotboyE.com, the actor talks about films, family and much more. Read on...

Recently, you won the Best Actor award at the Indian Film Festival in Melbourne. How does it feel?
I feel great, because I had a lot of expectations from Raman Raghav 2.0. I worked very hard for that film and was very disturbed after essaying that role. I somehow got rid of the part once the film was done, but I am reaping rewards for it now.

Was playing Raman Raghav that difficult?
The difficulty was that the philosophy, the thought process of the character was very different --- something I couldn't believe in.

So, how did Freaky Ali happen?
Sohail (Khan) had once told me in a sentence the crux of the film – how an ordinary man somehow becomes a golf champion. That one line was inspiring and I said yes almost immediately. Also, I wanted to work with Sohail.

It is said that it's tougher to essay comic roles as opposed to regular ones. What do you think?
I think comedy and tragedy are the easiest genres to act in. It's difficult to work on neutral emotions because no one laughs on the character, nor do people cry with it.



Image Source: Manav Manglani


Which has been your career's most difficult scene?
Every scene is difficult. Nothing is done easily. Even Freaky Ali for that matter, it looks very sweet and easy but there is so much hard work behind that ease.

You have established yourself as a serious actor. Don't you think you are taking a risk with Freaky Ali?
I want to put myself in every uncomfortable zone that I possibly can. I don't want to be the kind of actor who does a film because he knows that it will be a hit. The more difficult the film or the character, the more challenging it will be--- and all actors love taking up challenges, don't they?

How much did you have to train for essaying Ali's character?
I didn't have to do much for the character, but I had to practise golf quite a bit since that is an important aspect of the film. But Sohail (Khan, the director) created an environment where all difficult aspects became easy for the entire cast.

Tell us about your experience of working with Arbaaz Khan.
I didn't know him initially, but as we began interacting, I realised that he has a great sense of humour. Five-six of us would sit together and he would keep making us laugh. That helped the film because the same tone and the way of interaction was to be recreated on screen.

You have danced for the first time in Freaky Ali. How was the experience?
Initially, it was very difficult. I had a mental block since I had never done it before. Even in real life when someone asked me to dance, I would never do it. But Rajeev Surti (the choreographer) made me practise a lot and eventually I began enjoying it.



Image Source: themirchmasala


Will you dance again?
Of course. Given the opportunity, I will.

How was it romancing Amy Jackson?
It was great, of course. Who wouldn't like it? (laughs)

How is Amy as a co-actor?
Amazing. She is a thorough professional. She would be well-prepared for shots and has essayed her part extremely well. She behaved very well with the entire unit.


Image Source: Manav Manglani

Are you as freaky in real life as your character is in this movie?
I can't say that (laughs), but yeah, I have done freaky things here and there.

For instance?
It was freaky when I decided that I want to become an actor despite everyone asking me not to. They constantly told me that I don't look like an actor. Despite that, I took the plunge.

Tell us about the music of the film.
The music in this film is pretty situational. It's not just been incorporated for the heck of it. There is this song called Parinda which showcases my character's progress in golf and at the same time, his love interest is also established. Then there is a song called Din Mein Karenge Jagrata, which has me dancing. It is being appreciated quite a bit. Then there is a qawali in the end.

Which is your favourite?
Parinda. It's a highly inspirational song.

Who do you consider as your guru as far as comedy is concerned?
I loved I.S. Johar. His style of comedy was very conversational, it wasn't deliberate. Out of nowhere, he would say something while talking and leave; people would laugh later on. I love such kind of comedy.

You recently went for your first family vacation in Melbourne. How was it?
We had a great time since it was our first family vacation. I thought that along with collecting the award, I could also go around the city with my family. We were there for about 5-6 days. It was very refreshing.

Your second baby was born last year. How is fatherhood for the second time?
He was born on my birthday -- May 19. Now I have a son and a daughter. All parents love spending time with their children.



Image Source: Manav Manglani

Did you at any point feel that Salman Khan should have been a part of the film so that it had a wider reach?
Salman wanted to, but Sohail thought that the film is fairly simple and Salman has a larger-than-life aura. The film, at a certain level, would have got disturbed. Pata chala sab Salman bhai ko hi dekh rahe hain, to film ki kahani kahin aur chali jaati. So, Sohail took the decision of not casting Salman in the film.

Your film is clashing with Baar Baar Dekho. Are you nervous?
Every film has its destiny. Both films deserve to be watched. Aise koi nuksaan waali baat nahin hai.

What's up after Freaky Ali?
I am working with Sabbir in Munna Michael. Then there is Nandita Das's film on Manto's life. Then Raees will release on January 26 next year.


Thumbnail Image Source: Manav Manglani