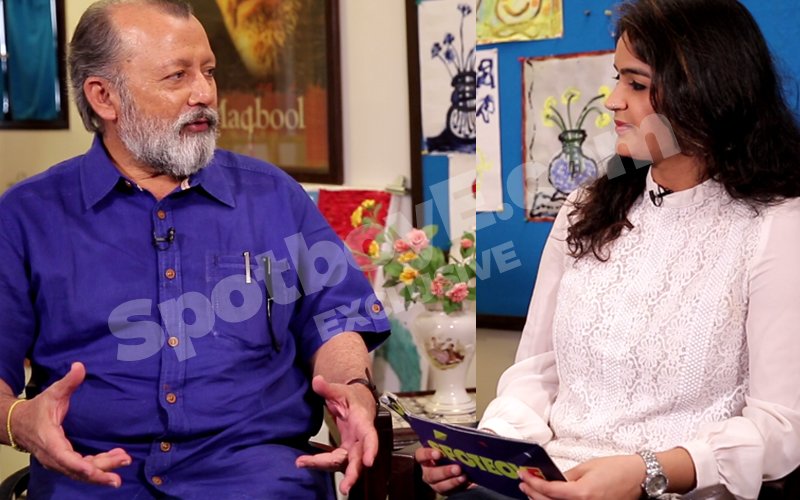 Your browser does not support the video tag.
Pankaj Kapur is elated on having turned a grandfather. Beaming with joy, the senior actor says that he is "the most excited" in the family about the newest member in the Kapoor clan. Professionally too, Kapur is in a good space – he has started a new theatre group, Theatron. The versatile actor talks about it all in a candid chat. Excerpts:

You turned grandfather 10 days ago with Shahid and Mira having a baby girl. How does it feel to be a grandpa?
It's wonderful to have your children extend themselves to become a larger family. It's wonderful to have a new person. In case of Mira, it's seems like I have always known her. She's such a wonderful girl and she has got the family much closer. There's lot more warmth and lot more dependability in each one of us now. To say the least, I am the most excited about becoming a grandfather.



Image Source: Instagram/shahidkapoor

While your personal life is going through a blissful period, your professional life too is seeing a surge. You and your wife have started this new theatre group called Theatron. How did this idea take shape?
When I was 19, I had learnt that the first theatre in the world was called Theatron. At that moment, I had decided that if I ever have a theatre group, I would call it Theatron. I even discussed the name with my children before naming my group. The idea behind my group is to create a blend of 2 factors – the experience of people who have been in this field for years, and the energy and talent of the youth. We want to blend these two and take this movement of theatre ahead. I'm not saying we're going to be spectacularly different from everybody else but we would like to do something original.

Theatron's maiden production Dopehri is a dramatic reading of a novella that you wrote 20 years back. What inspired that?
We were thinking of writing something about women. Rather than talking about the little girl child, I wanted to talk about the mothers and grandmothers. My thought was what happens to the mothers and grandmothers who have already lived 50-60 years of their lives – in today's world where everybody is wanting to go out of the house and work somewhere, what happens to those who are left behind. So, Dopehri talks about this woman who is completely lonely in her own space.

Your kids Sanah and Ruhaan were actively involved in the production of the play. So will we see them on stage very soon?
Yes, I'm sure both Sanah and Ruhaan would want to take this movement forward and want to do their own kind of work. It's a great feeling when your grown-up children are with you and support the work that you are doing. Half of your burden is taken off by them.

You've been in the film industry for over 3 decades. Have you seen a drastic change in the films over the years?
There has been a visible change in the kind of films that are being made today. Directors are coming up with new subjects, producers have become more courageous in terms of supporting those subjects and providing them with finances, so that the audience can come and see different kind of cinema. A lot also has to do with the exposure that the youngsters got from the internet because they got to see what is being made in the world. We have waited for better cinema for a long time and it's wonderful to see that there are a lot of filmmakers who are making that kind of cinema and a lot of actors who are becoming a part of it.



Image Source: twitter/foxstudios

Your last few films – Matru Ki Bijlee Ka Mandola, Finding Fanny and Shaandaar – didn't work at the box-office. What do you think went wrong
Finding Fanny did very well for itself as far as my knowledge goes. I think Matru... made its money, it may not have become a hit. Please remember that when directors are trying different kind of cinema, it's not going to be easy for the audience to accept it right in the beginning. The other reason also could be marketing, it could be the way the film is positioned. I'm not trying to give any excuses. I'm saying at the end of the day, it is the final product which works or doesn't work. But specially for Finding Fanny and Matru..., I would say it got fair amount of audience and fair amount of appreciation as well.



Image Source: indiaforums

And Shaandaar?
I have no clue why it failed. I was just a part of it as an actor and it had the best possible people to produce the film, best possible people to market it, a very successful director, had an excellent cast and had a simple mainstream story. I leave it to the film pundits to analyse why it failed. But one thing that I have learnt in the last 35 years is that you can only do your best as an actor or a director or a producer, but you cannot define the success of the film. It completely depends on million other things that are not in your control.

On a scale of 1 to 10, how do you rate Shahid as an actor?
I don't want to put numbers but I think it's for the audience to see his growth as an actor from his first film to the last. He has learnt to choose roles which have some meat – specially his last 3-4 films like Kaminey, Haider, Udta Punjab. Till today, his 1 performance that I really find apt is Jab We Met because his role was not etched very well by the writer but he did a wonderful job in that.



Image Source: twitter/eros

Do you calm him down if and when his films don't work?
We've always discussed that as actors, we can do whatever we can. Beyond that, it's not in our capacity to actually control the box-office results. He's a mainstream star, so he can draw in the audience but the rest will depend on how the film is made. As an actor, you can only work to the best of your ability. You cannot control the rest.

Your directorial venture Mausam tanked at the box-office. Have you thought about directing again?
Yes, why not? With me, it's a matter of phases. I might have a phase of reading for 4 months – during that time, I'm neck deep into books. But for the next 8 months, I may not read a word. These days I am painting a lot and have started doing theatre again. So, it's possible that on a given day, I might say, 'Ok, let me direct a film now.' For me, I have to express myself in one medium or the other. And yes, I do have some scripts which I would like to direct. Let's see when it happens.

You mentioned that you've started painting now...
One Christmas, my children gave me some paints and canvases for gifts. I was very pleasantly surprised because I have never painted all my life. I just started painting and found great solace in it. I am not a traditional painter, I cannot draw a face to be honest. But I thought I can have my own way of expressing myself with colour on a canvas. I've already completed 45-50 paintings.



Image Source: starfriday

What do you do with them?
My children have taken some of them and put them up in their rooms. About 10-12 paintings are divided between the family. The remaining 30-40 are lying inside. Some people are suggesting that I should hold an exhibition. Let's see.

Digressing a bit, Naseeruddin Shah's statement that Rajesh Khanna is a "mediocre" actor sparked a huge controversy. What's your take on it
There are 2 ways to look at it. One is, everybody has a right to say what they feel. And second thing is, others have a right to react to it. So both parties are fair in their own position.

You've given us memorable TV shows like Karamchand and Office Office. Do you plan to make a comeback on TV?
I'm not keen to do TV for 3 reasons. One because it is very tiring. And the other is, it is very repetitive. Lastly, with due respect to all that is happening on television, it's not my cup of tea. If I find something interesting and sensible, I might consider. I don't want to do a series that might change its plot during the course of its run. Plus, I would want the working hours to be lesser, which is asking for too much. So today, television looks like a difficult proposition for me.

What's next on your plate?
I have a few scripts which I am going through. A film called Toba Tek Singh, made by Ketan Mehta, should be releasing soon. We're also looking forward to touring Dubai and the US with Dopehri. And some new production that we should be able to come up as far as theatre is concerned.