Prakash Jha: Priyanka didn't let me approach any other actress for Jai GangaaJal
Here's the latest update from the world of Bollywood. We bet you wouldn't want to miss this. Read on for details... The filmmaker opens up about working with the talented actress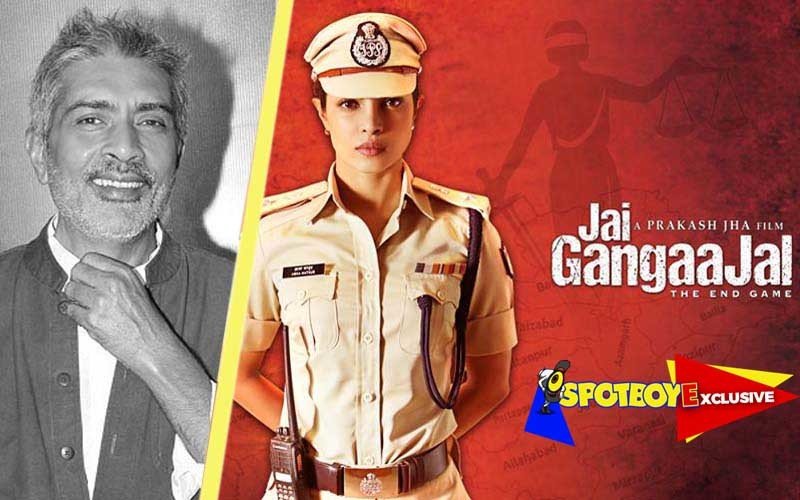 Prakash Jha has been making socio-political films for years now. And his latest offering in the genre is Jai GangaaJal with Priyanka Chopra. SpotboyE met the 63-year-old filmmaker who is gearing up to make his acting debut with the cop drama. Excerpts:
Jai GangaaJal sees Priyanka Chopra stepping into Ajay Devgn's shoes, who was seen in Gangaajal. It's never happened before that an actress replaces an actor in a franchise…
I haven't treated this as a sequel emanating from the old story. This is a fresh film with GangaaJal in its title. Ajay Devgn's film revolved around the Bhagalpur blinding case. Jai GangaaJal revolves around the current mentality of the society, where a law offender is considered more powerful and hence respected by society.
Image Source : facebook.com/JaiGangaajal
Go on…
In a small city, those in power are in an ideal situation. They have their minions everywhere. So a female cop is brought in, briefed that it's her golden posting jahan usko sirf salami thukwani hai. But Abha Mathur (Priyanka Chopra's character) turns out to be the exact opposite.
Image Source : facebook.com/madhuridixit-nene.com
After over a decade, you have returned to female-centric cinema. Why did you refrain from attempting it though Mrityudand did strike a chord with the audience?
Mrityudand demanded female characters because the story was about their increasing plight in a so-called progressive society. Today again, we're at that juncture where women are struggling to find their space.
Can you give an example?
The police force – it's traditionally considered a masculine job. There are just 6 per cent women in the police force but when a woman has to be attended to in a police station, she has to be attended by a woman. Lots of cop stations don't even have toilets for women. How will they survive even if they join the force? During my research, many respondents told me they don't like being beaten up by a female cop. People are afraid to see a woman in a uniform.
Image Source : facebook.com/JaiGangaajal
You managed to tap Priyanka Chopra at a time when she was busy with Quantico and Bajirao Mastani. Didn't date hassles ever crop up?
Priyanka and I had been meaning to work together for a while. After writing the script, I told her in brief what we were doing. She stopped me from approaching any other actress. I made my fear clear to her – how would she pack in Jai GangaaJal with Bajirao Mastani and Quantico? She had 35 days between those 2 projects, which she conveniently allotted to me.

Image Source : Manav Manglani

How was the experience of working with her?
Priyanka is extremely focussed and knows her job well. She clocks 48 hours in a day. She was surprised I don't work more than eight hours a day, and never after 10 pm. After wrapping up Quantico in Montreal, she came back for a few days to India. Despite bad health, she dubbed and finished her patchwork before leaving. What more do you want from an actress?
Aren't you missing her during the promotions right now?
I am but she's doing her bit there. Plus, I am happy she's not here at this point. Doing city tours with big stars is a pain.
Image Source : facebook.com/JaiGangaajal

You've made your acting debut at 63. Isn't that too old?
Mann to baccha hai ji... I have made all kind of films. So I thought a new challenge should be thrown in. While writing the film, DSP Bholanath Singh's character became close to my heart and I decided to do it. I prepared myself thoroughly because I don't tolerate substandard work from anyone. Why would I spare myself?
Do you plan to continue as an actor?
I will if other filmmakers find me worth a part or if I find another part worthy of me in another film of mine.
Image Source : youtuube.com

Ajay Devgn has been a part of most of your films. But reports suggest that you two have had a fallout…
We are friends even now. He was by my side when I asked him to and I will be by his side when he needs me. We'll work together whenever we want. We don't meet regularly – but when we do meet, our bonding is at a different level.
What's next?
Ajay needs to get a little free, so we can decide which project needs to be taken forward – Satsang or Raajneeti sequel. In all likelihood, it will be Raajneeti. Most characters died in the first part. So, the story will be rooted in the first part but have a host of new characters.
Thumbnail Image Source : facebook.com/JaiGangaajal