Raazi Maker Meghna Gulzar On Mom Raakhee, Dad Gulzar, Shashi Kapoor, Big B & Alia Bhatt
In a very comprehensive interview, Meghna Gulzar talks about her childhood, parents, the 14-years it took her to resurface after Filhaal flopped, the current talk-of-the-town Raazi, and lots more...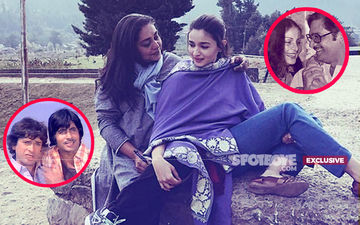 If you get sufficient time with a celebrity, it's always a 360 approach which we too adopted in this case. It turned out to be a very informal meeting at Indigo Delicatessen (Bandra, Mumbai) and a very satisfying one.

Read on for the heart-to-heart chat that followed:

Did you not want to become a heroine? Your mother (Raakhee) was at her prime for the longest time and you surely must have got offers...
I did get offers. I was in college. Kamal Haasan Sir called my father (Gulzar), who told him that she first needs to complete her education and decide herself.

But I didn't want to be an actor. Constant scrutiny unnerves me. I am a private person.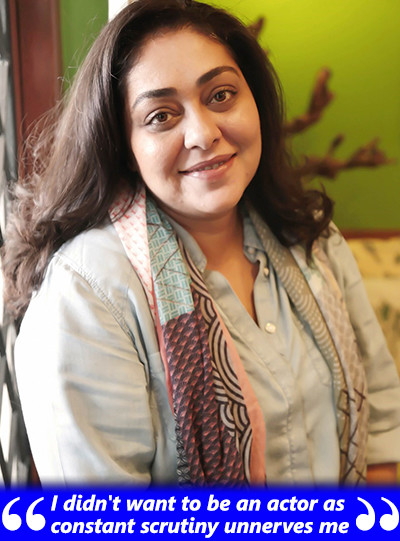 So, you wanted to become a director only?
Not essentially, but yes I wanted to do something creative. I was freelancing for Times Of India (ironically, their production house Junglee Pictures produced Talvar and Raazi for Meghna). If I wouldn't have been a director, I might have become an interior decorator--- but then I am not a Math person.

Wasn't the glamour, parties, et al, calling you?
My mother was never a party person. Once the camera was off and the make-up withdrawn, she led a very simple life.

Your movies make me feel that you must be a very well-read person...
I was a very proficient student. I was a student of Sociology, something that reflects in my choice of movies that I want to make.

In fact, Filhaal was not my first script. My first script was a dark comedy.

You and your dad couldn't get on the same page on Filhaal...
Dad said, I could make it if I can write it. I wrote a 10-page story, he read it and said 'You know what you are doing'.

It was not easy to put that film together. (Late) Jhamu Sugandh backed it unconditionally. Hats off to him.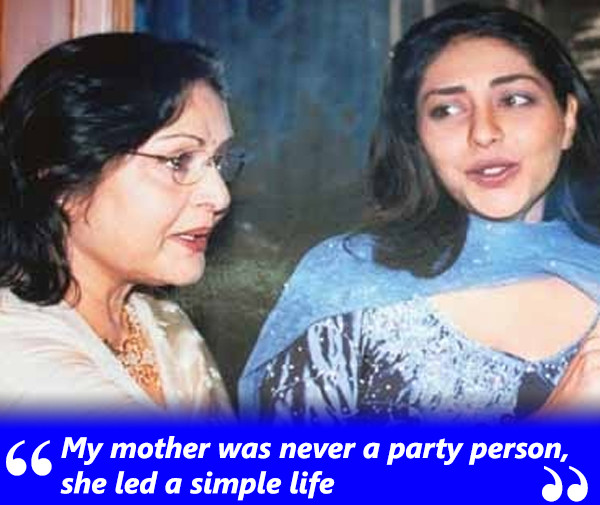 And when it released?
Criticism was sharp, personal and demoralizing. It hurt. My parents being very successful saw their child not achieving that, and had to wait for 14 years before Talvar happened.

Reviews are flooding the media. Do you think that so many reviews are important in today's times? Do they gel with what and how the filmmaker has really conveyed?
For me, reviews is not an ego massage thing.

But reviews do play a pivotal part. A review is the first unattached communication with the viewer, a communication that cannot be ignored.

As for the fact that they are too many, well there are too many platforms too now. So what to do?

But I love making films anyway. I feel incomplete when I am not making them.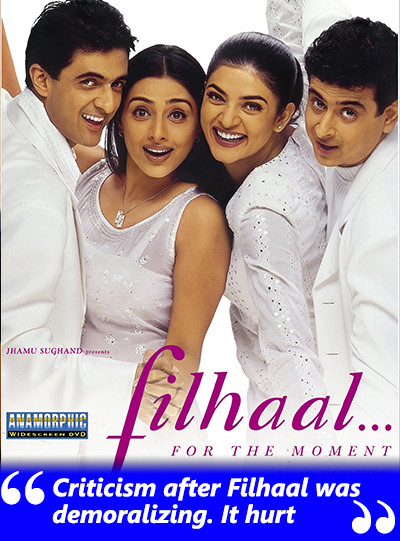 How did you convince yourself to make a film on Talwars? The nation was divided on whether Talwars are innocent...
Me too. I was swinging both sides, with every investigation and every information.

Toh phir kaise kiya?
Forever the genesis of making a film on the Talwars was Vishal Bhardwaj's. I loved the idea and he asked me to start collecting the material that was likely to be required.

When the CBI came into the picture, the case turned on its head. It was clear that there is more to it than meets the eye. The data was so compelling that Vishal Sir was clear that we shouldn't make this sitting only on one side. The case was on trial even when Talvar hit theatres, so we had the advantage no doubt (pauses).

Go on...
But even today, can I say what happened that night? No, I can't.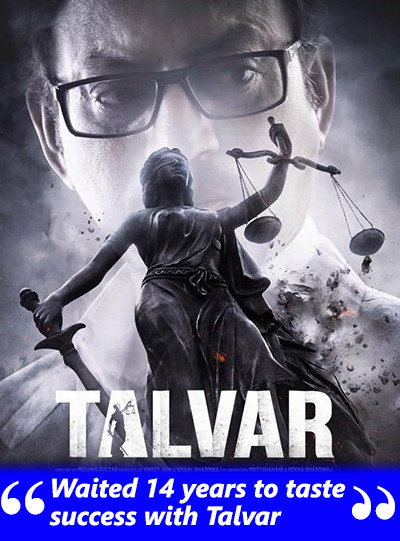 So, even today you can't say whether the Talwars are innocent or not?
I know what my research points were. When they were in jail, it was travesty of justice. There was similar evidence or maybe even more compelling evidence against two more people who were not in jail.

Time to talk Raazi...
(Laughs)

I can see you laughing...
I find it comical, whatever is going on now.

It's happiness, obviously...
It's happiness, it's disbelief.

Why disbelief? Did you not expect Raazi to do so well?
No.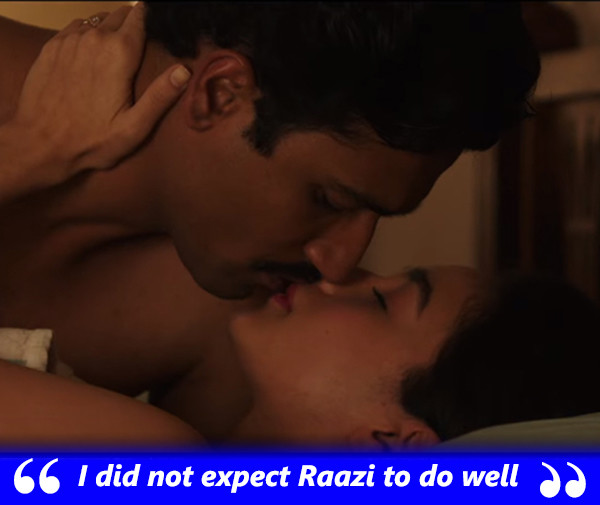 Why?
We didn't think it was a massy film. I don't subscribe to term 'massy' but you know how we end up classifying films. We knew it might break through in spurts. But perform like this? Nah!

What you think made the film so big?
I have no idea. If I had, I would have cracked it with every film of mine so far, and even the ones in future (laughs).

And now what is your mom and dad's reaction?
They are very happy. My mom was in tears when we were having the cast and crew screening. She said: Now you watch. I told her: Let's wait mom and not say anything beforehand. On the other hand, my dad said: 'Tumhari aadat ho gayi hai. Film banakar khamosh kardete ho'. The same thing happened when he saw Talwars. He had gone silent for few hours and didn't want to say anything.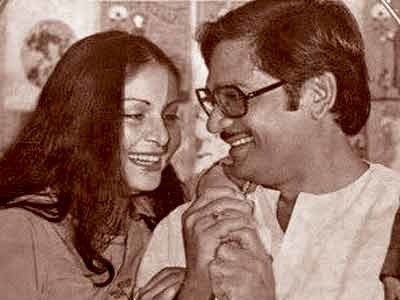 Raakhee And Gulzar

Did you have only Alia Bhatt in mind for Raazi?
Yes.

If she had said 'No'...
I don't know how I would have made Raazi then.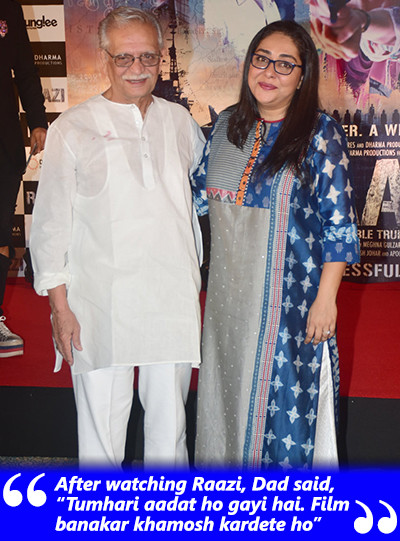 Why?
With due respect to all the other actors, an actor pops into the head the moment I write the story. So I knew the arc the character required, I knew the level of performance I wanted.

And, there's an inherent vulnerability about Alia. She says she is always doubting herself, always nervous. It's a character trait in her, not an actor ability.

Same is the case with me. We both are similar in that respect. It is only that she identified that about herself before me.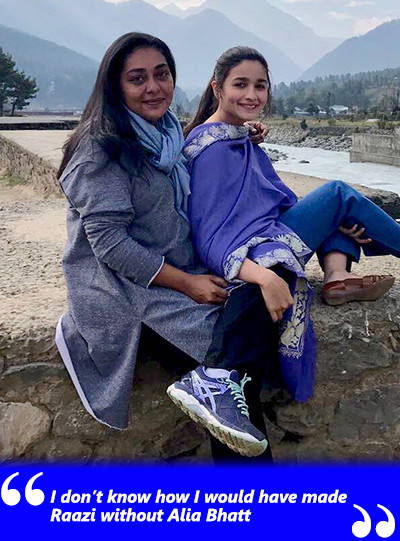 As you said Alia says that she is nervous, did you have to take many retakes with her at times?
Camera on, you will not see an iota of that under-confidence. The character immediately comes to the fore. She is being the character, she is not acting.

Pairing her with Vicky Kaushal was unusual...
I had seen Vicky in Masaan. I wanted his character Iqbal to be a character that Alia's character Sehmat has to genuinely fall in love with. So he has to be the total antithesis of everything we would expect a Pakistani soldier or army officer to be. He has to be soft, he has to be sensitive. He fitted the role perfectly, didn't he?

Yet, Raazi got banned in Pakistan...
That news is not true. The screening has just happened. I am still not updated on the verdict. I am grateful to Junglee Pictures and Dharma Productions for seeing light that this film should be sent to Pakistan only after it is established that the intent of making it was correct. Today, several Pakistanis from abroad are writing on social media that they had a myth that Raazi is anti-Pak.

Going back to your parents. Both are strong individuals. Who is your bouncing board?
My mother doesn't like to know anything about the film until it is released. She wants to see it without a coloured mind. In fact, she was getting quite irritated when I made her see the trailer.

As for my dad, well I do try to imbibe from him how he would write certain sensitive portions in a crisper way. That his forte. He is just a master at that.

Being a class lyricist, is he happy with the music he gets to see in Bollywood these days?
(Smiles and shakes her head) I don't know how much he gets to hear it. I know him more as a person, who would sit and read a book instead.

But yeah, he does lament the language used in today's songs, the enunciation of the language I mean. Our Hindustani bhasha is getting corrupt, the singers are singing incorrectly.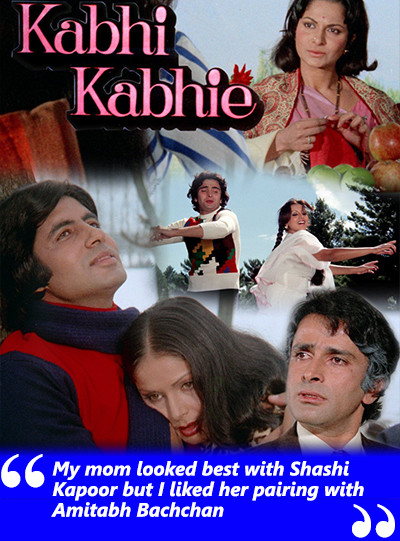 But what about the melody part? Is he okay with that? Being on top of the game in lyrics, wouldn't he like better tunes?
As I said, I don't know how much he hears music nowadays. But to answer your question specifically, I think that's the reason why he works with only certain people who can give him the standard of music he wants, who can give thin the freedom to express himself in the manner he wants. he is very discretionary in who he will work with.

There's an ocean there, but what according to you is his best work?
For a very emotional reason, Maachis. He underwent a terrible period of unrest after 1984 and to put that in images, must have been a tough exercise.

For a very emotional reason, I would say that Maachis is his strongest film, 1984 unrest in his heart, he was scarred cant be executed splurging all his pain. The execution mustn't have been easy at all.

Your mom's best work?
Kabhi Kabhie and Panaroma.

Who do you think she looked best with as a lead pair?
With Shashi Kapoor. But what I liked a lot was her pairing with Amitabh Bachchan.

There was so much of respect between her and Bachchan, it was evident in their eyes...
Yes. Interestingly, their on-screen romance was often unfruitful and unrequited, at times just one sided.

You spent your childhood in a house that breathed cinema, how much of that has changed in today's time? Is it for the worse?
A lot has changed – it has bettered in content, actors and technology. But that era, and I'm not saying it out of nostalgia, was pristine. Ditto for the actors then.

Why, is it not pristine now?
There was immense grace then. The camaraderie was genuine. Competition is supposed to bring the best out of you, and not meant to run you down in a negative way.

Is that what is happening now?
A lot.

The interview will be incomplete without asking you what's next on your plate...
A daunting and well-researched film for Ronnie Screwvala based on Field Marshal Sam Manekshaw. But before that as I leave you, I'm flying off for a holiday to Sri Lanka.
They say the best things in life are free! India's favourite music channels 9XM, 9X Jalwa, 9X Jhakaas, 9X Tashan, 9XO are available Free-To-Air. Make a request for these channels from your Cable, DTH or HITS operator.