Radha Singer Dhvani Bhanushali Finds Vicky Kaushal 'Really, Really Good Looking' - EXCLUSIVE
Dhvani Bhanushali, who recently released her new single Radha on her birthday on March 22, reveals she wants to work with Vicky Kaushal in one of her music videos. Also discusses the inspiration behind her recently released single, why she writes about love and more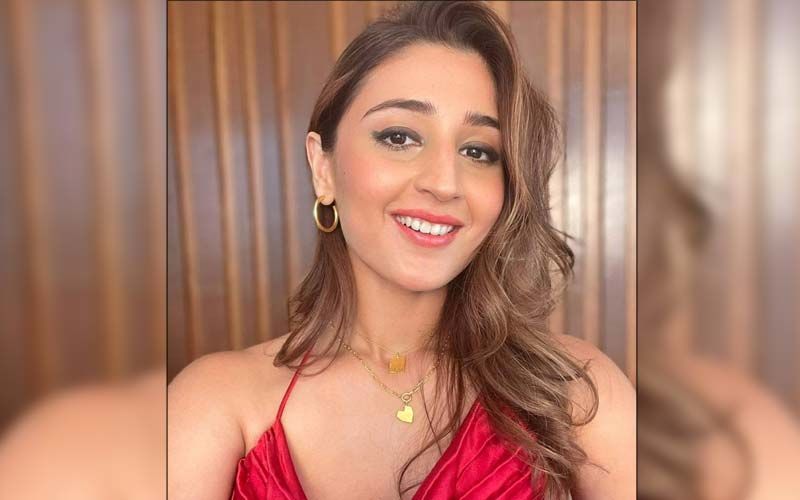 Dhvani Bhanushali recently gave a gift to her fans on her birthday on March 22 in the form of her new single Radha that has been creating waves within just a few days of its release. In a conversation with Spotboye, the singer reveals her inspiration behind the song, why she writes about love, being a subject of memes, the current Hindi music scenario, delving into acting and more.
Read excerpts from the interview:
What was your inspiration behind Radha?
It was just an inner voice, an inner expression of love that I was feeling at the moment. The song is for all the girls out there who are outspoken about love, just like me.
How has it been dealing with the reception the song has received?
It has been really good. I went in another way with the kind of music and video in Radha and people are accepting and appreciating it as well. I am just excited to see the response it gets going on as eight days from release is like the trial period.
Radha is quite different from your usual peppy tracks, it's more like a love ballad. How was it different working on it?
I have never done a song like this and Abhijit Vaghani, I think, is a magician when it comes to electro pop sound. I am thankful to him for working with me on this song. We did a fusion with Rajasthani sarangi in the drop.
One fine day I was in the studio wanting to do something different, when he just told me to sit and write. I started writing and together we started weaving melodies. For the words, we needed Kunaal Vermaa and called him immediately. He was kind enough to streamline the words and write new verses according to what I wanted to say. The director, Karan Kapadia, has been very instrumental in shaping the whole video up. He said he doesn't want any boy but only me and four other girls for the video. I felt like it was the best thing I have heard in a long time. He was very sure how he wanted to shoot and the final product is exactly how I envisioned.
Did you receive any special dance training for the song?
We did seven days of rigorous training and rehearsals with Rajit Dev, our choreographer and his assistant Anooja. They were tremendous in what they did and it was phenomenal to work with them. We would practise for seven-eight hours daily and even when I was exhausted, they would be up on their feet. The background dancers were all professionals and very supportive. It was a pleasure working in them.
You entered the industry in 2018, how have you grown as an artist from your experience?
I have gained a lot of confidence in myself. When I entered the industry, I was this vulnerable kid trying to figure it all out, I have grown a lot in my head in these three years, trying to understand everything very quickly. That is quite an achievement for me as I genuinely struggled with self-esteem and confidence. This career path has fastened that process and I am in a much better place now to take decisions about my life and my career.
You write songs about love. Does it come out of personal experiences or just your perception of it?
I think that emotion comes easy to me. It has a lot to do with personal experiences but it's just an emotion that comes naturally to me. It's different with every artist but it is something I love to sing and talk about.
Your song Vaaste crossed one billion views on YouTube. Does setting such records put pressure on you?
I know for a fact that every song of mine cannot cross one billion views. But if I keep waiting for that perfect song, I won't be able to work and do songs that I am actually passionate about. Some songs people will connect to but I don't know which song of mine would achieve such a feat next. I just hope people appreciate my efforts and my song touches people's hearts, that's what's more important to me. Of course, there is pressure as soon as you enter this industry. Every day is a struggle here and you have to do different things to sustain. I just try to be in my bubble, create my own world, stay in it, be happy and do good work.
You come from a family background that has connection to the music world, with your father, Vinod Bhanushali, being a part of T Series. Many people believe you get it easy. Does that add to the pressure?
I won't deny that opportunities can be created but I feel happy to be born in my family. I feel like I am proving myself with every song and I am confident about that. I am working hard on myself. I won't deny that I do get opportunities at times, but sometimes I don't and I have to fetch for it and that comes only from hard work. It's not like I work on a song and magically it is going to reach people's hearts or my dad will make some calls and people will start listening to it. That's not how it goes. Every artist has their own journey and no matter where they are born, hard work cannot be replaced. You have to do it yourself for people to believe in you
How did you celebrate your birthday this year?
Radha was a return gift for my fans. I was very adamant about releasing the song on that day only. We shot the video in March itself. I believe in shooting a song and just releasing it as I feel that if you take more time, the sound gets old in your head and you feel like reworking it, so it's better to sell it like hot cakes. On my birthday I was busy promoting Radha, cutting cake, attending family dinner; it was a lot but an eventful birthday. I also brought a car for myself and was very happy. I finally upgraded a little.
Indian music industry is more dominated by Bollywood music. But now the independent music circuit is currently on the rise. Do you think you debuted at the right time?
My first solo single came out around November 2018, and that time it was mainly Punjabi pop that was happening. Mainstream pop was almost non-existent. But when my songs came, they were good and people connected to it. Later the whole movement took place and every artist was doing independent music. Right now, it is the time when independent music is booming the most, and that is the most wonderful thing for our industry. Now we have a holistic separate being in the form of independent music. It of course has to get bigger and better but at least we are one step forward in that direction.
You have given playback in films as well as release singles. Which one do you enjoy more?
Right now, Radha has my whole heart.
If you have to choose any actress or actor to give playback to or feature in your music video, who will it be?
As actors, I really adore Kareena Kapoor and Alia Bhatt on screen. I think they are fabulous and I would be very happy if given a chance to playback for them one day. When it comes to my singles, I am happy with whatever goes with the song that I do next. The director is the best person to decide the casting and I never get in that process. They know best who will look good, but I really want to work with Vicky Kaushal, as I think he is really really good looking.
You and your songs have been a subject of a lot of memes. Do you enjoy them or find it offensive?
I legit enjoy it, I think memes are the funniest thing ever and I live for it. I remember going home around a week after Vaaste's release when I saw a whole Scoopwhoop video made on it. Initially, I got a bit offended but then I found it very funny. It went completely viral and everyone was calling me 10 AM and I was the face for it. I enjoyed it thoroughly.
One can see the acting bug in you from your music videos. Any plans of entering films?
It depends on the kind of script I am offered. If it resonates with my personality I will definitely do it. At the end of the day, I am into pop and I would not want to do away with it. It has taken me a lot of time to get into it and for people to accept me in that.
What are you working on next?
In another two months, some more pop is going to happen. I am looking forward to experimenting more in terms of genre like jazz. It could be anything but it has to be in the pop zone.
Image source: SpotboyE archive