Raveena Tandon Talks EXCLUSIVELY About Maatr, Katha Remake And a Kiss With Anil Kapoor You Never Knew About
Raveena Tandon's comeback vehicle Maatr has earned her many plaudits, from both fans and critics, and she reveals the reason why she picked the gritty film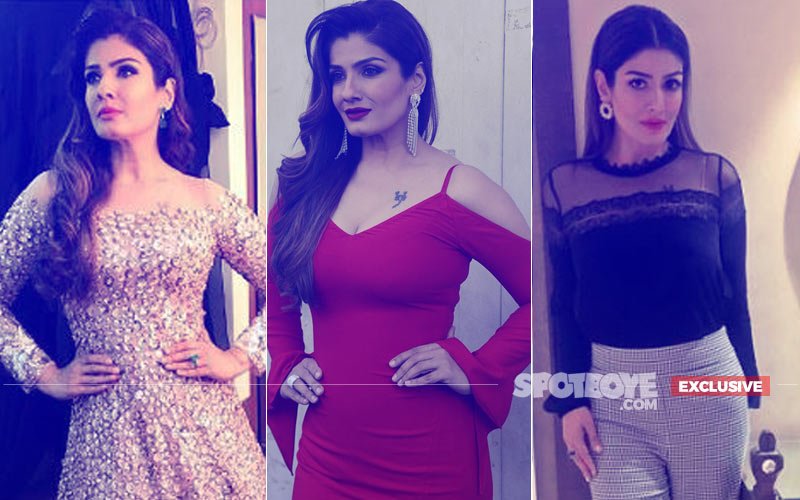 Raveena Tandon who made a comeback with this film is extremely happy. "Such a film should never be judged by numbers. The collections which we have achieved are satisfying. Maatr carries a very strong social message, which is exactly why I did it," she told SpotboyE.com this morning.
We continued our chat with her, and here are the excerpts from it:
Why don't we see you much in films nowadays? You have done Maatr after a long gap!

I have been offered many films which I didn't take up- Gulaab Gang, Chashme Buddor, Kya Kool Hain Hum, Dil Dhadakne Do. After waiting for so long, I wanted to come up with something meaningful. I have been a social activist and I wanted to do a film which will deliver a social message.
The kind of reactions I have been getting for Maatr are awesome. This film comes in the genre of Aligarh, Waiting, Phobia. If you see the first day collections of Maatr, it has done comparitively better.
Aligarh- Rs 29 lakh
Nil Battey Sannata- Rs 27 lakh
Phobia- Rs 33 lakh
Traffic- Rs 33 lakh
Waiting- Rs 28 lakh
Parched- Rs 18 lakh
Maatr should not be compared to any blockbuster. We have no songs, no gloss, no hi-fi locations. We had no Big Daddy promoting it. It's a movie made from the heart.
We made the film in Rs 6 crore, the total cost including P & A is about Rs8-9 crore. I think we will recover that amount.
What made you do Maatr?
Since the Nirbhaya tragedy, safety of women is one thing which has been bothering me no end. It is very close to my heart as I have two daughters. I am horrified that crimes against women are increasing by the day. I remember reading just yesterday itself about 5 different rapes in 5 cities in our country. I tweeted to Maneka Gandhi and she replied that they are taking steps. I think it calls for some really aggressive steps.
Are you advocating capital punishment for rapists?
I am definitely advocating fast-track courts and harsh punishment. Too many cases of such kind are lying in court pending. Crimes against women are increasing by the day. What kind of times are we living in?
You did a film like Maatr, Jaago, in 2004...

I had a kind of a fallout with Mehul Kumar and his team because they tried to commercialise the film. I was not happy with that. I am a big fan of Mehul Kumar who made terrific films like Krantiveer and many others, but I had my share of differences with him and his team. I am very happy with the way how Maatr was handled. Straight and hard-hitting.
What did you think of Maatr's director Ashtar Sayed? It's his first...
Most critics have given good reviews to the film. I think he has done a very good job.
Your take on Maatr producer Anjum Rizvi's fight with the Katha remake...
MIchael Pellico and Manoj Adhikari are the original producers of Maatr. Michael is from LA. Anjum Rizvi was there only for namesake. He didn't invest anything in the film. You can say that he was there as an advisor. Maatr became the scapegoat in Rizvi's fight against the Katha remake.
Did you speak to Rizvi about it?
We all spoke to him, when we read that Sai Paranjpye and the Katha remake artistes have not been paid. Director of the Katha remake Khalid Mohamed spoke to me, and I have promised him that I will help out as much as we can.
You were debarred by CINTAA from publicising Maatr?
Not at all. Nobody from CINTAA had contacted me about anything on Maatr (pauses).
Please continue...
There was a lot happening. We had too many things going against us. We didn't have advance bookings on the film as they never opened. The film had a stay order, owing to which it reached the Censors very late. Many people were unaware
on Friday
(April 21) that the film had released.
Takeaways from Maatr?
We are not unhappy. I did not chose commercial films but chose to do Maatr. And I am still not complaining.
I am surprised you turned down Dil Dhadakne Do...
Yes, I know what you mean. In fact, my husband Anil Thadani was distributing that film. Anil Kapoor is one of my favourite co-stars and he still keeps telling me 'Woh film tumne nahin ki'.
Why didn't you do it?
I was supposed to have a big kiss in the film, which eventually I guess was scrapped.
That was Shefali's role, right?
Yes.
The kiss was supposed to be between Anil and you?
I am not telling you (laughs).
But nowadays it's common to kiss...
I didn't do it when I was in the centre doing so many films, why would I do it now?
But such things were not common those days...
Says who? Tabhi toh jyaada tha. You see, I am not comfortable doing certain things.
What next?
I am doing a TV show Sabse Bada Kalaakar. I am in good space. I plan to finalise on a couple of films soon but I am not sure that they'll turn out the way I want. Let's see how it goes.
Thumbnail Image Source: moviegalleri,Instagram/Raveena Tandon