Richa Chadha: 'Trolls Make Me Very Famous'- EXCLUSIVE VIDEO
Richa Chadha talks about her career choices, living with fiancé Ali Fazal, Fukrey 3, dealing with trolls and more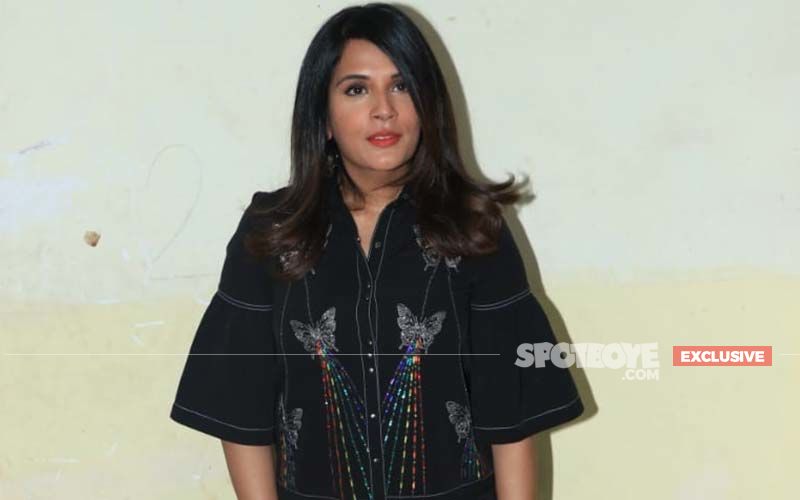 Richa Chadha has proven her versatile acting skills starting from films like Gangs Of Wasseypur, Masaan, Shakeela, Madam Chief Minister and Panga. She is also known for being unapologetically vocal about her opinions on social media, and dealing with the trolls head on.
In an exclusive conversation with Spotboye.com, the actress opens up about her career choices, living with fiancé Ali Fazal, Fukrey 3, dealing with trolls and more. Read excerpts from the interview:
Richa, you ended 2020 with Shakeela and started 2021 with Madam Chief Minister, two strong roles that saw you carry the films on your shoulders. How did these films affect your professional choices going further?
I am really happy with the choices I have made, that doesn't mean I haven't made mistakes. When you are an outsider, you don't have a Godfather and I also don't socialise much within the industry that I can call someone and ask for advice about my career. I have made a lot of mistakes but that has made me fearless. Sometimes I have been down and out and sometimes I have seen glory, so it's made me less afraid of failure. Today, I feel like I am in a position to experiment more with my work, support other artists and explore other avenues as a performer, maybe as a writer or in production. These things keep me grounded and excites me as a creative person.

Your upcoming show Inside edge 3 was marred with rumours last month around the platform not being happy with the outcome and demanding reshoot. What was your reaction to it?
I don't even remember reading about it. I was just completing my final day of dubbing for the show the other day. So, why will I pay attention to rumours while I was on the set working myself? Sometimes I feel that reporters need scoop so badly that they even take information from wrong sources. Sometimes people on set who don't have access to correct knowledge give out some inaccurate information, and then outlets use them.

So, Inside Edge 2 ended with Mumbai Mavericks facing a two-year ban. Will the story in season 3 continue after those two years or will we see what happened during the ban?
I don't know (Laughs). All I can say is that there will be lots and lots of conversations around the show in a good way on its release. We learnt a lot from the first two seasons and it just furthered in season 3. From my experience of working with Excel and Amazon, I can say that they will not okay a product that they cannot get behind.

You were supposed to start shooting for Fukrey 3 in April but that got pushed due to the second wave of Covid cases. Has there been any update on when the shoot will resume?
The best people to answer that will be the makers. We are obviously ready to start but Fukrey 3 is a big film. It has a large cast and crew and it needs to go in several cities for shooting, so if I was the producer, I would wait to see the third wave. We were so excited to go ahead and shoot when the second wave hit. We can be vaccinated and all but as actors, we can't put on masks all the time, so it's a risky move.

You moved in with Ali last November, how has that experience enriched your relationship?
It's really wonderful to have a great person to share your space with. Ali is really lovely to live with and we are basically best friends. Living with him takes me back to the time when I first moved to Mumbai and had a flatmate, who was a writer. I used to go for auditions while she would be submitting her stuff and we would talk to each other about our work. And now I get to do that with Ali, but apart from the lockdown, we haven't spent much time together in the house. So, the lockdown came like a blessing to us.

Any update on your impending wedding?
It will happen when we all know where the world is going as it involves crowds and we have to be responsible.

You have faced a lot of internet trolling, with people asking you to speak up on everything under the umbrella. Does it annoy you at times?
There are two sets of trolls. One who troll you for your opinions and others who are trolls for hire, who are these two rupees trolls. The latter I don't pay any attention to because there is a lot of unemployment and they earn by trending hashtags with the same spelling mistakes. The former wants you to be vocal about everything, even if you don't know about it, who indulge in a lot of whataboutery and want to reprimand you. In the end, a troll is a troll be it from the right-wing ecosystem or the left wing and I really don't care about them. In fact, trolls make me very famous. I think trolls don't understand how much they help us unknowingly.

So, what does your future lineup look like?
I am working with Tigmanshu Dhulia as my director in Six suspects and it's really exciting to work with him. Apart from that, everything I have done in the past one-and-a-half years will be released now. One is a surreal thriller set in the hills and I had also done a comedy with Anubhav Sinha that I think is also finally releasing this year. I also have Inside Edge 3, so the year is completely packed.




Image Source: Instagram/therichachadha, spotboye archives