Shahid Kapoor: I Am The Potato In Vishal Bhardwaj's Dishes
In a tête-à-tête Rangoon actor Shahid opens up about his relationship with Vishal Bhardwaj, working with Saif Ali Khan and Kangana Ranaut and life after marriage among other things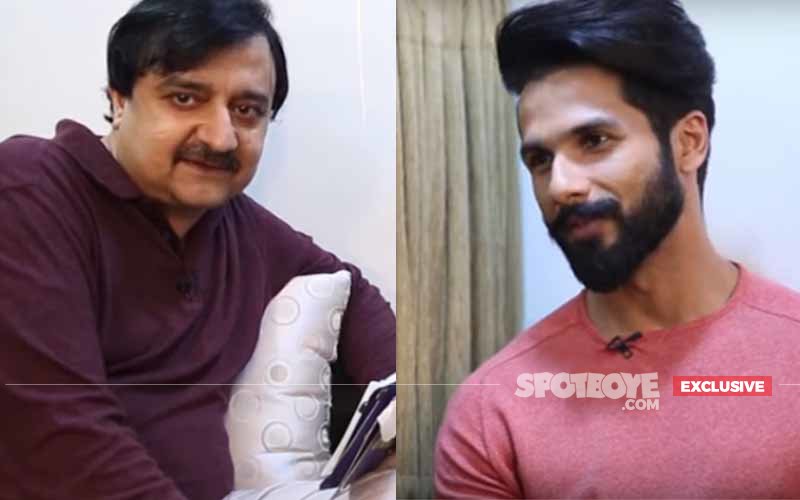 His career has followed an interesting trajectory. From debuting with the light-hearted Ishq Vishk (2003) to startling audiences with his part in Haider (2014), Shahid Kapoor has come a long way. Vishal Bhardwaj's Rangoon which features the actor alongside Saif Ali Khan and Kangana Ranaut hit theatres today and we sat down for an interview with the charming actor a few days ago.
Excerpts from the conversation that followed:
Rangoon is your third film with Vishal Bhardwaj...

Rangoon is a film which had been with Vishal sir for six to seven years. He has many subjects, he is a great writer. He keeps writing different films and he keeps narrating to you and some of it is just awesome. After Haider, he wanted to do something on a larger scale, something that was a larger cinematic experience for the audience. Haider was a very experimental film and I wanted to do something mainstream with him. He was very fascinated with shooting a love story against a war backdrop. And the relationship between the girl (Kangana Ranaut) and the two guys (Saif Ali Khan, Shahid) is very interesting because one is her mentor and the other she falls in love with. Those dynamics were fascinating for him. When he offered me the role of the soldier, Nawab Malik, I was like, 'Yeah, it's your film. I will definitely do it'.
You can't say 'No' to Vishal...

I can't say 'No' to him because he is someone who has shaped my career as an actor in a big way. Of course, you have to be excited and it has to be worth a year of your time. Every film takes a lot out of you as an actor. But yeah, it's definitely difficult to say 'No' to him.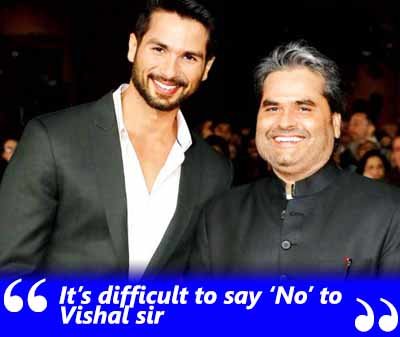 Images Source: topsy

Did you do special preparation for Rangoon?
People think that Vishal sir and I do a lot of preparation because we tend to get very intense. However, we don't spend a lot of time in preparation. He writes the script and we discuss it. We largely discover the character on the set, though. We both like it that way.
I believe that if you over-rehearse and over-analyze a character, you lose the spontaneity which I think needs to be present. So we did our normal round of research for sure because it is a film based on the Second World War, 1944. I play a soldier in the British Army. We just went out there and shot it in Arunachal Pradesh.
But there must have been some special preparation to play a soldier, at least to get your body language right...

I don't want to call it special because it will be a simplistic way to describe a complex thing. You are becoming another person when you set about to do a role, so the journey is rather emotional.
You had said that Haider was your toughest role till date. Where would you place Rangoon?

Rangoon is the toughest because of where we shot and the conditions we shot in. I don't think as a role it is as difficult as Haider or Udta Punjab. It is a difficult role and it has its layers. I don't want to take anything away from Nawab Malik but I also want to be honest (pauses).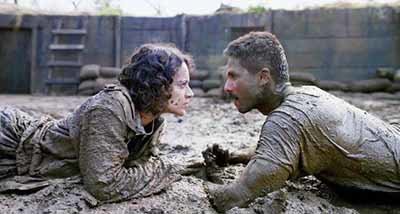 Image Source: instagram/rangoonthefilm

Go on...
We shot in Arunachal Pradesh, it has its villages and towns, electricity and roads. But we shot mainly in the interiors. Even shot some scenes around the stations on the Assam border. After that Kangana and I did a 20-day schedule while Saif shot in Arunachal Pradesh for 2-3 days. Then, we shot in the jungle. We drove along dirty roads, landslides. The road was... (pauses)
Bumpy?

Mumbai roads are not great. So that wasn't a big problem. Wahan road hi nahi hoti thi. We would be driving and hit a huge jam and then we would be told that the road has collapsed in the rains or a landslide has happened. The conditions were treacherous. There were no
hotels
where we were shooting. We lived in an old colony which was uninhabited. Dam workers used to live there and we just repaired the place and lived there somehow for some 18 days. People woke up with a bleeding leg because a leech had bitten them. So many things used to happen. From there we travelled some two hours to the locations because Vishal wanted locations which were uncharted. So, the circumstances were extreme.
How was it working with Kangana and Saif. It was your first time with both of them...

I was very happy that the film got cast the way it did. All three characters are very important to the film.
Were you the first one to be cast?

I don't remember who got cast first. It all happened in a span of 10 days. He (Vishal) was pretty clear about who he wanted in the film. He and I were talking though -- we keep talking and I am always around. He mentioned to me how he wanted to cast the film. So, it's great that the cast he wanted is on the film.
Vishal sir and Saif have done some great work together, Langda Tyagi (Saif in Omkara) was a great character, Kangana is doing some really good work right now and I am sure people will be excited to see her working with Vishal sir.
And I am the aloo, kisi bhi sabzi mein daal do. When Vishal sir is cooking, I am always there.
How was it working with Saif? Any discomfort?

Why should there be any discomfort? That's just a perception in people's minds. Actors are thorough professionals and I was actually looking forward to working with him because he is an integral part of the film and perfectly cast in his part. We didn't have much to do together though, and we shot for ten to twelve days together and it was all good.
When Vishal came to you, did you think Rangoon was different from what he does?

It is not very different from what he does. It is just that it is far more relatable. Some of his films are very concept-heavy and a certain audience does not relate to that world. Haider cannot be relatable to everybody.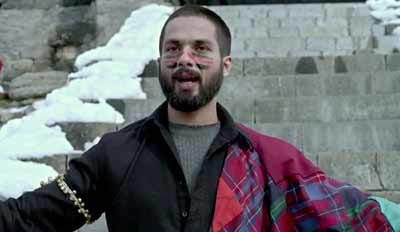 Image Source: instagram/UTVMotionPicture
Rangoon is a lot more relatable in terms of the subject, it is a love triangle, it has songs, action. It's not dark in nature.
Were you surprised by that?

No, both of us keep chatting.
So, you knew what was coming...

There are many thoughts in his head. For people, they see him as Vishal Bhardwaj, thinking 'What will he do next?' But he and I just talk and chat so very often. 'Ab ye karoonga, ab woh karoonga'. It's a very casual conversation.
After Haider and Udta Punjab, are you hoping for a hat-trick with Rangoon?

Main vaise sochta hi nahi hoon. Haider and Udta Punjab were both experimental films, no one wanted to make those films. No one expected them to work. So I was really happy when they did. And I did them simply because as an actor I wanted to grow, I wanted to do new work, I want to give opportunities to films that I feel I would want to watch in future. And both these films were those kind of films. So the fact that they were loved and liked was very satisfying.
Numbers ke mamle mein I think my trajectory is different.
Vishal's trajectory too. He mentioned recently that his films don't make money

That's his point of view, his journey, his interpretation about his work and career. Everyone has their point of view which comes from a place only they understand. I am very fortunate to have worked with him because, as an actor, he has brought out stuff that I thought I would never be able to do. My reason to work with Vishal sir is simple – to grow as an actor. Of course we want to make films that are loved and successful, but the sole purpose of making this film is not for it to be a money spinner.
Rangoon has a larger scale and scope. So we have to see where it goes. You have to keep it simple. With films you can't fill all the blanks or satisfy everything that you want. Different films offer different opportunities.
You are working with Sanjay Leela Bhansali too and he is considered a taskmaster, just like Vishal. How would you differentiate between the two?

Both are very different and brilliant filmmakers in their own right. The worlds that they create are unique. Ye taskmaster word mujhe nahin samajh aata. May be it applies more to me because I am also very particular about the way things should be done. To mujhe to bade achche lagte hain aise log.
To aap bolte ho ki ye aise nahin hona chahiye, wo waise nahin hona chahiye?

Nahin, main director ko nahin bol sakta. Main apne gym trainer ko bol sakta hoon about the kind of body I want, or I can pull up my manager for something, but when I am on set as an actor so I will be instructed by the director. It's very important to understand your job profile.
Of course, this is a creative medium and everything is a creative conversation and you can't do anything unless you know where it's coming from and make it yours. So should keep asking until you know where to reach. But I have worked with enough filmmakers to know how to adapt.
Is there a better understanding of the world around you?

I hope there is. If I am where I was 14 years ago, it's been a crappy journey. I think I have gained experience and learnt a lot about how one should be. Being a star gives you a lot of power, position and importance but it's important to understand that the structure of things should not change. When you are a student, you have to be one. You might be the best student of the class but you can't take the place of the teacher.
So have there been instances where you were getting carried away but held yourself back?

No, may be 7-10 years ago. Not now. I rarely get carried away. I am a controlled person. It takes a lot for me to get carried away. I have seen enough in life to understand that carried away hone se bahut damage hota hai, kabhi kuch achcha nahin hota. So you should just do your job, have a good time and leave (pauses).
Results will show...

Even if they don't, you have to try again.
Were you excited when Padmavati came your way? Did you expect it?

It is a great opportunity. I don't expect anything. Whatever comes is God's grace. But yeah, when he offered me the part I was very excited. Sanjay Leela Bhansali is a fantastic filmmaker and I saw his last release, Bajirao Mastani, loved it and also tweeted about it.
I am very happy that we are making films like these and the audience can view films this magnificent on-screen.
I think every hero wants to be projected on that scale. They always dream of playing the 'Raja' and riding a horse. It was awesome (laughs). It's a great role and a fantastic cast.
You are again working with two actors (Deepika Padukone and Ranveer Singh) you haven't worked with before...

Yeah. I haven't shot with Ranveer yet, but it's been great with Deepika. It's premature to be talking about Padmavati.
Rangoon is a two hero film, but why is that Padmavati being a two hero project generated greater buzz in that regards?

How can I answer that question? I don't know why people view it like that? It is what it is. We play historical characters in Padmavati. That's about it.
You are at an all-time high professionally and your personal life is rocking too. How much has life changed after marriage?

Everything has changed. After marriage your priorities change, you become more responsible. I am in a happy space and feel centred. I know my priorities – I go do my work, come back home and spend time with my wife and kid. Life feels complete.
Has the schedule changed with Misha? Getting up in the night...

Main to waise bhi raat ko jaagta tha.
Neend nahin aati?

Aati hai, but main jaagta rehta tha.
How much are you involved in the parenting aspect?

As much as a father can be. I try to be as supportive as I can. The main work is Mira's, so I support her whenever needed.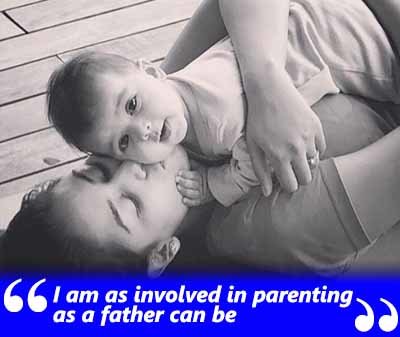 Image Source: instagram/shahidkapoor

Tell us about Mira. We heard about you sporting a ponytail when you first met her...
Yeah, the first time I met Mira, I was shooting for Udta Punjab and had a ponytail. She clearly told me that I get rid of it when we are getting married. By the time we tied the knot, we were looking shareef (smiles).
Coming back to Rangoon, Vishal makes hard-core films which often run into trouble with the Censors. What are your views on censorship?

I think we have a censorship board which should certify.
But do you think it's high time the envelope was pushed with the world and cinema changing?

It's very difficult for me to comment on something which needs to be handled by people who are veterans. In case of Udta Punjab, we all went out there to say that a film like Udta Punjab should come out because the larger picture was to spread awareness about drugs and educate the youth.
In general I do not want to make comments because there are people who are more senior than me, have more of an understanding (pauses).
I think it varies from film to film...

It's becoming increasingly difficult to make movies. That's for sure.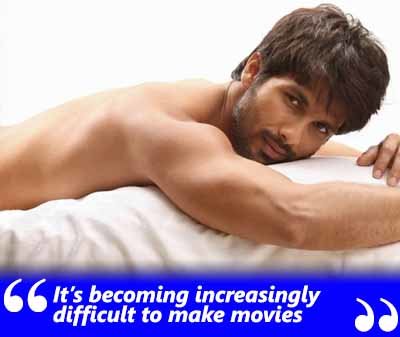 Image Source: hdpicswale

Many actors are venturing into production. Do you want to become a producer too?
I want to support good films. If that needs me to back it as a producer or if I feel inspired to participate in a project which needs me to support it monetarily, yes. I wouldn't want to become a producer for the heck of it. But agar mujhe aisa lagta hai ki ye bahut achchi scipt hai aur ye picture banni chahiye aur iss film mein main producer ki tarah dikhoon, so yeah, I will consider it. I haven't decided on that. Let's see.
What was the biggest challenge in Rangoon?

The terrain. Very challenging.
Did you get up on certain days to feel exhausted and feel that you can't shoot?

That happens very often as an actor. Films like Haider, Udta Punjab, Rangoon and Padmavati has been exhausting, but I never feel like kaam nahin karna. I am very thankful.
With films like Kaminey, Haider, Udta Punjab, Rangoon and Padmavati, you are getting into a zone of intense acting. Is that a conscious decision?

No (smiles). I just do cinema I would want to see. If I get a lighter genre, I would be happy do it, but I should want to see that film. When I look back I feel there are a few films I shouldn't have done. I wouldn't name them, but there are.
After so many years of work you reach a point where you begin doing films you want to do. These films you mentioned just came my way and they were opportunities I couldn't say 'No' to. May be because I am trying different roles as an actor, people feel the need to give me those opportunities or directors feel that I will fit the part. But I haven't planned my career, neither do I have preconceived notions. I am here to do different things.
But there would have been films you rejected, right?

Nahin. Mujhe ek hi filmoffer hui aur maine wahi karli. Pichle 3 saal mein mujhe sirf Haider, Udta Punjab aur Padmavati offer hui hain (smiles).