Sharib Hashmi On Working With Kangana Ranaut: 'She Is A Great Co-actor To Have'-EXCLUSIVE
Sharib Hashmi, who was recently seen in Sanya Malhotra's Pagglait, talks about the film's success, how OTT revived his career, his father's influence on his work and his upcoming releases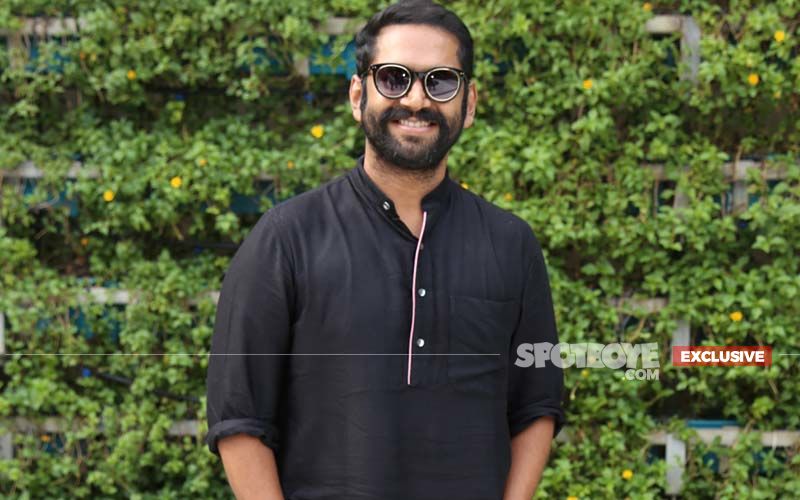 Sharib Hashmi was recently seen in a brief appearance in Sanya Malhotra's Pagglait. The film struck a chord with the audiences and Sharib is overwhelmed with the love. "I am very happy with the response I have been getting for my two scenes. The only reason I agreed to do it was because I was getting a chance to share the screen with such great talented actors that I have admired throughout my life. The appreciation is just an icing on the cake," he gushes.
Sharib debuted in 2008 with the Oscar-winning film Slumdog Millionaire. After that he was a part of Yash Chopra's last directorial, the Shah Rukh Khan, Katrina Kaif and Anushka Sharma-starrer Jab Tak Hai Jaan, and followed it with a lead role in the National award-winning film Filmistaan. Does he think that even after so many achievements under his belt, has the industry recognised his true potential yet? "I don't know how to answer this, because whatever situation I am in right now, many people don't even get to be there. I am grateful for what I have rather than crib about what I don't. I am happy with the way my career is going right now," he replies.
However, Sharib goes on to state that it was OTT that came as a saviour for him. "OTT has completely and solely revived my career. After Filmistaan, there was a lull in my career. I had only two releases, that too which not many people even got to see. At that time, OTT came to rescue me. The Family Man happened, followed by Asur and Scam 1992 and people recognised me there as 'Filmistaan wala banda'. After the success of the shows, people asked me where I had been all this while. I just said that I was always here only," he shares, adding that he is really happy with the recognition OTT has given him. "Recently I was in Jaisalmer shooting for a new web show. I went to a small shop and people started calling me by my character's name in Scam 1992. And I wasn't even in the same look of the show as I had shaved off my moustache," he laughs.
The Family Man and Asur, both gathered immense success on their release. Does that success added pressure on Sharib while shooting for the sequel? "We had completed more than half of the shoot for The Family Man 2 before Season 1 started streaming and as for Asur, I had just one day of shoot there as I am only in some flashback scenes in season 2.," he iterates. Sharib goes on to add that it was the collaboration on the Family man that he enjoyed the most. "Working with Manoj Bajpayee sir, Raj and DK and the rest of the cast was amazing. They are all sweethearts and Samantha Akkineni, who is the newest addition to the cast, is a huge star down South but still very humble and down to earth. Her role is going to blow everyone's mind off," he promises.
Sharib's father, Z A Johar, was a well-known film journalist. Ask him if his father's experience came in handy while he entered the industry and Sharib denies it. "I never took any help from anyone in the industry or ever mentioned my father's name to ask for work. In fact, my dad was a very well-known and respected person in the industry with some influential friends, but I never went to them to take advantage of that. When I meet those people now, they are surprised and proud to know that I am my dad's son. That's a priceless reaction to see," he smiles.
Apart from acting, Sharib is a writer as well and has written films like Filmistaan and Ram Singh Charlie. So, any more in the pipeline? "I have a few concepts in mind, so I am contemplating on them and trying to zero in on one," he says. And any plans of direction? "In future, I really want to direct a film. I am just looking for a good script."
Sharib is a part of Sidharth Malhotra and Rashmika Mandanna-starrer Mission Majnu. Ask him about his experience on the film and he says, "I actually didn't have much scenes with Rashmika, but most of my scenes were with Sidharth and Kumud Mishra and we had a ball shooting together. We were in Lucknow for almost a month and it was like a reunion for me and Kumud ji after Filmistaan," he shares, adding that some portion of the shoot is still pending and he is looking forward to reuniting with them. As for his role in the film, he doesn't divulge any details but informs that he will be donning a very different look.
The actor also has Kangana Ranaut's action-thriller Dhaakad in the pipeline, and Sharib is all praise for his co-actor. "Kangana was very professional. I had heard a few stories about her being difficult to work with, before I went on set, but that wasn't the case at all. We shared quite a great chemistry on and off the set. She is a great co-actor to have as she contributes to her co-actor's scenes and dialogues as well," he asserts, adding that what makes the film special is that the director is his close friend Razneesh Ghai. "That is also the reason why I said yes to the film. I felt very proud when I saw him on set the first day directing such a big film with such a big star," he says proudly.
Mission Majnu and Dhaakad are both action thrillers. Will we get to see Sharib perform some action too? "I have a few action scenes in Mission Majnu, and also some in The Family Man 2. I have also performed some stunts in The Incomplete Man with Freddy Daruwala, and I really enjoyed the thrill of that genre," he says.
Having worked with big names like Shah Rukh Khan and Manoj Bajpayee, among others, ask Sharib what has been his takeaway from them and he responds, "All my co-actors have been my teachers as I learned everything on the job. Not just them, but from my directors, as well as everyone on set. All my co-stars have been so supportive and giving in sharing their craft with me, including Manoj sir, Kumud ji, Inaamulhaq, Kay Kay Menon sir, and with directors like Yash ji, Aditya Chopra and Nitin Kakkar, I have learnt a lot," he recalls.
Apart from Mission Majnu and Dhaakad, Sharib also has a web show, Six Suspects, starring Pratik Gandhi and Richa Chadha, directed by Tigmanshu Dhulia, up for release. He also has a kid's film Bishwa in the pipeline where he plays the protagonist's father. "Bishwa gave me the amazing opportunity to work with the National Award-winning actress Usha Jadhav, who plays my wife in the film. It's a very feel good, slice of life story based in a small town," he informs, adding that he is on the verge of signing a big project as well. "Hopefully I'll be able to tell the whole world about it soon," he concludes with a smile.
Image source: SpotboyE archives