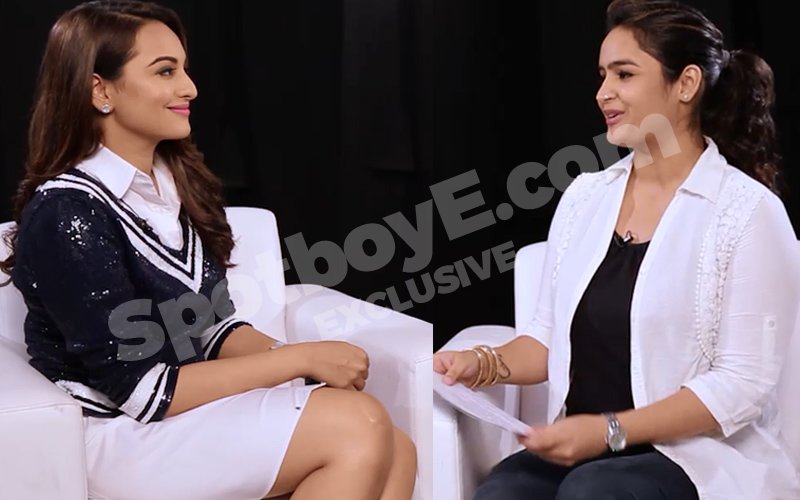 Your browser does not support the video tag.
Sonakshi Sinha's debut film Dabangg (2010) alongside Salman Khan propelled her to stardom instantly. Since then, the actress has worked with a number of A-list actors including Akshay Kumar, Ajay Devgn and Shahid Kapoor. We met Sonakshi Sinha at Mehboob studios on a rainy Tuesday evening as she spoke about her upcoming film, Akira. Dressed in a royal blue and white sports-glam number and white sneakers, the actress was under the weather and answered our questions while sipping tea. Excerpts:




How did Akira happen to you?
Murugadoss sir (producer and director) approached me for the film post working with me in Holiday. He decided that he wanted to make a film about this girl, her journey and how she comes out to be so powerful and strong and shows her strength when required. He came to me and I was honoured that a man, who has made innumerable blockbusters featuring the biggest stars of the country and has never had a female protagonist in his film before, trusted me with Akira.

How did you train for your character in Akira?
I had to train in Mixed Martial Arts to be able to prepare myself for this role. It was quite rigorous and strenuous and if I hadn't trained before the film, I would not have been able to do it.

How was it working with Anurag Kashyap and Konkona Sen Sharma?
They are such good support system for me in the film. Anurag is the best antagonist to my protagonist. He's played his role so convincingly that I think nobody else would have done it the way he has. And Konkona Sen Sharma is such an actor that when she is in the same frame as you, you want to make your performance better. She is very inspiring and a wonderful person as well.




Akira is an out-an-out action film and you have worked with many superstars like Akshay Kumar and Ajay Devgn. Did they give you tips before doing this film or after watching the trailer?
They appreciated the trailer, but tips? Not really. Akshay has always told me to do my best and stay away from injuries because that could really upset the shooting schedule. When the trailer released, both of them were very encouraging. Akshay said that this film is going to be a game changer for you. Ajay jokingly told me that if I start doing all this, what would they do? When artists like that, who have done so well in their respective fields, appreciate your work, it feels really good.

Akira is very intense and fierce in this movie. Are you like that in real life?
Do I look like that in real life? (laughs) No, I am not. Akira and I are poles apart when it comes to our personalities. But our inner strength is the only thing similar between both of us.

The tagline of your film is 'No one will be forgiven'. Now, I would want you to unleash all the rage that you have within and want your reactions on these issues:




A) Akira on those who are wife/husband beaters
I think it is a very serious crime and should be appropriately dealt with. The punishment should be solid because nobody has the right to beat.

B) Akira on those who want only a male child
It's a shame that people think this way. There are so many girls making their parents proud. Look at the girls who've come back from Olympics with medals.

C) Akira on those who harass the opposite sex sexually
Again, the punishment should be very strict for such people. No means no, and everybody needs to understand that.

D) Akira on those who say that girls shouldn't wear jeans and skirts to colleges
I say that saree exposes more skin than jeans and skirts. So, you need to rethink your vision.

E) Akira on Censors who think that kissing and sex is taboo
Freedom of expression should always be there when it comes to art. So, I feel sometimes they (kissing scenes) are a bit extreme but usually it's alright.

F) Akira on those who flout traffic norms
It's really wrong and can be very dangerous. I don't appreciate it. Especially in the night when signals are on and people think that it is not peak hour and whiz past. I hate that and that's so dangerous. So strict punishment for that as well.




G) Akira on body shamers
Nobody is in the position to tell somebody that they should look a particular way. If you are healthy and happy, that's all that matters and to hell with everything else!

H) Akira on those who pirate a film and make it redundant
It takes a lot of hard work -- a lot of people, lot of effort and a lot of money-- to make one film. It is really unfair that piracy exists when it comes to films. It should not be encouraged in any way.

I) Akira on those who only take fat salaries home but shirk work in office
Two kicks to them!

J) Akira on those who say that you imitate your dad the best
(Laughs) I'd like to thank them but honestly I don't. His style is inimitable; he's fantastic. Everybody always asks me to repeat his dialogues and I try my best, but I don't think I imitate him that well.

K) Akira on those who say that you are beautiful
Thank you (laughs).




L) Akira on those who say that men are not meant for cooking
Why not? Today, there's no work that a woman can't do unlike a man or better than a man. So why can't a man cook?

M) Akira on politicians who shoot off empty promises
Ugghhh… there's so many, I've lost count. It's sad that today people enter politics for the wrong reasons. There are only a few good people left in the field and a lot more good and younger people need to step into politics if we want to see a change.

N) Akira on sexism in Rio Olympics
Sad, that in today's day and age, where something has so much reach and exposure, it still exists. Hopefully someday, it won't happen.

O) Akira on trolls on social media
Oh, I handle them in my own way… so… (laughs)


Image Source: Manav Manglani & facebook/sonakshisinhaofficial