SPOTBOYE LIVE: Durga Rani Singh Aka Vidya Balan Live On Facebook And 9XM!
Watch Bollywood actress Vidya Balan aka Durga Rani Singh from Kahaani 2 talk about her experience of being a part of the Kahaani franchise once again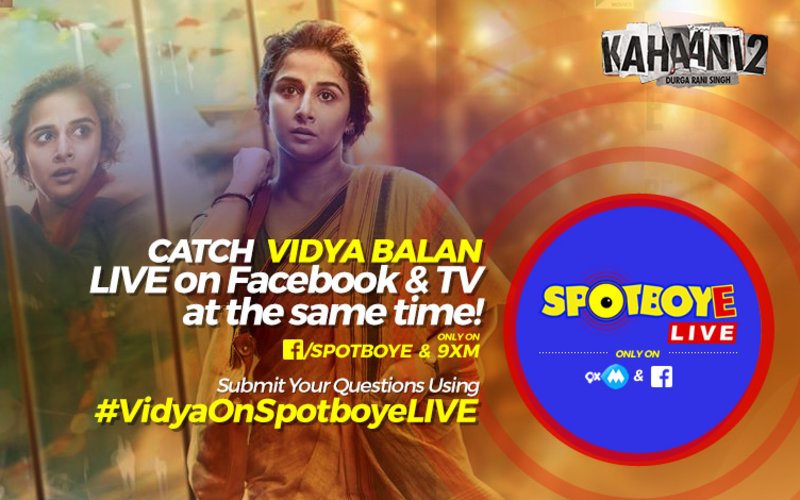 Last edition of SpotboyE.com LIVE was wired with electrifying energy and music by Farhan Akhtar and Shraddha Kapoor as they joined us for a live chat on 9XM and Facebook simultaneously and we promised you that we will be back with another superstar on SpotboyE LIVE soon.

So here we are! SpotboyE LIVE is back with not just a superstar but an actress of high calibre- Vidya Balan !

Well yes, SpotboyE.com finally got hold of Durga Rani Singh, who was absconding since a long time for a quick chat. She reveals all about her journey and what went wrong with her.

The versatile actress yet again goes de-glam in Kahaani 2 which is directed by Sujoy Ghosh.

In its prequel-Kahaani, Vidya played a pregnant woman who was out on a search for her missing husband. The film which was also directed by Sujoy Ghosh received lot of accolades from the mass and the critics. It registered good numbers at the BO.

In Kahaani 2, Vidya is playing a 36 year old 'wanted' fugitive, Durga Rani Singh.

A sequel to the 2012 film Kahaani, the film also features Arjun Rampal in lead role. The film was shot between March 2016 and May 2016. It is scheduled to release on December 2, 2016.

Coming to her other projects, Vidya Balan has commenced doing her homework to master the mannerism of Indian-English writer Kamala Surayya. Vidya is playing the revolutionary poetess in a bilingual biopic, to be directed by national award-winning Malayalam director Kamal.