The time is right to talk to Swara Bhaskar who has been the talk-of-the-town for her bold stuff in Anarkali Of Aarah.

Excerpts from an interview:

Did you think that your film Anaarkal Of Aaarah will land in such a messy situation with the Censors?
The content of the film is fantastic. It's about an orchestra party singer who sings double-meaning songs in weddings, celebrations in small towns and villages in and around Aarah, a city in Bihar. This is a real cultural practice.

The film is about this girl called Anarkali who is a small star in Aarah. She is leading her usual life until something happens that shatters illusions she has about her life and exposes the contradictions of our society which idolises and glamourise a small town girl into a desi, local star because of her songs but uses the same songs to condemn her when things go wrong with her.

People question her character, you mean?
Yes. The society questions her character, the typical victim-blaming, victim-shaming mentality that we have. It's a brave film.

Bollywood as an industry glamourises the item number so much, here's a film that takes a look at the world of the item girls. What is Chikni Chameli's life really like? What kind of life does Munni Badnam lead? We don't give these women a voice, a story, a world in our films- we just treat them as entertainment, glamour value.

Talking about the mess with the Censors, there is a process every film has to go through and I hope that this film will go through it and come out fine.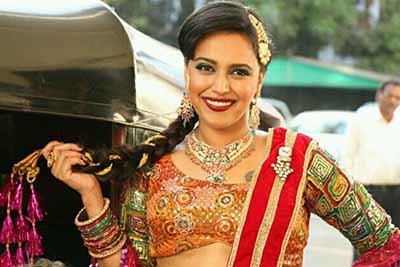 Image Source: cinestaan

Are you happy with the cuts considering the content that the trailer depicts may be diluted in the film?
I don't think any artiste will be happy with cuts advised to them by anyone because that's an artiste's preoccupation and everyone would want complete freedom of expression with their content. But unfortunately we do not have that privilege in our country. I am sure a large number of people have faced this problem.

Were you comfortable with the exposure involved and mouthing the brazen dialogues?
These scenes are always difficult to shoot, but I had read 20 versions of Avinash's script, worked out ideas with him, jammed on the script- so nothing came as a surprise to me. I trusted Avinash's intentions and the team that was shooting the film. Everything was shot with a lot of respect and integrity.

Frankly, such scenes are always shot in a respectful way keeping in mind the vulnerability of the female artiste.

See this is also the problem with cuts and deletions. When you see something out of context, it will always seem sensational and gimmicky. But in the context of the film you will understand that it is there for a reason and there is nothing sleazy or sensational about it.

Everything is serving a purpose and connected to something that is going to happen in the film. And that is true for our film as well. There are certain things that are uncomfortable, but as a professional artiste, you have to bifurcate your personal discomfort and have faith in the script in order to do it. Like I said it is not done in a sleazy way or in a desire to titillate. It is done for a valid reason.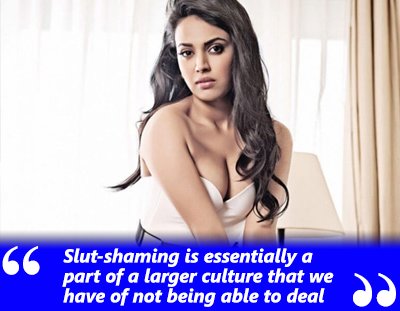 Image Source: popopics
How do these intimate scenes get leaked? Even Radhika Apte's lovemaking scene from Parched found its way on the Internet, and then your scenes in Anaarkali...
I don't know man, I am not in the business of piracy (laughs). I think that content goes to so many places, there are so many people who have access to it at various stages. Plus the thing with technology is that you either use it or misuse it, There is a certain voyeurism that is involved in this kind of an activity. When people do it they are basically doing it for a voyeuristic purpose, right? That, in a way, reflects how we think doesn't it?

Just a thought. The leak could also be done by the producer or the director to publicise his/her movie to a certain extent...
That is for the police to find out. Anything is possible. Our producers have lodged a formal complaint in Delhi and there is an investigation which is supposed to be underway.

You recently did a video with Taapsee Pannu which was your voice against slut-shaming, similar to the what Anaarkali of Aarah is about. What is your take on it as a woman because it's happening a bit too often nowadays?
I think it's disgusting and wrong. It's a reflection of a certain kind of mentality that thrives in our society, who judge women by the clothes they wear. It's nobody's business who wears what. Slut-shaming is essentially a part of a larger culture that we have in our country of not being able to deal with female sexuality. The bizarre judgement of women by the way they dress, and from that judging we conclude they dress like this so their personality must be like this, this must the levels of sexual activity and inactivity with people, number of partners she must have had... it's all so disgusting.

These are the wide leaps that the cultural imagination takes based on women's clothes. So much so that the judges have been known to ask during rape trials that what was the raped woman wearing? This is completely irrelevant to whether or not somebody was raped. Rape is a crime notwithstanding what you were wearing. So yeah, this is why I did this video. It is important to have a culture where women feel proud of their bodies, not be apologetic- and where women are safe, no matter what they wear. That can only happen when you have the cultural mindset, the mentality, that is accepting that women are free to wear what they want and clothes are not the invitation of crime of any kind.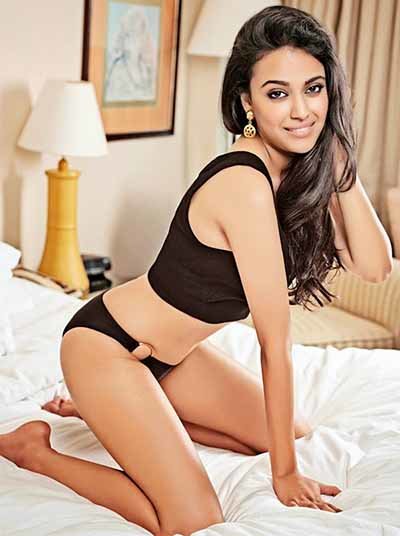 Image Source: webbyimage

How do we break such perceptions?
The more and more mindsets we change, such practices will get challenged. It's like saying kisi zamaane mein Sati bhi to pratha thi na kuch kuch hisso mein India ke, ya child marriage bhi to pratha thi na, but now that's changing isn't it? Now, if you are marrying a 10-year-old child, everyone is going to be like –What is wrong with you? Society changes. It happens when more number of people begin thinking in the same way. So we have to reach that point about women's clothing and bodies as well.

Kamaal R Khan had things to say about your film on Twitter. While you did give a fitting reply, what did you exactly feel at that point of time? Has KRK ever met you?
I don't know him at all and I keep replying to people from my account without knowing them. First of all, I wasn't talking to him. I was talking to Karan Johar and thanking him for something he very generously did for us. This was the perfect case of someone butting into a conversation when he wasn't even involved.

I replied but didn't realise that so many websites and blogs will pick it up and write about it.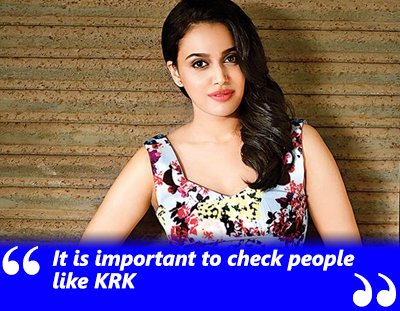 Image Source: nyoozflix

But you do know what his mentality is like? He is one of those who take a dig at women so often...
Which is why it's important to check such people. It's a great way to point out and shame trolls.

(A few hours later, the Censor passes the film with an A certificate and 8 cuts- and we talk to Swara again)

We have just learnt that the groping scene from your film has been deleted and 7 other cuts have been given. What's your take on it?
The Censor Board is playing a detrimental role in the Hindi film industry. For a brief period of 2 years when Leela Samson was the chairperson, the Board was quite liberal and I have no qualms in admitting it. I know that because my mother was one of the advisory board members then and I had an understanding of how they were dealing with things.

There were many films that came to the Tribunal and I remember those people had a very liberal outlook towards art and culture. Unfortunately that has not been the case with the Censor Board in the entire history, especially with the current one.

Also, the Censor Board's job is to certify films and tell us about what age group can watch the film. Why are they telling us what to cut and what to keep?

In India, at 18 you can get married (If you are a girl), vote, drive but you can't watch a film. Is that what the Board is trying to tell us? It's ridiculous right? Any good art can only thrive in an environment that is free--- Free to experiment, free to discuss, free to shock, free to fail.

How can you stifle expression and then expect good cinema to come out? Then you can keep watching the typical commercial, formula films that you have been watching since the longest time.

The Censor Board's attitude is unfortunate. The attitude of being at war with the filmmakers is absolutely unnecessary. I think even Courts don't have the right to tell creative people what to keep and what to cut as long as it is not illegal, inciting violence or promoting hatred towards another community. Earlier I knew that they had recommended 13 cuts, now that they have brought it down to 8, what can I say?

The groping scene has been deleted. I don't know how important the scene is, but...
It is an important part of the film otherwise I wouldn't have done it. It is telling you something about Anaarkali's character, the world she lives in, the kind of relationship she has with this man. Based on that, it is going to do something fundamental to the film. There is a line in the trailer "Hum koi sati savitri nahin hain". That's what the scene is showing you. Now, if you cut out the scene which characterises this person, then what are you going to understand?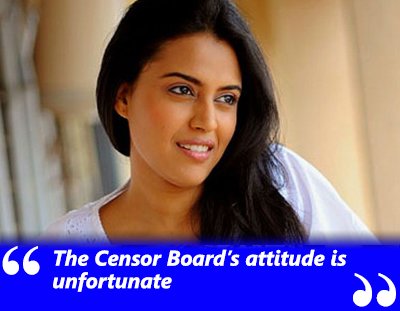 Image Source: nyoozflix

The link is lost, you mean?
Of course.

They have retained the bare back scene, though...
Very kind of them. What else can I say?

They made the producer Sandip Kapoor write an apology letter that it was not we (Censor Board) who had leaked the scenes...
Nobody from our team has accused the Censor Board of leaking the film. They are themselves saying that we haven't done it. But what scenes you have cut out, we can question you on that right?

Coming back to the groping scene. It must have been extremely difficult for you to film it considering there is no camera work involved
Like I said, the intention is important- the reason why that scene was written, why it's in the film and what the actor does with it. I had read all the drafts Avinash wrote, I know Pankaj Tripathi (Swara's co-actor in the groping scene) is a decent man. I know how uncomfortable he was feeling. I know no one was getting a sleazy pleasure out of it. It was done for the sake of the script and the film.

What's next after Anaarkali Of Aarah?
I just completed shooting for Aapke Ke Kamre Mein Koi Rehta Hai directed by Gaurav S Sinha. Then I start shooting for Rhea Kapoor's Veere Di Wedding in May.


Thumbnail Image Source: popopics & youtube/promodomemotionpictures