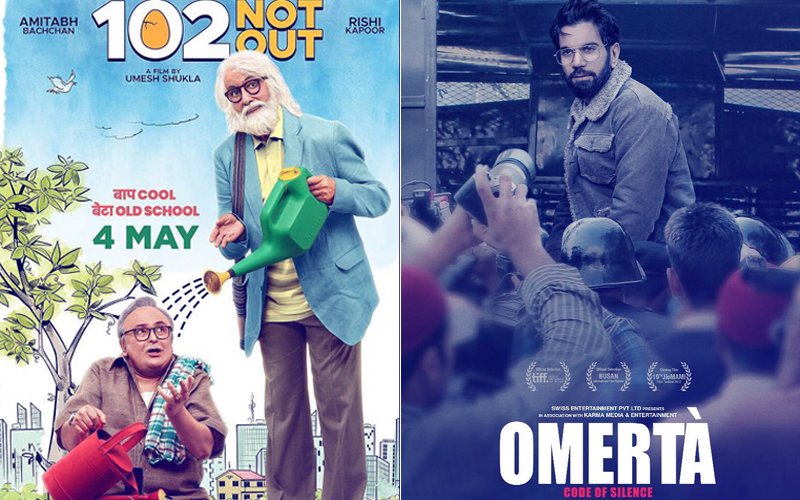 Friday opened to 102 Not Out and Omerta. Day 1 for both the films was not to happy but good news is that the films have got good response from the audiences and critics alike.
Talking about 102 Not Out, Amitabh Bachchan and Rishi Kapoor's father-son duo has collected Rs 3.50 crore on Day 1. The film is being received very well and of course with talent powerhouses like Big B and Chintu ji, you can't expect anything less.
SpotboyE.com has it that Friday night at multiplexes was a housefull for the film, which means that the weekend looks promising for it.
The word of mouth for the film is strong and the critics are also appreciating it. SpotboyE.com Editor, Vickey Lalwani reviewed the film with 4.5 stars and wrote, "I couldn't decide who is better. Remember those days when Amitabh Bachchan and Dilip Kumar starred in Shakti and the headlines read: Kaun Kisko Kha Gaya? So yeah, you too want to know I am sure the same in this case. But the beauty of these two superstars has always been that they never tried to outdo each other, and this time is no exception. There couldn't have been 102 Not Out if Umesh Shukla hadn't cast either of them. Rishi, who plays the 75-year-old son Babulal Vakharia, leaves you speechless with his expressions. He does less talking and more emoting. On the other hand, the 102-year Amitabh Bachchan who has all the lines that will make you a fan of the writer Saumya Joshi, comes up with a performance which is as sterling as Piku and Paa."
Coming to Hansal Mehta's Omerta starring Rajkummar Rao, just like 102 Not Out, this one too started on a low note with Rs 50 lakhs only.
The film has garnered mix response with many appreciating Rajkummar Rao for his power-packed performance. SpotboyE.com Editor, Vickey Lalwani reviewed the film with 4 stars and wrote, "Hansal Mehta has deep-dived into Mukul Dev's story (thanks Mukul) and made a well-researched film, in fact so well-researched that if Omar gets to see it in the Hyderabad Pakistan jail he will fall off from his chair. Over to Hansal's antagonist. He is not the cherry on this cake but the whole and sole of the film. And mind you, not many actors from today's generation could have carried out his role without getting dramatic in at least few scenes. Rajkummar Rao is blessed and hence, special."
Well, now let's see if with strong word of mouth publicity and critic reviews, 102 Not Out and Omerta pick up in numbers through the weekend.